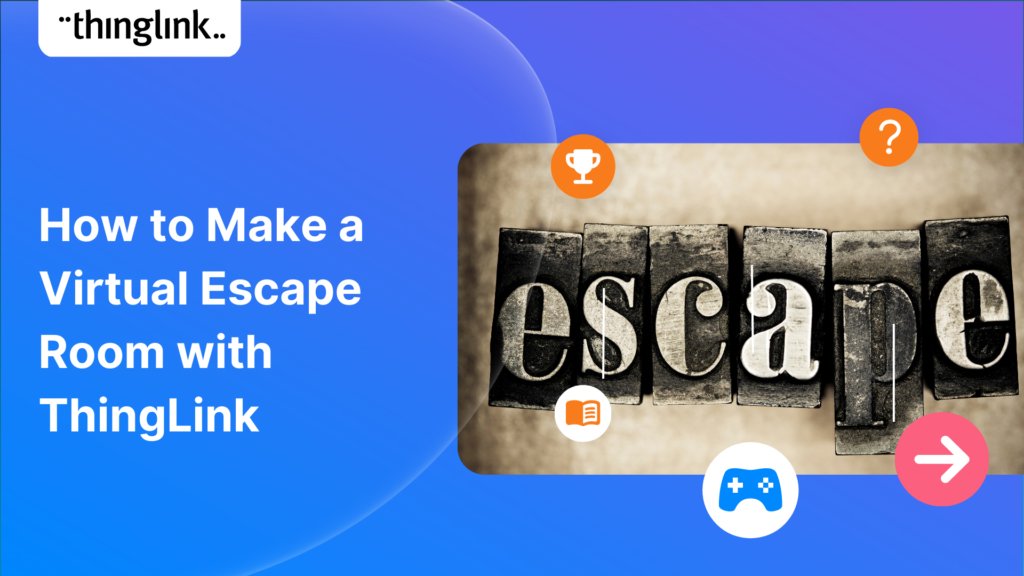 How to Make a Virtual Escape Room
Can you create an escape room virtually?
The answer is yes – and much more easily than you may think! In recent years, physical escape rooms or breakout rooms have become increasingly popular as team-building activities for employers, companies, organisations and groups of friends. Alongside this has been a huge growth in digital escape rooms. This format offers the same type of challenge but can be completed either individually or online as a remote team. The general concept is that the participant(s) have to answer questions to escape the room.
Fortunately, there is a really easy way to bring the fun and challenge of an online escape room into the virtual world with ThingLink! We will also provide some great escape rooms ideas and user-created examples.
Meet a product expert
If you'd like to learn more about what ThingLink can offer, you can schedule an online meeting with one of our product experts below.
What is ThingLink?
ThingLink is an interactive media creation platform that allows users to very easily create engaging digital stories by adding videos and images to base media – images, videos, 360 images/videos or 3d objects. Interactive tags can be placed on the media and filled with text, videos, quizzes and other interactive elements such as links and audio clips. This makes it easy for you to create and instantly share a virtual experience that is both fun and informative. There is no coding or experience required – anyone can ThingLink!
Examples of Virtual Escape Rooms
We've linked to three case studies where ThingLink creators have designed imaginative and original escape room experiences. In all three of these cases they have been designed for students of some sort. But these could just as easily be adapted for your organisation.
Teamwork in your Escape Room
A virtual escape game like this is a great way to improve teamwork. This is particularly useful if you work in remote teams with diverse skills. Your virtual team will have to use their individual skills together to reach the end. If you simply want to create a fun version that does not reflect the work undertaken by your organisation, you could always base the questions on trivia or simple puzzles. A virtual team can communicate online using Zoom, Microsoft Teams or any similar video conferencing platform.
In this first case study How to Create a Virtual Escape Room for Students we show how an escape room scenario was created at University of Central Lancashire (UCLAN) for inter-disciplinary students to practice their skills together. The problem-solving they had to undertake together during the gameplay helped improve their delegation and communication skills and helped them practice life-saving decision making under stress. Explore the example below!
In this next example, Using ThingLink to Develop Virtual Team Building Activities for Nursing Students, ThingLink was used in the University of Huddersfield to create a murder mystery game. Their approach could be applied in any work environment to enhance teamwork and collaboration whilst practising core skills.
This third example – How to Create a Virtual Escape Room that Brings Learning Alive -shows how teachers in Kuwait created a Haunted House themed escape room for school students during the pandemic to enhance their understanding of a literature topic. It links to further resources and tutorials for teachers in creating this type of material.
Creating Your Virtual Escape Room
It's very simple to create your own virtual escape room with ThingLink. Your first step should be to set up an account, which you can do here.
To create an escape room, you will be using the Tour Tag and the Conditional Transitions feature. In short, the player(s) can only escape the room (or move to the next room if your game features multiple rooms) if they enter the correct answer into the box which appears when they click on the tag! The answer to that question can be as simple or as complex as you want it to be. By exploring the interactive tags or hotspots placed around the image or 360 scene, they should be able to read, watch and listen to the clues you provide that will help them reach the final answer they need to escape.
More escape room ideas
To make the challenge more complex or just longer to complete, you can take one, some or all of the following approaches.
Increase the number and difficulty of clues that are provided. This may involve increasing the number of tags. The participants can only escape once they have gathered the information from each tag, all of which is required for the answer to the Conditional Transition question. For example, the answer they require to escape could be a word made up of the first letter of the answers to all the questions/images in each tag within the room. You may want to number the tags so they have to move through them in sequence.
Create multiple rooms or scenes that the participants have to move through in order to finally escape the last room.
Adding More Interactivity to your Virtual Escape Rooms
To really engage participants and make it feel like they are playing an actual escape room game, add interactivity wherever possible. For example, link from the tags or hotpots to other websites or pages where participants can find additional information or resources related to their task at hand. You can also add audio recordings of yourself explaining certain tasks or objectives in order to give participants "hints" along their journey through the virtual escape room.
You could include clues and puzzles or riddles along the way that will help participants reach their ultimate goal. You could also add some fun elements like videos or image galleries that provide background information about the topic you've chosen for your escape room.
Escape rooms for students
As the examples demonstrate, virtual escape rooms can be a great teaching tool and their popularity as such reflects the growth of gamification as an approach to learning. They are ideal for teaching and practising problem solving skills. Most students will be familiar with the basic concept as they roughly behave as a video game behaves, where the participant works to find their way out to the next section or level.
FAQs
What other virtual teambuilding games can you build on ThingLink?
Similar to the escape room format is a virtual scavenger hunt. Your participants have to find a number of objects hidden in each scene. This works really well with 360 images.
Use ThingLink's simple Scenario Builder tool to create a fun "Choose your own adventure" game. Read more about how you can create immersive and engaging learning experiences using scenario based learning here. Or watch this quick 2 minute video to see how it works!
Meet a product expert
If you'd like to learn more about what ThingLink can offer, you can schedule an online meeting with one of our product experts below.