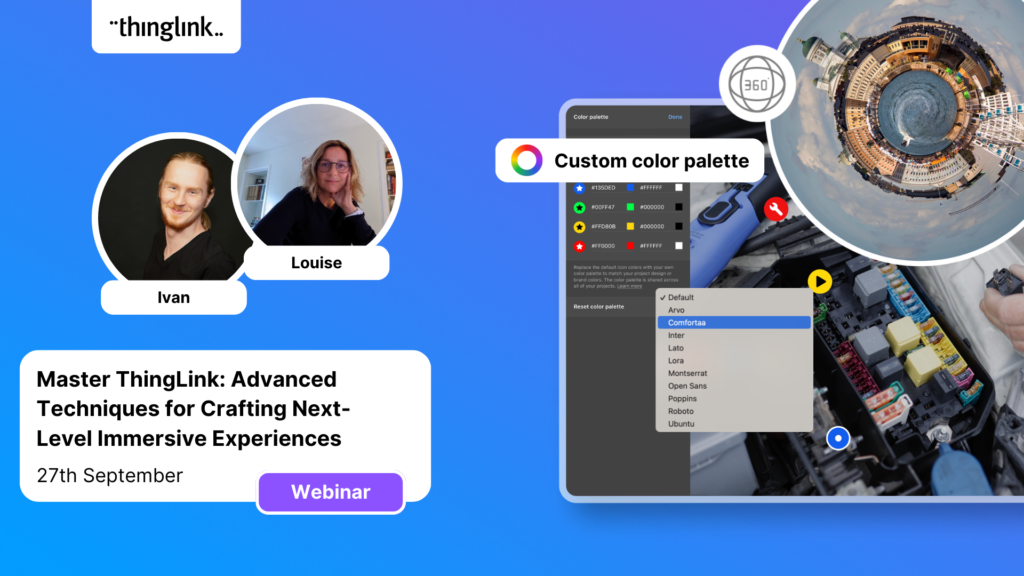 Webinar! Unlock New Advanced Techniques for Crafting Next-Level Immersive Experiences
On-Demand Webinar on Advanced Features of ThingLink!
Master ThingLink: Advanced Techniques for Crafting Next-Level Immersive Experiences
On Demand
You can view this webinar anytime! Register to receive an email with replay link!
The future of learning is immersive, interactive, and engaging. Are you ready to take your information and learning approaches to a whole new level? If so our upcoming webinar on ThingLink's advanced features is just for you!
ThingLink has always been at the forefront of creating immersive learning experiences, making education more accessible and fun. Our platform has already transformed the way many organizations and educational institutions engage with their audience, and we want to help you do the same. That's why we are thrilled to announce our upcoming webinar that will delve deep into ThingLink's advanced features, designed to make your educational content more interactive than ever.
Couldn't join us?
Sign up anyway and we'll make sure you receive a link to the action replay!
What Will You Learn?
The webinar is carefully structured around four main learning outcomes to give you a comprehensive understanding of capabilities with ThingLink's suite of tools.
1. Advanced Settings: Optimize Your Content
Discover the hidden potential of your information or learning material by exploring ThingLink's advanced settings. From tailoring user navigation to including personalized assessment elements, we'll guide you through the options that make your content not just engaging but also effective.
2. Scenario Builder: Craft Realistic In-Context Learning
Learn how to use the ThingLink Scenario Builder to create realistic, contextual learning experiences. Understand how to set conditions, triggers, and responses that mimic real-world situations, creating a risk-free learning environment for your users.
3. Media Types: Diversify Your Content
The more varied your content, the more engaged your learners will be. Learn how to incorporate different types of media including video, audio, and text to appeal to varied learning styles and make your material more engaging and comprehensive.
4. Working with 360 Images: A Whole New Perspective
Get hands-on experience on how to integrate 360-degree images into your content. We will cover best practices and tips on how to make the most out of this immersive feature to create engaging spatial narratives.
Sign up for our Exclusive Webinar!
Meet a product expert
If you'd like to learn more about what ThingLink can offer to your company, you can schedule an online meeting with one of our product experts below.
Other Ideas for learning about ThingLink you'll love!
Connect and Collaborate
For more ideas, use cases and inspiration on content creation, join our communities on social media! LinkedIn Community, Twitter Creative Learning Design Community and ThingLink Education Facebook Group.