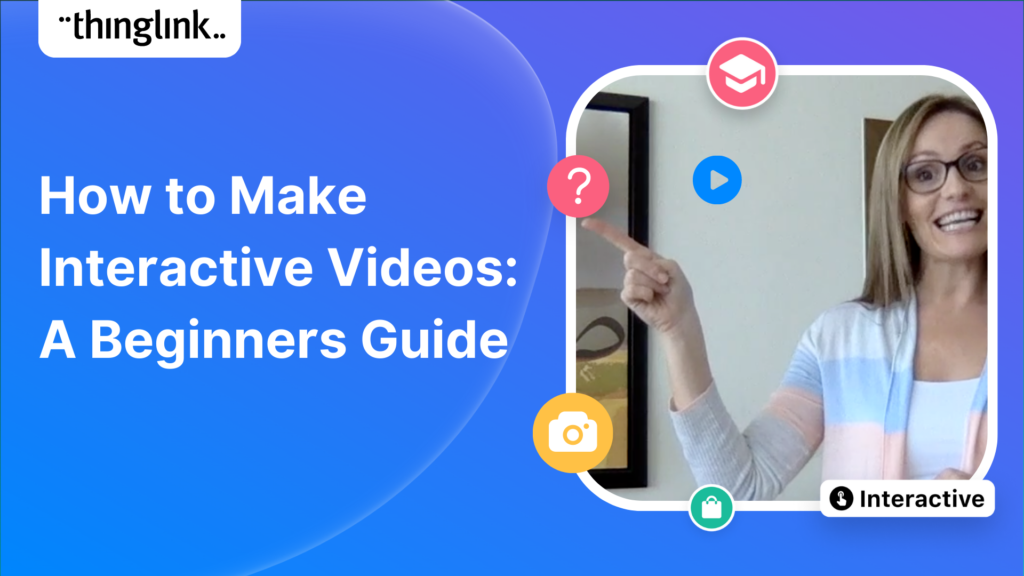 How to Make Interactive Videos: A Beginners Guide
In this blog we look at how you can use interactive videos – either as a training or educational tool for your learners, or for marketing or ecommerce purposes. We will look at:
The most common interactive features for both uses;
interactive video software that you can use to create them;
examples of interactive marketing and educational videos;
tips and advice on interactive video creation.
Let's get started!
What are interactive videos?
Interactive videos are multimedia experiences that allow viewers to actively engage with the video content. For this reason they are ideal equally for learning/educational, and marketing/ecommerce purposes – both of which require the end user to be highly engaged with what they are viewing.
Interactive videos generally include hotspots or clickable elements. These can be areas or objects that viewers can click on to reveal additional information, or open a link. The example from ThingLink below shows how this works!
What are the benefits of making interactive videos?
Whether you are creating educational video tutorials, or creating videos as part of your marketing strategy, interactive video provides an immersive and engaging experience for your audience. Interactive videos keep viewers involved and interested, leading to increased engagement and longer viewing times.
Benefits of interactive video for education, training and learning
Interactivity in videos can be a powerful tool for education and training purposes because it facilitates what is known as "active learning". By actively participating in the learning process, viewers are more likely to retain information and have a deeper comprehension of the content.
As well as embedded information within the tags, your videos might incorporate quizzes, assessments, or knowledge checks within the content. Viewers can answer questions or complete challenges while watching the video, providing an interactive learning experience or testing their understanding of the topic.
For marketing
Interactive video marketing can be used as a tool to drive conversions and sales. By integrating interactive elements like product demonstrations, clickable links, or interactive hotspots, viewers can explore and learn more about products or services. This interactive approach enhances the viewer's purchasing journey, leading to improved conversion rates and sales. You could also create a shoppable video in this way – with links to products or services.
This example below is part of a wider campaign by Orange.
Interactive videos tend to have a higher chance of being shared on social media platforms due to their engaging nature. When viewers come across an interesting interactive video, they are more likely to share it with their friends, colleagues, or followers – increasing its reach.
Data Collection and Analytics
Interactive videos can also provide valuable data insights. You can gather information about your viewers' behaviors and preferences, such as which choices were made, where they clicked, or how long they engaged with the different elements. This data can help you understand the preferences of your viewers or learners, helping you optimize the content of future videos.
Create engaging video content with ThingLink
For the best interactive video experience for complete beginners, you need a platform with simple and intuitive functionality. It's incredibly easy to add interactivity to your videos with ThingLink. Simply upload your video as an MP4 file to the editor, and embed tags anywhere in the video for rich media annotation. (You can read the full specification for videos here.)
The tags appear as an overlay to your video; when the viewer clicks on them, images, text, videos, embedded websites and apps, and even 3D objects will appear as a popup within the video frame. (Read more about the different tags and how they work in ThingLink here.)
This video below shows just how easy it is to any visual media interactive with ThingLink.
Using interactive videos in Scenario Builder
For an even more interactive experience, you can create branched learning scenarios with ThingLink's Scenario Builder. Similar to the "choose your own adventure" books that were popular in previous generations, learners move through the scenario by choosing from options at each branching opportunity. In some cases, they can only progress if they enter the correct answer. A different approach is to allow the learner to progress freely through the scenario as they wish, which takes them to a different conclusion depending on the choices they made. You can see this in action at this case study.
Read our blog "How to create scenario based learning experiences" for lots more information on creating these immersive learning resources!
Examples of interactive videos in ThingLink
You may be recording a tutorial that's being delivered by live streaming that other students will access later. Instead of adding links to the chat, point to the areas where the links will appear in the video – just like in this example below!
Create interactive 360 videos
You can even create interactive 360 videos in ThingLink! Here's an example below of what this looks like in action. Read our blog How to Use 360 Video to learn how to create these (it's much easier than you might think!)
What else can you use to make videos interactive?
Wirewax, now owned by Vimeo, is an interactive video tool that allows users to create and publish their videos.
Adobe Captivate is an eLearning authoring tool used to create interactive digital learning content. Users can develop and deliver multimedia eLearning courses, software simulations and demonstrations.
Further reading
For more on creating interactive content with ThingLink, see these blogs below: