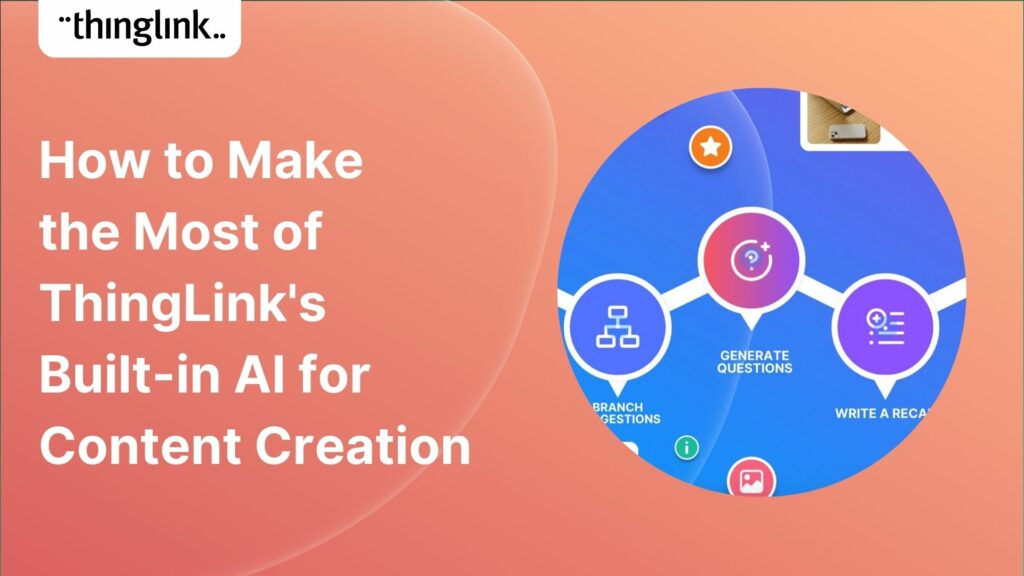 How to Make the Most of ThingLink's Built-in AI for Content Creation
Artificial intelligence (AI) has become seamlessly integrated in one way or another into almost all the business processes and support systems that we take for granted. From AI chatbots that help streamline e-commerce platforms, to tools like Open AI's ChatGPT revolutionising the way customers search for information, AI algorithms have optimized commercial activities.
At ThingLink, we believe that responsible AI technology can help to empower creators. That's why we've developed five new AI content creation tools, specifically designed to help you create content faster and more effectively.
Start a free trial today
To discover just how easy it is to start creating interactive experiences with ThingLink, open a free trial account today!
ThingLink's AI Assistant Tools
These five AI applications are integrated into the ThingLink creation process to optimize your time and assist you every step of the way. By leveraging these automations, you can supercharge your workflow, giving yourself more time to unleash your creativity. Think of them as your own AI writing assistants – or even a virtual brainstorm!
Explore the ThingLink below to see how each of the five tools works!
AI Tool within the main ThingLink Editor
Tag Suggestions
Speed up the writing process by instantly generating five editable or deletable tags with our AI content generator. Our AI Assistant is here to bust writer's block! Tailor the AI-generated content within the tags so that it incorporates your brand tone of voice, aligns with your own content marketing strategy or appeals to your target audience with specific product descriptions.
4 AI content writing tools within Scenario Builder:
ThingLink's Scenario Builder is the only branching solution that allows creators to combine so many different media types including videos, audio, 360° media, 3D and images into a complete learning experience. This makes it easy for anyone to create engaging online environments for learning and training.
Suggest Branches tool
Expand the possibilities within your scenario by generating potential pathways or directions for your learners or explorers.
Generate Questions tool
ThingLink's ai writing tool can also automatically generate thought-provoking questions for your scenario that require problem-solving skills.
Write a Recap
Summarize your project effectively with concise and informative recaps courtesy of this AI writer tool. Ensure your audience retains the most important elements of your piece of content. Perhaps your original content has been imported from social media posts or marketing copy and needs re-writing? Let our content assistant do the hard work for you!
Re-write Text Blocks
Enhance your written content with AI-generated suggestions, ensuring clarity for all users. Re-writing and paraphrasing existing content can be a helpful way to ensure your copy is concise and polished. Platforms such as Jasper, WriteSonic and Copy.ai already provide this service for all types of content and our tools provide the same service within the ThingLink editor!
Why use AI Assistant Tools?
Copywriting can be overwhelming, but there are content creation tools available to help you. From SEO (search engine optimization) platforms like Clearscope to grammar checker platforms like Grammarly, there are an endless number of tools that will help elevate your writing if you feel its not one of your strengths. They can be particularly helpful if English is not your first language.
Help from AI for the content creation process
We understand that starting the content creation process is often the hardest part. That's where our AI Assistant content tools can save the day. Our AI models utilize natural language processing algorithms and machine learning to generate predictive copy and content, tailored to your specific content brief. With our AI Assistant's recommendations, you can unleash your creative potential with high-quality content writing.
For experienced content creators or content writers, the tools can be used as a template that can kick off your own content ideas. They are fully editable so that anything that's generated can easily be modified to fit your content strategy, keyword research or tone of voice.
Privacy and Security in the AI content tools
At ThingLink, we prioritize privacy, control, cybersecurity, and accessibility. Rest assured, your data is securely stored within ThingLink's own installation of OpenAI. Additionally, administrators of ThingLink School or Organization accounts have control over enabling or disabling AI functionality for their students, teams, schools, campuses, or organizations. For more information on plans and pricing, please visit our website.
How to access the AI content creation tools
It's simple! The tools automatically pop up when you start creating content and are available on all plans including the 60 day trial free plan for educators.
For more inspiration, see these blogs and use cases
Optimize your productivity with AI content creation tools: A guide to the best keyword research, automation, copywriting and SEO tools for your content writing.
Top 6 Outstanding text to image AI tools: The best tools to create high quality content with different types of images.
Content Marketing Tools to Supercharge Your Strategy: Craft a better content marketing strategy with helpful content marketing tools.
Join our social media communities for more inspiration
Facebook ThingLink Education Group and the ThingLink LinkedIn Community
Try ThingLink today
Start creating interactive experiences with ThingLink today with a free trial account!