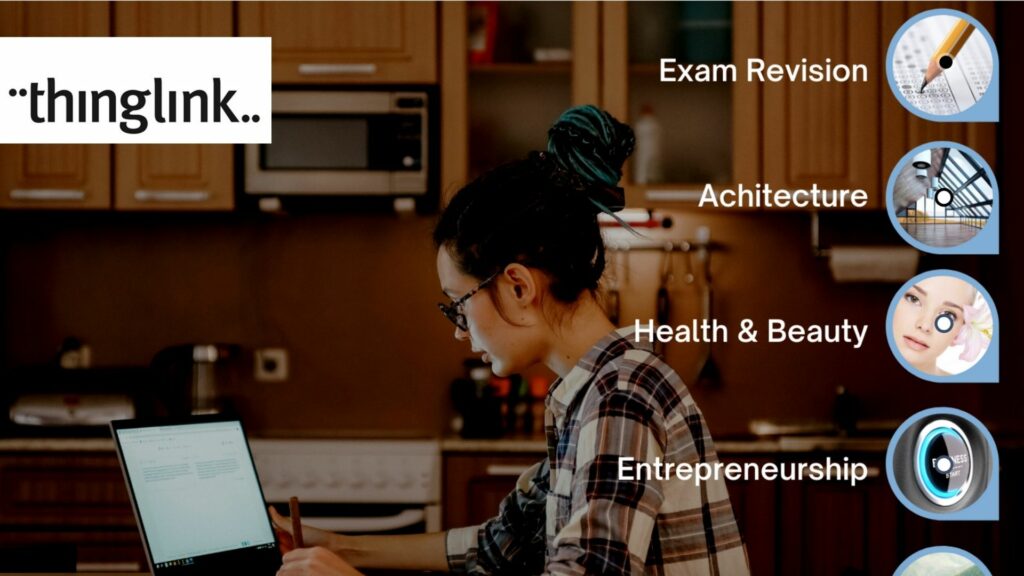 How to use Thinkific & ThingLink for Creating Interactive Online Courses
Adding augmented media files to online courses usually takes up a lot of time, skills and monetary resources, but with the new partnership between ThingLink and Thinkific, it's easier than ever to create engaging multimedia. 
If you're a Thinkific course creator, or just considering developing an online course based on your expertise you can now create interactive learning materials files to go along with your courses using ThingLink.
Here's why ThingLink is the perfect  app to use when building your Thinkific course: 
Increase participant engagement with accessible multimedia content
Easily create interactive  360 scenes of real environments or annotated 3D objects (coming soon)
Track how your learners engage with the images and videos you create
Start creating straight away and integrate directly into your Thinkific course content.
Create a lasting memory imprint by combining the tools!
Ideally, your Thinkific course content pages need to engage your participants and create an experience that leaves a lasting memory imprint. ThingLink can turn the visual assets of your course content into an interactive learning experience accessible directly in your lessons. 
Creating an interactive image or video, a thinglink as we call it, requires no advanced skills or coding experience, it saves time and money, improves the learner experience and gets better results – leading to better feedback of your course.
As well as being fast to learn and quick to edit, ThingLink is also easy to embed within your Thinkific course. What about if you need to make a change later to any of your materials? No problem! When you update your interactive  materials in ThingLink, they will automatically update on Thinkific without the need to re-upload them.
The interactive hotspots or "tags" added to each image or video can contain text, images, voice, video and links  – in any combination. Plus the ability to embed 3rd party apps and tools within the ThingLink further increases your possibilities to bring any content from the web onto your images.
Take a tour
Tags can also contain a link to another interactive asset. For example, if you link 360 images with each other, you can create virtual tours of real places – from work environments, buildings, galleries, museums to landmarks and celebrated sites across the world. Thinkific creators can also use ThingLink's own 360 image library which features world heritage sites, professional situations, cities and natural wonders. Virtual walkthroughs and tours can give learners access to real-world environments and situations that would otherwise be out of their reach.



Added accessibility
The multi-media nature of ThingLink means that information is naturally more accessible to learners with a wide range of learning styles and needs. Microsoft Immersive Reader is embedded in all text and media tags and can translate their text into 60 different languages. It can also convert the text into audio – either in the original language or in the translated version. The reader can also increase the text size and spacing and even change the font, or use the picture dictionary for unfamiliar words.
Additional helpful integrations within ThingLink
All ThingLink accounts feature an integrated Unsplash Image library, providing instant easy access to over a million searchable, freely usable images for use in all their thinglinks.
ThingLink also features an in-built integration with Canva, the popular online design and publishing tool. The Canva integration provides millions more free-to-use images and graphics, as well as professional templates and free access to Canva's Design School. From your ThingLink account, you can access all your designs in your own Canva account including all your branded content.
These two ThingLink videos on yoga and cosmetics were both created using templates and short videos on Canva. They show the variety of content that can be incorporated into the tags.
How to get started?
One of the simplest ways to create a ThingLink is to use an infographic as your base media, such as this handy revision guide,  which could be used for a course on exam preparation and focus. This infographic on Design Thinking is ideal for a course on entrepreneurship or developing a business idea.  If you need design help, why not use one of Canva's thousands of infographic templates to help you get started?
ThingLink of Us! 5 ThingLink Uses to Make You Think! 
Join us at a joint Thinkific/ThingLink webinar in a few weeks (date coming soon) & receive a 25% discount on a Professional Individual Account on ThingLink. Get started with ThingLink by logging into Thinkific and linking your account here. 
Don't forget to share your designs by tagging us on social media @ThingLink!