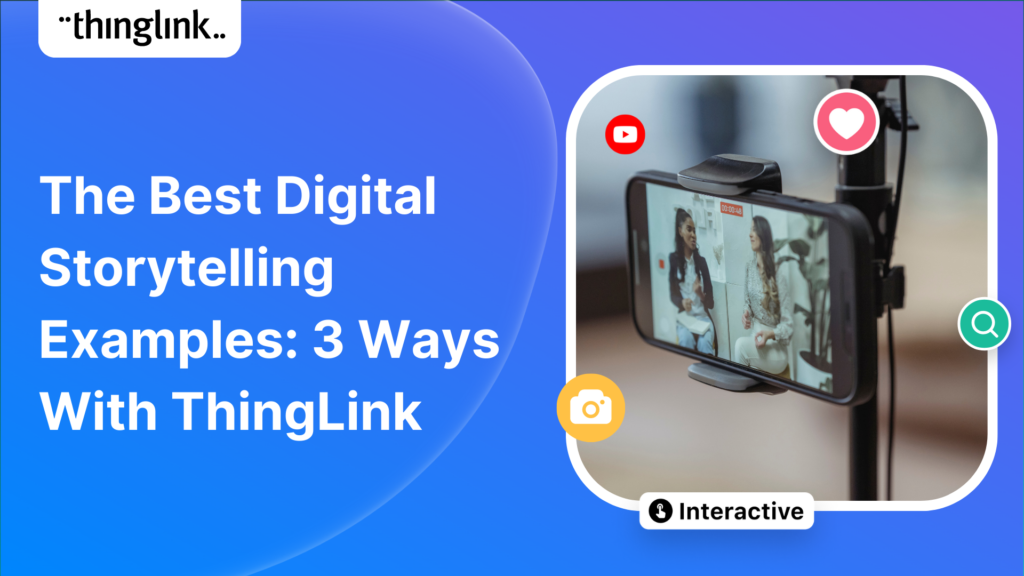 The Best Digital Storytelling Examples: 3 Ways With ThingLink
In this blog we look at what digital storytelling is, how it is being used, and provide three great examples of how ThingLink has been used for storytelling projects in very different ways.
What do we mean by digital storytelling?
Digital storytelling incorporates a wide range of creative and narrative formats that all build on the traditional forms of storytelling, by using digital platforms, technologies and tools – to convey narratives, stories or messages. Blogs and online journals, podcasts, vlogs, social media stories, even video games – these are all considered forms of 21st century digital storytelling!
Storytelling using digital media can be used for so many different purposes too. For personal expression, educational purposes, marketing and advertising, advocacy, entertainment – in fact any form of narrative communication. It usually incorporates multimedia elements – text, images, videos, audio, and interactive features combine to create engaging and immersive experiences for an audience.
Create interactive content with ThingLink
Start creating immersive and engaging content with a free ThingLink trial
The power of digital storytelling
Digital tools and platforms have lowered the barriers to entry for storytelling. With the widespread availability of smartphones, computers, and internet access, more people than ever before have the means to create and share their stories digitally. This has helped to democratize the process, allowing individuals from diverse backgrounds to participate and have their own stories heard.
StoryCenter, formerly known as the Center for Digital Storytelling, is an organization based in Berkelely, CA, that promotes the use of storytelling for personal, community, and social transformation. According to StoryCenter, telling stories using digital media can: aid personal transformation and community building, amplify marginalized voices, improve dialogue and empathy, and act as a tool for advocacy and social change.
Digital storytelling tools
Reliable and easy-to-use web-based platforms and apps now allow anyone to create professional looking digital storytelling content. Graphic design and video editing platforms such as Canva, Vimeo and WeVideo have made the digital storytelling process straightforward and intuitive for creators, providing free tutorials and templates for beginners.
ThingLink is another in this group of easy-to-learn platforms that allows creators to produce high quality, professional-look content with no experience or coding knowledge. Watch this short video below to see just how easy it is to create a ThingLink from scratch.
In these three examples below, creators have used the platform for digital storytelling in very different ways. We hope they inspire you!
Digital storytelling using branching scenarios
One of our favourite ThingLink examples that showcases the educational uses of digital storytelling is The Schoolchildren's Blizzard, a scenario created by Stuhr Museum in Nebraska. The scenario recreates the personal stories of three school teachers, with the learners living the experience of a terrible blizzard that took place in 1888 from the point of view of the teachers.
"Storytelling is something that we're really trying to emphasise across the museum, since our mission is to share the collective human experience of community building along the Platte River Valley. Our motto is "Your story is our history" and we use storytelling as a vehicle to connect with that empathy in people."

Carly Harroun, Creative Director, Stuhr Museum
The personal experiences are made very real through the use of second person narrative and by the learner being asked to make the same choices at key decision points – just like the teachers did over a century ago. The scenario is used for history and language arts teaching with school classes.
The material was created with ThingLink's Scenario Builder, the only branching solution that lets you combine various media types including videos, audio, 360° media, 3D and images into an immersive learning experience.
This approach could be used for teaching learners at all grade levels; high school students could even create their own scenario as part of a collaborative project.
More ways to share stories from the past
Academics at the University of Calgary Library created this clever ThingLink to tell the story of the only Canadian to have met Beethoven in an interactive and visual way. The design is in fact deceptively simple, and uses ThingLink's tour tag to create the transitions between the chapters of the story which are simply variations on the same background. There is music included in some of the chapters, but you could just as easily add a voiceover instead – which can be uploaded or recorded directly in your ThingLink. You can read the Calgary University Library case study here to learn how it was done and see some more fantastic ThingLink examples from Calgary University Library.
Award-winning digital storytelling
Another powerful way that ThingLink is being used for storytelling is in the context of journalism. Belgian news platform L'Echo won a national award for their long-form article on the development of the Brussels canal which featured map-based ThingLinks as embeds (clip below). This is just one example of many articles and features that L'Echo have created using ThingLink to tell stories to great effect.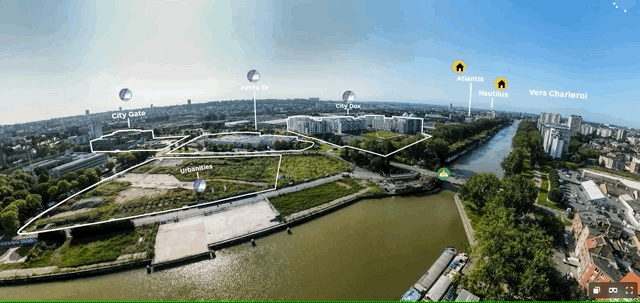 You can read the full L'Echo article and explore its ThingLink interactive maps here.
Read the full case study: "Echo Creates Award-Winning Multimedia Journalism with ThingLInk".
Tell your story!
We hope you've enjoyed these three examples and have been inspired to start telling your own stories with ThingLink.
Create interactive content with ThingLink
Start creating your own immersive and engaging content with a free ThingLink trial!