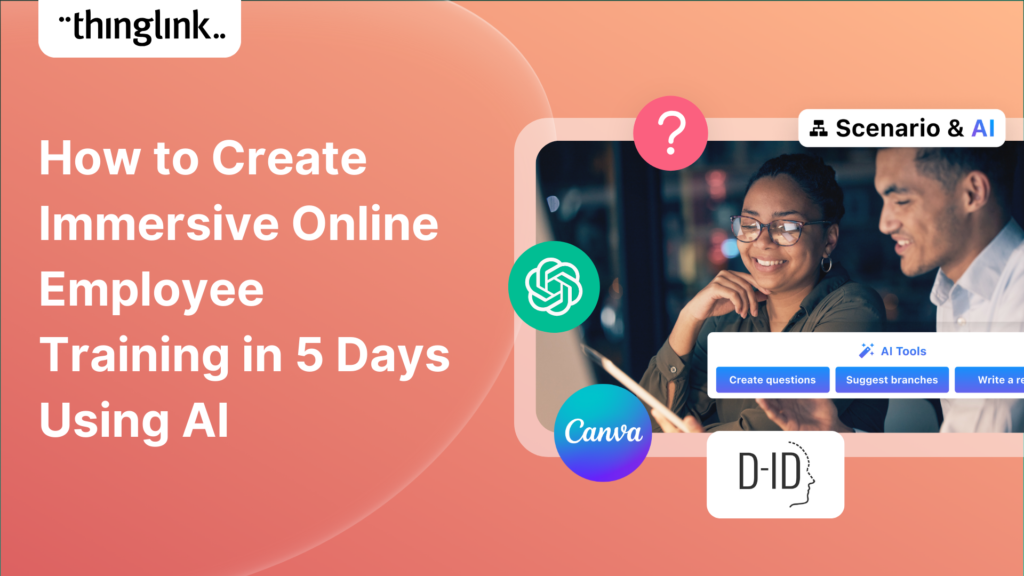 How to Create Immersive Online Employee Training in 5 Days Using AI
Virtual training and elearning has undoubtedly revolutionized the delivery of corporate training and learning. It offers both employees and employers the benefits of flexibility, accessibility, and personalization. But did you know just how easy it now is to create your own immersive and interactive elearning course content, without the need to engage 3rd party training providers?
The online training revolution is here!
For anyone who needs to create employee and workplace training, there are now a range of easy-to-use and cost-effective online content creation platforms that they can use. And almost all of these incorporate AI in different ways. From easily-editable templates, copy suggestions, and AI-generated presenters who can read your script perfectly without any need for edits – they can all help you to put your content together easily and quickly, even if this is your first course. Each of these platforms saves you time at every step of the creation process, resulting in enormous cumulative time savings.
Meet an elearning expert
If you'd like to learn more about what ThingLink can offer to your company, you can schedule an online meeting with one of our elearning experts below.
Anyone can create immersive training content
Using this new generation of tools and platforms, we believe that it really is possible for ANYONE to create their first immersive and engaging online training module from scratch in five days.
We're going to show you how, with a simple step-by-step guide, using accessible and easy to use platforms such as ThingLink, Canva, D-ID, and ChatGPT.
We know that bespoke site-specific training content and images can be vital for workplace training. So we have included instructions on how to create immersive virtual training simulations using 360 images of your own real-life work environments, using nothing more complicated than a smartphone.
At each step we show how using AI tools can save you hours each day in creating, editing and formatting your content to create slick and professional-looking training for your organisation. Each of the platforms in our 5 day action plan has been designed so that anyone can use them with no prior experience or know-how. You won't believe how easy and FAST it is to create your own interactive training content once you have the right tools!
The benefits of delivering online employee training
Online training, or elearning, allows employees to access on-demand training materials from any location, at any time, and often even via their own mobile device. This means that it's easier for staff to fit training sessions into their busy schedules and family commitments. Virtual training also allows for personalized learning experiences, as it can be tailored to the individual needs of each employee, enabling them to learn at their own pace and focus on areas where they need improvement.
Online learning should ideally incorporate interactive and engaging formats, such as videos, quizzes, and simulations. Interactivity has been shown to enhance skills and knowledge retention amongst learners and is now seen as invaluable for effective workplace training.
In this blog we summarized recent research into the effectiveness of training using VR and AR.
Online training is cost-effective training
Training is an unavoidable and ongoing cost for any organisation. From inductions for new hires, upskilling sessions, soft skills development and employee engagement for the current workforce, to refresher courses for those coming back after parental leave, illness or a career break – employee training is an ongoing cycle which can be draining on resources.
As well as the costs of training delivery itself, costs of in-person training can often include additional expense such as travel and venue hire. Ensuring that onboarding and compliance training is delivered as needed whenever any new employee joins the organisation, rather than more economically delivered as a group, can increase costs even further.
The beauty of online training courses is that they are generally vastly cheaper than in-person training. The approach that we have outlined in this blog is incredibly cost effective for even small organisations, and when scaled to larger ones, can make annual cost savings to the tune of thousands or even tens of thousands of dollars. Importantly, there is no need to invest in costly employee training software, learning programs or training platforms. Indeed the broad functionality of all the apps and platforms we list here means that they can usually be used across an organisation for other purposes, particularly marketing-related activity.
Create online training programs in-house for increased flexibility and responsiveness
In rapidly changing work environments, for example where legislation changes regularly, virtual training provides an effective and efficient way to keep employees updated with the latest skills and knowledge. If your training is created in-house, you can easily and instantly edit and update your training materials without the need for costly and time-intensive authoring by a third party supplier. When training modules are created and hosted in the cloud, this also means that changes are made instantly – everywhere.
However, creating online training from scratch can be an overwhelming proposition, particularly if you have a tight timeline in which to create and deliver training courses.
The good news is that by familiarising yourself with easy-to-learn, user-friendly AI tools and other digital platforms, ANYONE can streamline the creation process to create their first training module in just five days.
For this illustration, our example training material will be the first part of an onboarding course for new starters at a large organisation. But the same process could be used for any kind of training course for any size of organisation. Let's get started!
A day by day task list to build your own online training from scratch
Day 1: Define your objectives and create an outline or roadmap for your online course content
Start by deciding and outlining your training goals. What do you want your employees to learn from the training? What skills or knowledge should they finish the course with?
Based on these specific goals or objectives, create an outline of the topics to be covered in order. This outline will serve as your training content roadmap whilst you create your course, and can also be used to introduce the course to your trainees at the start of the course!
Your AI helpers: At this stage, you can use ChatGPT, Jasper, Bard – or any similar generative AI copy tool to help you create your objectives. These tools are incredibly useful for generating lists and sparking inspiration.
In action: Here's an example of how quickly ChatGPT can generate a list of topics to include in your training course. Our example is an onboarding or induction course, so we asked ChatGPT for a list of possible objectives. (Fullscreen to see the detail.)
Top tips: It's important to be specific when writing your prompts, to give the AI tool as much detail as possible from which it can generate a helpful, relevant and useful list. Of course you can go back and regenerate if it's not quite right, and then use this first pass as your basis to edit and refine your ideal course roadmap. You can ask ChatGPT (or similar) to generate more detail for each section, or you can populate the finer details yourself.
Finally, decide on the media you'll use to explain each objective or topic. This will depend very much on what your course involves. But for most subjects, as well as written content, this should ideally include videos, images, or even virtual environments. In our example, we are going to use all of these, to demonstrate how easy it is to create and combine different formats of training content.
Day 2: Gather any images and write your scripts for your training
Written content
You can use ChatGPT or another content creation tool to help on day 2 too.
You can also use AI to:
Suggest examples, best-practices, scenarios
Provide curated lists, such as top tens eg use cases
Re-write text in different formats. For example, re-write bulleted information points in a question and answer format, as a quiz, or even in verse to help staff memorise important points!
Re-write your content in a different or brand-specific tone of voice
Visual content
As a benchmark, your training should include images and video for interest and freshness. If necessary you can use stock imagery. Ideally however, your visuals should be taken from real-life as much as possible – particularly when demonstrating or introducing a site or environment.
Immersive 360 visuals of your environment
For an immersive and truly engaging experience for your learners, and to allow them to explore their specific work environments during training, 360 imagery is unbeatable. However until very recently, it was difficult to produce 360 images of any work environment without expensive 360 cameras.
This is where ThingLink's Pano to 360 tool is invaluable! In short, Pano to 360 allows you to take a panoramic photo on your smartphone – of any environment, inside or outside – and create a fully immersive 360 image. This can provide an accurate replication of a real-world environment which is ideal for induction or safety training. The example below was created in this way.
Watch the video below for a brief overview of how it works. Alternatively you can read our launch blog here. Better still, visit our site here and try it for yourself! It's completely free and unlimited – and you don't even need a ThingLink account to use it.
Day 3: Create your engaging branded visuals with Canva
Now you've written and collected the text and images for your course, it's time to start working on the overall design!
Anyone can use Canva, the online graphic design tool, to help create visually appealing and high quality training materials – even with no design experience! In Canva you can choose from the thousands of templates available, for all types of training content – and customize them according to your brand and training requirements.
It's even easy to create videos from scratch with Canva's huge range of templates to help you get started. However for your first course creation, you may prefer to begin by simply using it to develop and apply a consistent branded visual style across all your training materials. Use the same color palette, fonts, and design elements to create a cohesive look.
Remember your road map from Day 1? You can use Canva to design this into a roadmap that can be used in the course welcome and orientation section! Take a look at our example below for how this might look. We used the Teal Blue Employee Onboarding Template which we chose in the video above.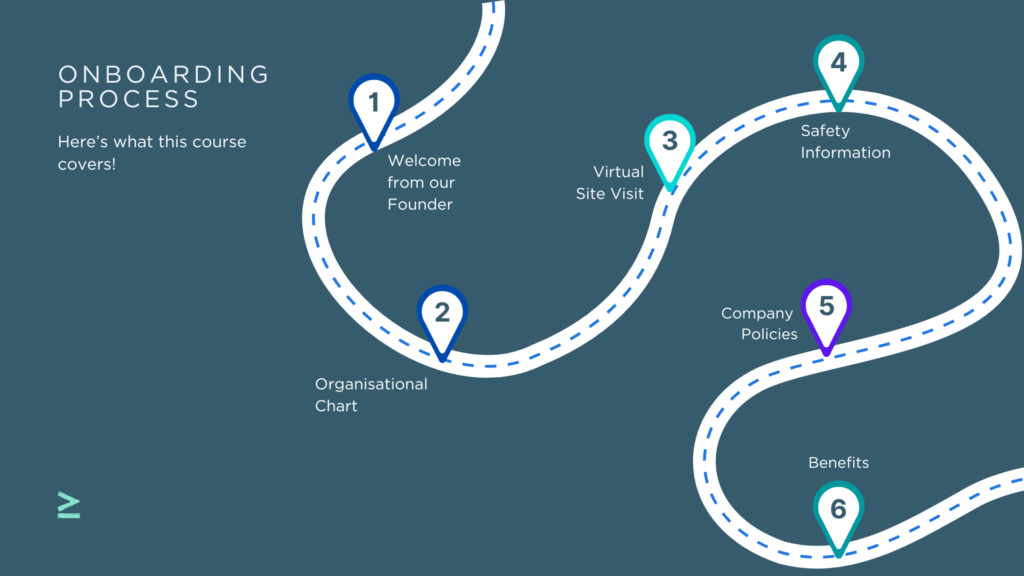 For lots more inspiration on how you can use Canva to create branded content, see our blog Ten free templates for ThingLink and Canva.
Day 4: Use D-ID to speed up your training video creation
D-ID is a platform that specializes in creating hyper-realistic video content using AI. Utilize this brilliantly simple tool to generate lifelike, AI-driven videos of trainers, without the need for actual filming and editing. Here's a video below that took less than a minute to generate!
If you are creating an entire online employee training program and using video introductions or explanations, D-ID will truly save you days worth of recording and editing time! The video we created above ,which we will now embed into our training environment, was created in just a few clicks! See below for a demo of how quickly it can be generated.
With D-ID you can also:
upload your own images, to create a video of yourself or another colleague presenting the information;
generate a bespoke avatar of your own by using their text-to-image portrait generator;
upload text in 119 Languages, along with a variety of accents and speaking styles
upload a voice recording for the avatar to "read" out;
choose from a range of expressions or styles for the avatar. Some you might like to choose for training are cheerful, excited, friendly or hopeful;
choose from a range of backgrounds for the avatar to stand in front of, which could for example be chosen to match your organisation's brand colours, or help with visual accessibility.
Day 5: Use ThingLink to wrap up all your training content in a virtual tour or branched learning scenario
ThingLink empowers you create virtual tours, virtual environments and branched learning scenarios with interactive images, videos, and 360-degree content. Upload your Canva visuals to ThingLink and add clickable multimedia tags that display text, images, videos, or links.
Your interactive ThingLink content can then be used to create a learning scenario, using the super simple Scenario Builder tool. The path that your learner takes can be branched or simply linear. Simply upload your images, videos and 360 images into ThingLink, add your tags to make them interactive, then use these individual scenes to build your scenario.
The great news is that you can even use ThingLink's inbuilt AI tools to help create your tags, re-write text and even suggest questions and branches for your scenario! Check out ThingLink's AI YouTube playlist here with 30 second shorts explaining all our super-handy AI content creation tools which will save you even more time!
Sample training content created using the AI-powered platforms above
Explore the short onboarding example below to see how we have created part of a training module using the platforms and content we have covered above.
Alternative ways to present employee training in ThingLink.
Interactive 360 images are so useful and versatile that they can be used to create virtual field trips, virtual exhibitions, even escape rooms for gamification of your training. Here are some examples of where ThingLink been used for staff training in the tourism and hospitality industry.
ThingLink Guided Tours
Another way to present training in ThingLink is with new Guided Tours. Explore this example of employee safety training below!
FAQs
We have a tiny training budget! Isn't it expensive to invest in AI content creation tools?
The tools we have listed above have a range of pricing models which are suited to organisations of all sizes. The fundamental aspect which unites them all is their ease of use, meaning that you don't have to outsource your training content creation to 3rd party supplies – you can build everything in house!
Do I need to host my training materials on an e-learning platform?
No. Whilst it's true that interactive learning created with ThingLink can be shared on any Learning Management System (LMS) or Learning Experience Platform (LXP), it can also be shared via Microsoft Teams, or even with a direct link or embed if you prefer.
Our training materials are confidential. What about security?
Security is vitally important to us. ThingLink supports SAML, Microsoft logins, Azure Tenant ID and Ping Identity for user identification if you require it.
Simply the fastest way to create immersive online training and elearning!
Hopefully we have demonstrated that creating truly tailored and engaging online employee training in just five days is feasible for anyone. By using the systematic approach outlined above, you can quickly develop a really immersive, personalized training solution, whatever your training needs. All you need is the right tools! Happy creating!
Looking for more training and elearning inspiration?
For more inspiration, make sure you're following us on social media. In particular, please do join our Facebook Education Group and our LinkedIn Community.
Try ThingLink today
To get started creating interactive elearning content today, start a free ThingLink trial!