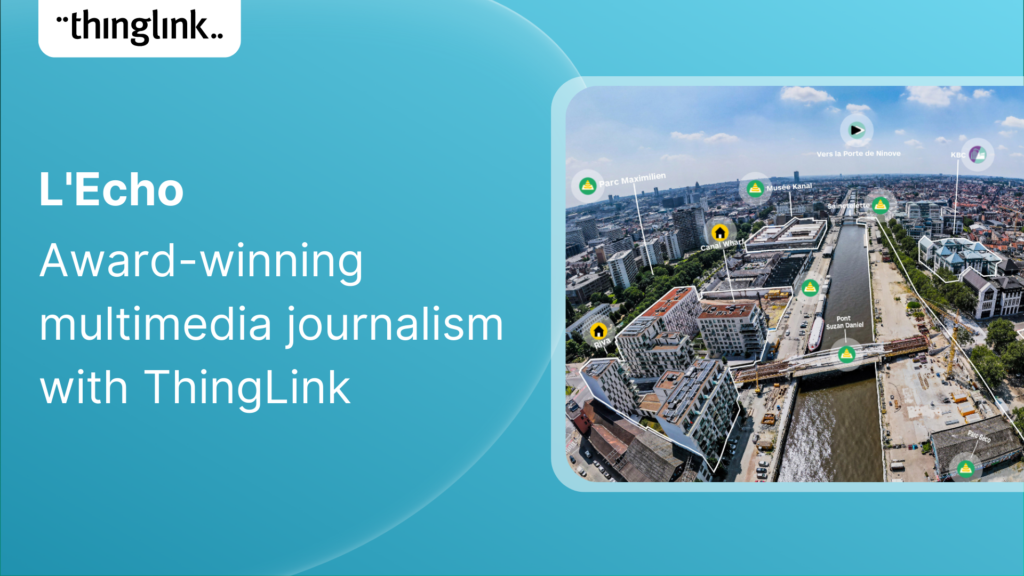 L'Echo Creates Award-Winning Multimedia Journalism with ThingLink
Multimedia reporting is being used ever more frequently by all media platforms. In this blog we showcase a great example of multimedia journalism from Belgium which was awarded a national journalism prize.
L'Echo is a daily business media brand based in Brussels, Belgium. It belongs to Mediafin, a joint venture between Rossel and Roularta. The editorial staff at the news organization consists of some 60 journalists. In 2022 a multidisciplinary team at L'Echo created a long format multimedia article about large-scale urban redevelopment in Brussels, along the canal that runs through the Belgian capital: "Le Plan Canal peut-il relancer Bruxelles?" ("Can the Canal Plan relaunch Brussels?").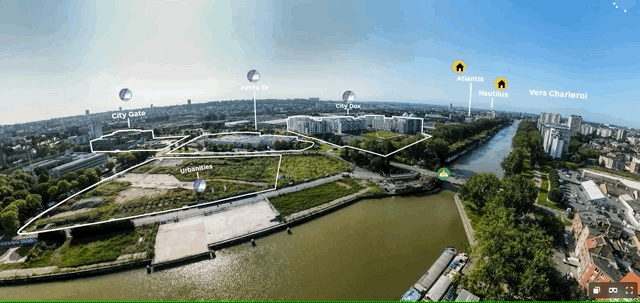 How the article was created
As with many of L'Echo's formats, the team consisted of a specialist journalist, multimedia journalists, a developer and a coordinator. The starting point was a redevelopment plan decided upon by the local authorities. The L'Echo team wanted to both assess its impact and show the extent of the area's transformation.
Meet a product expert
If you'd like to learn more about what ThingLink can offer to your organisation, you can schedule an online meeting with one of our product experts below.
Journalist and Manager of digital media Nicolas Becquet explains: "We started by collecting the information and then devised a storyline. Given that the canal crosses Brussels from one end to the other and that the area is considerable, we had the idea of visualising the territory from the sky, from north to south.
As a drone pilot and ThinLink user for many years, I thought of using the 360° camera technology to integrate it with ThingLink. Once the images were captured, we added a graphic layer to isolate certain areas and we used the interactive buttons to give contextual information.
The story was then translated into text, data, photos and immersive, interactive images. The editorial developer put all the elements together, with the help of the graphics team."
Digital Multimedia Storytelling
The team have been experimenting with digital multimedia storytelling for many years and are used to working cross-functionally and using ThingLink for 360° building tours. (See the bottom of this blog for more fantastic examples!) However now the technical progress made in 360° picture capturing meant that they were ready to create this type of narration.
The benefits of creating content in ThingLink for L'Echo
"ThingLink provides turnkey, mobile-friendly and technologically advanced visualization tools."

Nicolas Becquet, L'Echo
1. Perfect for viewing on mobile devices
For the L'Echo team, ThingLink provided the perfect solution they needed: 360° visualisation that works well on mobile devices. This is of critical importance given that year on year the percentage of their audience who consume the material on mobile devices grows.
2. Speed of content creation
A second benefit of using ThingLink was the speed at which they could create the content, much faster than expected in fact – taking their idea from concept to publication very quickly.
3. Increased engagement
As with all ThingLink content, the team were able to view and analyse the stats to see how much and what type of interaction the material received. They were very surprised to see that the article resulted in a much higher level of user interaction from their audience than they expected. By comparison, as a rule their audiences hadn't interacted to such an extent with online content.
From a quantitative point of view, in total, the visualisations received more than 160,000 views, which is significant for this type of content.
The overall open rate was a very satisfactory 15%.
On one of the three visualisations, the open rate was a very impressive 44%.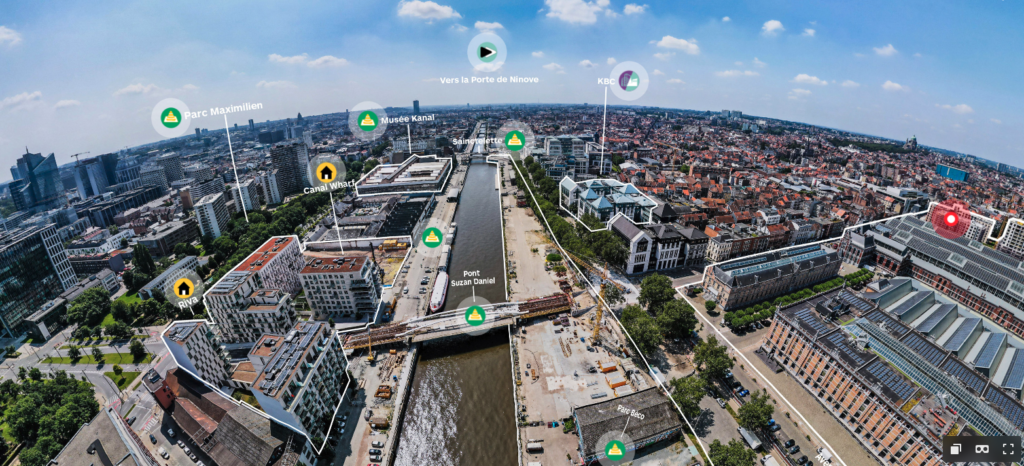 Award winning journalism
L'Echo received a lot of positive qualitative feedback from readers, who praised the quality and fluidity of the digital content and the originality and interest of the visualisations in helping them understand the subject.
They also received the Belfius annual journalism prize in the Digital Press category. The jury stated: "Excellent journalistic work, very successful multimedia aspects complementing the text and a clear focus on aesthetics". The awards are open to every professional Belgian reporter, press photographer or journalist.
View the full material in situ at the following web page: https://www.lecho.be/economie-politique/Bruxelles/plan-canal.html
The team also created a Flemish version for their Dutch speaking counterparts: https://www.tijd.be/politiek-economie/belgie/brussel/kanaalplan.html
---
Spotlight on: The growth of multimedia journalism
The growth in this area of journalism is evidenced by the number of leading media titles creating multimedia content, as well as the number of universities and colleges worldwide offering full-time bachelor's degrees in the specialism.
The benefits of using interactive digital media in your news stories and features
ThingLink allows you to seamlessly embed different media types within your content which immediately increases dwell time. Content becomes instantly interactive and the reader has a more "hands-on" experience, with the ability to delve into the stories as much or as little as they want.
Using a variety of media also increases accessibility, presenting content in an easily digestible format. The multi-modal format means that it can reach a wider audience who may not be able to access text-heavy content. Or they simply may not want to. In an age when audiences digest audio content in the form of podcasts, and short form video via platforms such as TikTok, text and images
Audiences worldwide have become accustomed to having TV newsrooms present items in an easily digestible infographic format. Journalism giants such as the New York Times, the Wall Street Journal, Bloomberg and the Guardian were the first to move into the new media realm, and still remain other national and regional news organisations have followed suit.
Interested to read more about the use of new technologies in news reporting? Here is our curated pick of some best use cases of ThingLink in multimedia stories – including a few more from L'Echo.
Start creating interactive content today
To get started with creating interactive content like this, start a free trial of ThingLink today!