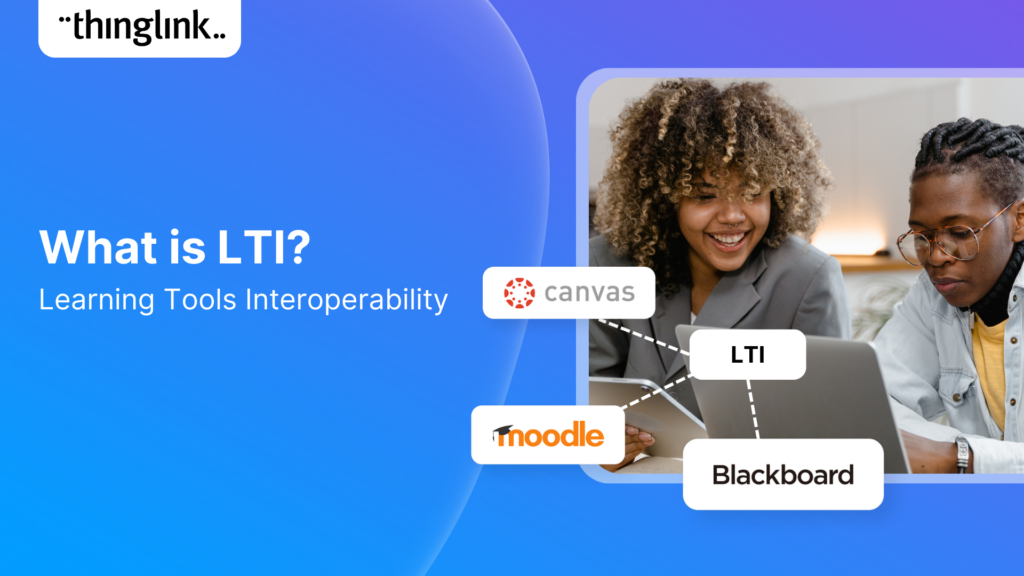 Simple walkthrough answering What is LTI?
Learning Tools Interoperability (LTI) is a widely-adopted industry standard in the fields of education and corporate learning and development. It was developed by a global learning consortium aiming to advance edtech interoperability, innovation, and learning impact.
LTI serves as a bridge that allows different educational software platforms to connect and work together seamlessly with your Learning Management System (LMS). Essentially, LTI enables your LMS, like Moodle or Blackboard, to integrate with external educational tools, such as ThingLink, without requiring separate logins or complicated setups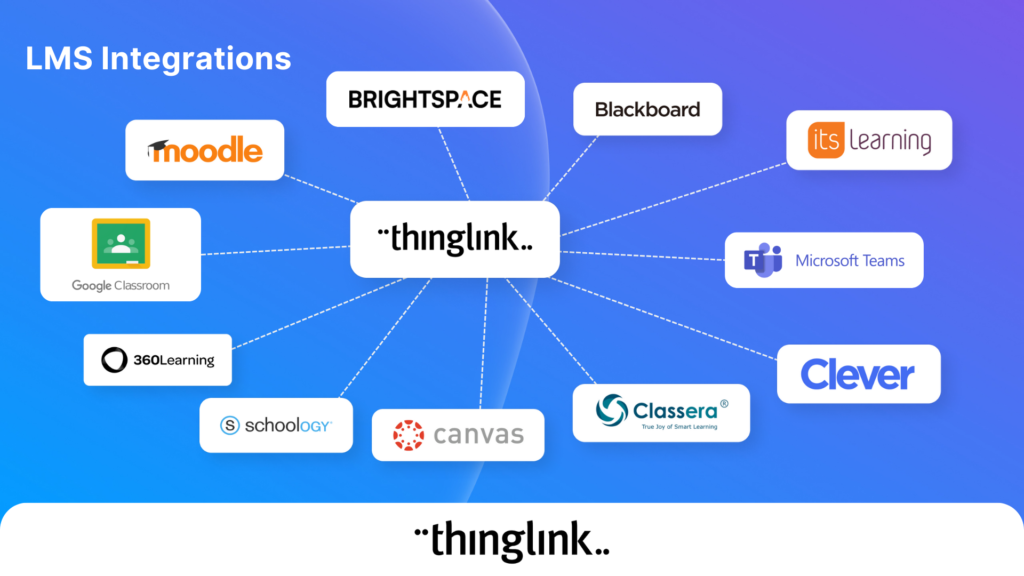 At ThingLink, we're thrilled to offer integration with both LTI 1.1 and LTI 1.3 standards. These versions make it easier for our interactive and immersive content creation platform to work in harmony with all the various Learning Management Systems used in education, training and corporate learning and development.
Learning Tools Interoperability LTI 1.1
LTI 1.1 is the earlier version of the standard. With LTI 1.1, we provide a straightforward way to embed your ThingLink interactive images, videos, and other content directly into your LMS. While it's simple to use, it offers limited features compared to LTI 1.3.
LTI 1.1 and ThingLink Accounts
If you've purchased an organization license e.g team, school or campus, you can connect ThingLink to your LMS using an LTI 1.1 integration. This will allow your team members, teachers and students to login into ThingLink or create an account by clicking on the ThingLink app button in your LMS.
Would you like to know more?
Learn more about ThingLink's LTI 1.1 integration here:
Learning Tools Interoperability LTI 1.3
LTI 1.3, the latest version of the standard, offers enhanced security and additional functionalities, ensuring a more robust and secure connection between ThingLink and your LMS.
The LTI 1.3 integration allows course creators to easily embed their ThingLink content into your LMS without using the embed code. It builds on LTI 1.1 functionality including easy ways to sign in and it also allows sending scenarios scores as grades back to the LMS (selected LMSs only).
LTI 1.3 and ThingLink Accounts
Having an LTI integration creates a ThingLink account for the viewer if they do not have one yet. This ensures that they'll be able to view any content, including private ThingLinks, without having to go to ThingLink itself. In the future, this will also allow us to pass learner data from ThingLink to your LMS.
Having a ThingLink Unlimited Bundle account really is advantageous here, you'll never need to worry about your seat allocation!
Both versions aim to streamline the educational experience, making it easier for teachers, students, employees or team members, to access ThingLink interactive content right from their LMS dashboard.
Would you like to learn more?
Find out more about ThingLink's LTI 1.3 integration here
Connect and Collaborate
For more ideas, use cases and inspiration on content creation, join our communities on social media! LinkedIn Community, Twitter Creative Learning Design Community and ThingLink Education Facebook Group.