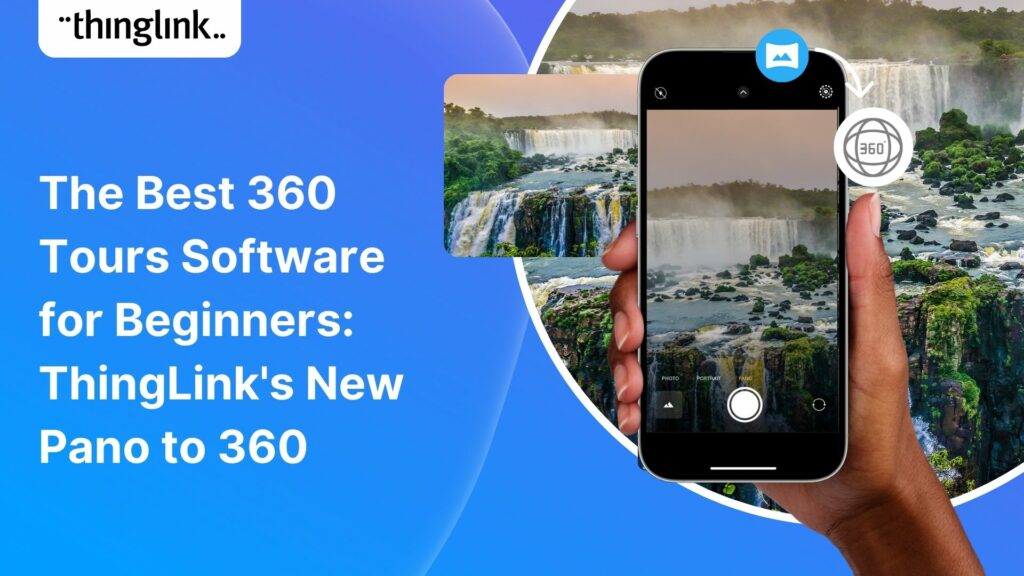 The Best 360 Tours Software for Beginners: ThingLink's New Pano to 360
In the wake of the deprecation of Google StreetView Camera App, virtual tour creators everywhere have been looking for a user-friendly, high-quality and accessible virtual tour software solution that allows them to create 360 images without expensive equipment.
Happily, the launch of Pano to 360 by ThingLink makes interactive virtual tour creation quick and easy! With this new tool, panoramic images taken with any mobile phone can be easily converted to 360-degree panoramas, otherwise known as photospheres.
With Pano to 360, you don't require multiple shots or images to be stitched together. And most importantly, you don't need any experience with graphic design, photography or image software! Instead, AI does the hard work for you, creating high quality 360 images that can be used to create stunning and immersive virtual tours that can be shared anywhere!
Try Pano to 360 for yourself!
Why not try the new tool today? See just how easy it is to convert your panoramas!
The alternative to Google Street View is here
ThingLink has been helping creators worldwide to produce, edit, and share their interactive content since 2011. Their newest development, Pano to 360, has been launched as an easy-to-use alternative to the Google Street View Camera App. Pano to 360 provides a free solution for transforming panoramic images into 360 photospheres. Compatible with all camera-equipped mobile devices, Pano to 360 is accessible for all users.
The easiest way to capture 360 images
Pano to 360 by ThingLink makes creating 360-degree photospheres easy for everyone. Instead of stitching together multiple images, a single panoramic shot is all you require for Pano to 360 to create a high quality 360 image for you in seconds.
How to create a 360 photosphere – a walkthrough
Follow these simple steps to create a 360 image in minutes!
Capture your Panorama: Take a panoramic image with your mobile device. Pano to 360 works with any mobile device that includes a camera, including iphones and all android devices.
Upload Image: Upload your photo to the Pano to 360 Converter in ThingLink. Use the Converter or upload directly in to ThingLink Guided Tours.
Converted to 360 Photosphere: Your panoramic image will then be converted into an immersive 360 photosphere. You can then download if using the Pano to 360 by ThingLink web page.
Edit and Share: Add interactive hotspots to your scenes to create guided tours, virtual trips, escape rooms, breakouts or learning materials. The super simple drag and drop functionality of ThingLink means that it is the fastest way to create professional virtual tours and other interactive media. Add audio, floorplans, 3D models, embeds and more! Then share it across your website, landing page, social media, or even in virtual reality mode for viewing on a VR headset for a fully immersive experience!
Who is the Pano to 360 solution designed for?
Anyone who is interested in VR tour creation as an educational solution, publishing or marketing tool can use the new ThingLink feature. It is particularly useful for real estate agents and other real estate industry business owners who want to provide virtual tours for potential buyers whilst avoiding the prohibitive costs associated with solutions such as Matterport.
The benefits of Pano to 360
Simplicity: No need for multiple shots or stitching individual images together. A single panoramic photo is all you need.
Quality: The quality of your original image is retained in the 360 photosphere that is created.
Interactivity: As with all ThingLink content, you can then add tags to your 360 images to create a truly immersive and interactive experience.
Free and Accessible: Previously, to create a 360 image, creators required dedicated 360 cameras such as the Insta360 or Ricoh Theta. Pano to 360 is free to use and accessible across any device.
We believe we have created the best virtual tour software for anyone who is looking for ease of use, in a cloud-based virtual tour platform Whether you are an educator, marketer, real estate professional, or are creating 360 images and tours for your own personal use, Pano to 360 is so simple to learn and use and delivers the best solution for creating 360 images with any device, anywhere!
Try Pano to 360 for yourself!
Why not try the new tool today? See just how easy it is to convert your panoramas!