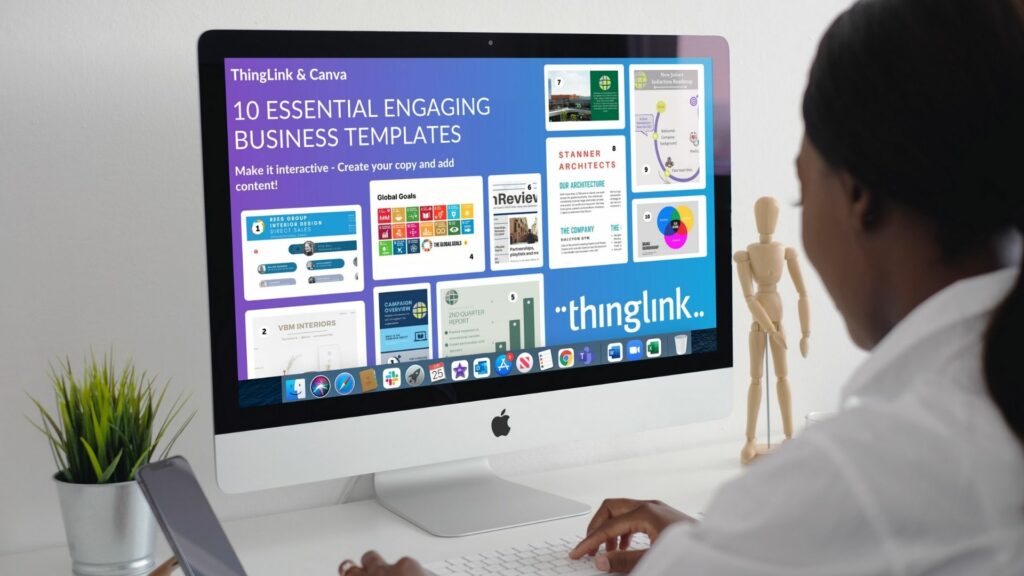 10 Business templates for creating interactive content with ThingLink and Canva
Using ThingLink for your business? Great news: Our team has curated a collection of top 10 examples of ready-to-use Canva design templates that you can access for free!
Whether you're pitching a start-up, creating marketing and sales materials, communicating internally, or creating reports for decision-makers, interactive multimedia can help you say it better. Integrating Canva into ThingLink's creation flow means that now it is even easier for ThingLink users to create professional-looking hypermedia experiences – not only for education teams but also for business, marketing and HR teams!
Power up your creativity flow with these free Canva templates designed for ThingLink use! From a pitch deck to, diagrams, organization charts, and annual reports, we've got you covered! Here are some ideas for how to use each free and editable template, as well as links to all of them in Canva. Once created in your ThingLink account you can easily embed it in your own website, Microsoft Teams Channel, or simply share it on social media as a link.
1. Company organizational chart
Create a more immersive experience for your organizational chart by asking your team to add video introductions. Use it on your website, or as part of any pitch deck. Here is the Canva chart template used in this design. 
2. A really clever thinglink that looks and behaves like a website!
Use it as a microsite for marketing or a proposal for a partnership, or a charity campaign, when you don't want to have to create a new domain – possibilities are endless. Here's the template we used.
3. Campaign infographic/internal engagement document
Make sure all your team members are on board with any campaign or create an interactive infographic to highlight the main value proposition on your latest blog post. Get creative with the Canva template here. 
4. Global Sustainable Development Goals presentation
The UNESCO Sustainable Development Goals should be at the heart of any enterprise's thinking. Stay on track and report back to your stakeholders. Here is the Canva template with icons for all 17 goals.
5. Graph or chart for reporting
Use ThingLink to make any chart or graph interactive with detailed information in a variety of media. Highlight your product features, reasons to buy, or explain your monthly growth. Edit the template from here. 
6. Newsletter or annual report
If you are looking to do something different, make the otherwise text-heavy docs interactive with links your stakeholders will immediately engage, or even better, add voice notes on each page! An additional bonus: now you will also be able to see how many people have viewed your materials! ! Template right here.
7. Virtual tour of a business park/campus or new office locations
Provide your team with a map and guide to facilities or create a tour for new employees to highlight your office location! Link to the template here. 
8. Pitch or proposal
Get investors engaged from the get-go with interactive hotspots showcasing your ideas, experience and your team. Grab the Canva template here! (Plus bonus template for the linked resume thinglink!)
9. Induction road map for new employees
Now you're creating a team around you – let new employees know what to expect! Create a 30-60-90 day plan, or highlight the goals for the organization and department. Grab the template here.
10. A Venn diagram to help you define your brand
Pin down your brand vision and identify who else sits in your brand area by identifying any overlap between two brands, or competitors. Could they be your next partner brand? Here is the Canva template for you to adapt.
How does the ThingLink Canva integration work?

Thanks to the new integration, your background image can now be created and edited directly in ThingLink. If you're signed in to your Canva account, you can also access all your own previous and current designs and uploads. So whether you need to change the entire background image, or just update a tiny piece of text – you can do it all in ThingLink!
Share with us your creations with ThingLink and Canva, and we'll feature you on our blog and social media by using the hashtags #thinglink #thinglink_edu. Get started with ThingLink today for free!