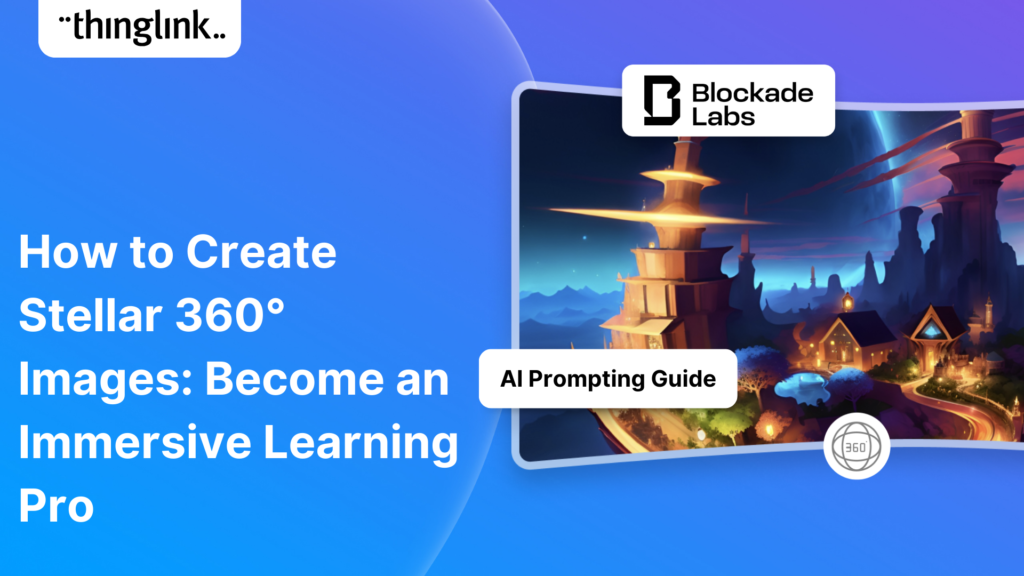 How to Create Stellar 360° Images: Become an Immersive Learning Pro
Unlock the Secrets to Crafting Mesmerizing 360° Visuals for a Game-Changing Learning Experience!
The future of immersive learning is not just about consuming content—it's about creating it. Finding a school or team-friendly yet powerful solution for creating with AI can be challenging. Enter ThingLink's integration with Skybox AI. Here's why educators and students alike are raving about this dynamic duo, here's some helpful ideas to making the most of it!
About Blockade Labs Skybox AI
Blockade Labs specializes in AI-assisted 360-degree image generation technology. With Skybox AI, Blockade Labs aims to make the world of 360-degree imaging more dynamic, interactive, and accessible to all using simple text prompts.
Activate Skybox AI through ThingLink
If you'd like to learn more about ThingLink and Skybox AI together for a whole school, campus or team, please click below to go to our dedicated page.
10 Key Pointers for Skybox AI 360 Generation Prompts
Keep it simple for effective results.
3-4 phrase prompts are ideal; too long can override style.
If prompts are too short, they may lack coherence; add descriptive phrases.
Specify location context: "indoors" or "outdoors".
Adjust camera altitude with tags like "aerial view" or "street view".
For night time scenes, use words like "moonlit" or "bioluminescent".
Emphasize context in prompts.
Clean up messy images using negative prompts with words like "blurry" or "broken". (Negative prompts available only in SkyBox AI Interface currently)
Explore presets for cleaner images,
For sky presets, describe clouds and aim for flat horizons.
Even Better with Enhanced Prompts!
Using Enhanced Prompts is now available in the ThingLink Create with Sky Box Interface. Here's an example with Enhanced Prompts
Helpful Tip for Teachers! Learners can copy paste the Enhanced Prompts into a ThingLink Info Tag to create vocabulary lists and further research. Original prompt simply 'George Orwell 1984'. Enhanced Prompt – VR360: Ominous Big Brother billboards, giant telescreens in dystopian cityscape. Style: gritty realism, industrial bleakness, high-contrast light. VR360: Dead trees, gloomy skyscape, towering brutalist architecture.
Another Helpful Tip for Teachers – View in VR! Imagine learners and educators being able to create 360 worlds and view with your VR Headsets.
Click to download the PDF.
Common tips and tricks to getting the most out of your Skybox AI generations!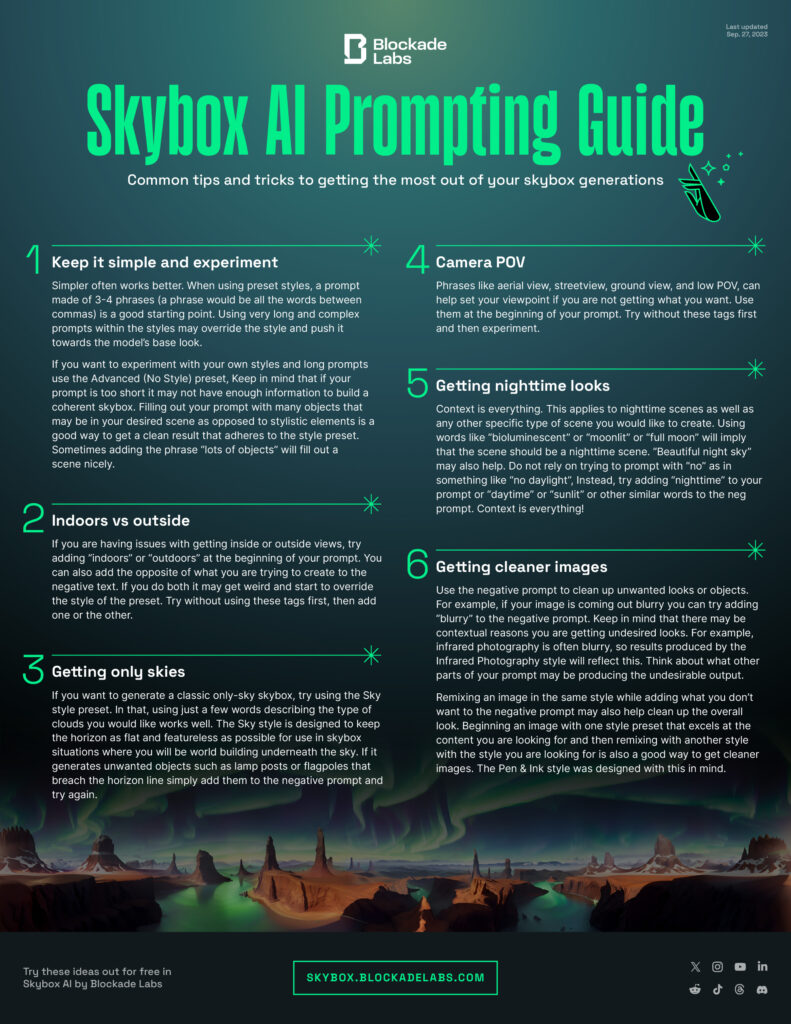 Free Demonstration
If you'd like to learn more about what ThingLink can offer to your school, organization or company, you are welcome to schedule an online meeting with one of our experts by clicking below.
More Ideas to Follow
Join our ThingLink and Skybox webinar or watch the replay! Sign up here We'll be collating ideas for games based learning, storytelling and sharing all!
Connect and Collaborate
For more ideas, use cases and inspiration on content creation, join our communities on social media! Twitter / X ThingLink Education and Blockade Labs Skybox AI LinkedIn Community and ThingLink Education Facebook Group. Discord Blockade Labs Community.