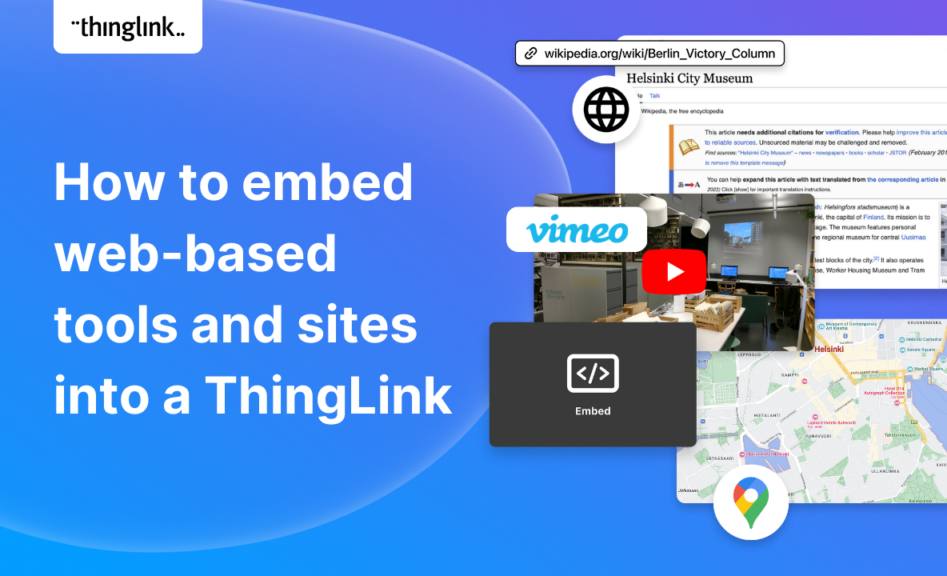 How to embed web-based tools and sites into a ThingLink
Keep Everyone on the Same Page! How to embed web-based tools and sites into a ThingLink.
The ThingLink editor provides 4 incredibly powerful tag types: A combination Text and Media Tag, a plain Text Tag, a Transit Tag to link your ThingLinks together and – last but by no means least – the impressively versatile 'Embed Tag'. In this post we provide a little more information on the what, how and why of using this deceptively simple yet impactful tag.
Try ThingLink today!
To start creating interactive content with ThingLink, register for a free trial account!
What's the benefit of using the Embed Tag?
The Embed Tag is the key to adding any of a vast range of different apps or websites directly into your ThingLink. The range is expanding all the time – providing so many original and engaging ways to present concepts and content to your audience. Embedding content straight into your ThingLink means your audience stays on the same page rather than moving from site to site and possibly losing focus. Your content therefore stays accessible, secure and all in one easy-to-find place.
Explore educator Amanda Pickard's example
I love the Embed Tag because I want my little learners to be as independent as possible. The Embed Tag lets me gather different resources, activities and place them inside my ThingLink classroom for my wee ones to do. This keeps them in one place, no need to navigate the internet, a browser, a website, it keeps them safe and builds confidence and independence. Amanda Pickard, Digital Learning Specialist and Primary School Teacher, Scotland.
What can you embed?
Many of your favourite tools from Google Workspace and Microsoft O365 can be added to the Embed Tag, as well as Adobe tools, and popular apps like Wakelet and Book Creator.
How do I use the embed tag?
Our simple top thirty list contains apps and tools we consistently see used across the thousands of ThingLinks created each day. Our easy-to-follow instructions show you how to embed each in a ThingLink tag and there are examples so you can see them in action.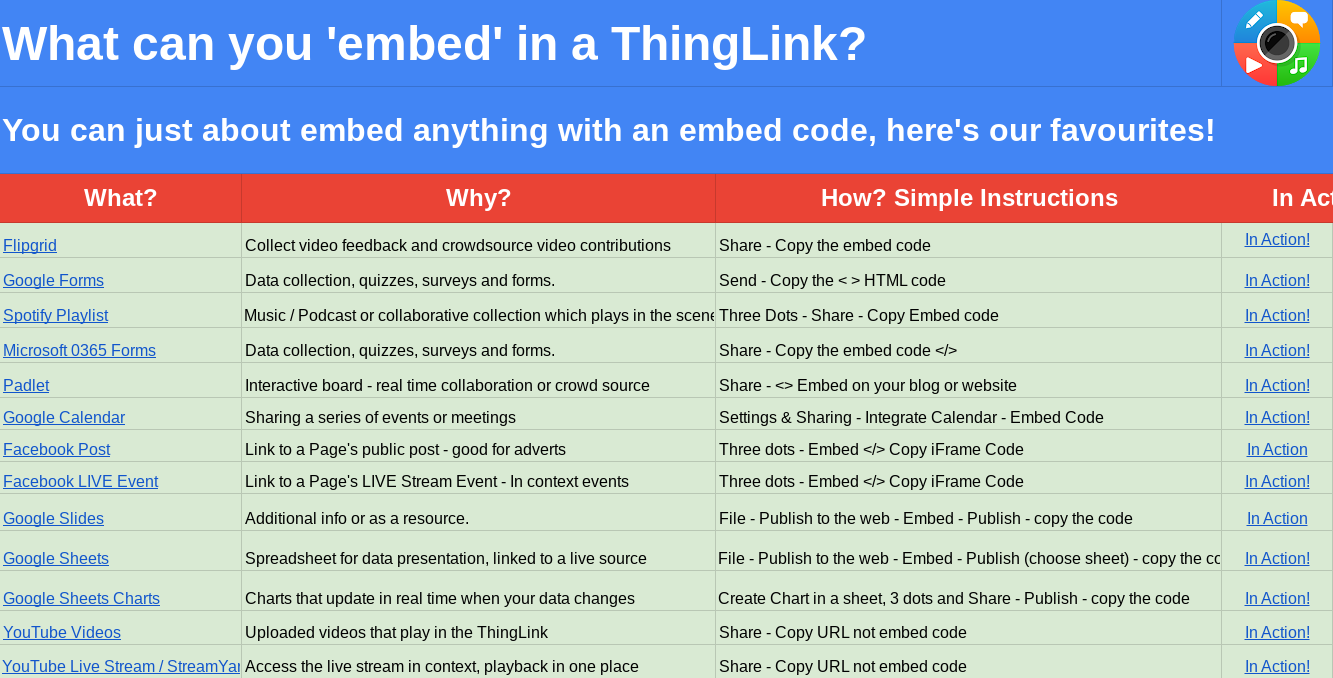 Please note: In general, you can embed content from most web services that provide iframe embed code, although in some cases the functionality may be limited. This support article describes in more detail how to get the embed code for some of the most popular use cases.
Embedding larger videos?
Videos up to 25MB can be added straight to the Text and Media Tag providing a personalised introduction, sign language or snippets of information – but what about larger videos? The Embed Tag is the tool you need for larger video files of up to 10GB. Simply create a separate ThingLink and copy the embed code via the Share button – this can then be embedded in your tag just like any other content from a website or app. Ta-da!
8 ideas to get started!
Meet a product expert
If you'd like to learn more about what ThingLink can offer to your school or organisation, you can schedule an online meeting with one of our product experts below.