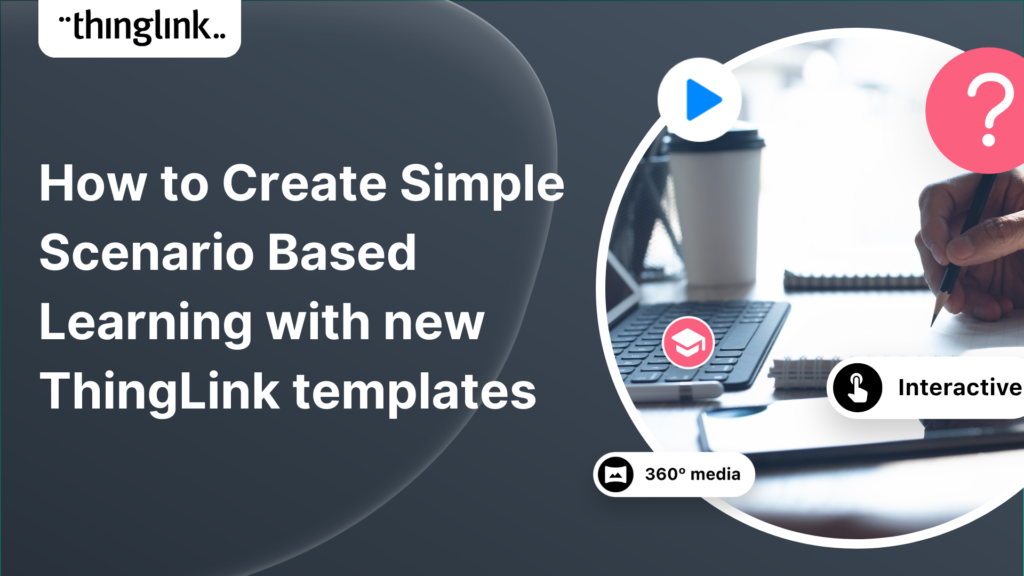 How to Create Simple Scenario Based Learning with new ThingLink templates
We recently launched ThingLink's new Scenario Builder Templates – our latest tools to help you create impactful interactive training.
In this blog we will showcase why the templates are such a useful tool to help you create your interactive scenario learning content – plus we show you the most straightforward of the template styles in action – the Linear model.
Get started today!
Explore a world of immersive content and transformative learning experiences with a complimentary ThingLink trial.
Crafting tailored scenarios for your learners' specific training needs can be a daunting prospect. However help is at hand! ThingLink has unveiled an array of adaptable Scenario Builder templates, poised to be the ideal start to creating e-learning or corporate training material using branching scenarios.
When you start to design scenarios on ThingLink, you'll be shown four distinct models ready to act as your blank canvas. You can then seamlessly swap out our placeholder content with your own text, questions, branching, and media, making customization easy. Of course – if you prefer to start your content from scratch, you still have the freedom to craft your unique scenario your way.
With the added power of the super-helpful new built-in AI content creation tools, the challenge to craft simple or intricate learning scenarios becomes much more manageable. These scenario builder templates are your secret weapon for developing diverse employee training experiences with interactivity built-in. Whether your primary objectives revolve around fostering new skills, amplifying existing ones, or elevating employee engagement and retention, these templates will become invaluable.
How do you use Scenario Builder?
For an introduction to Scenario Builder and why it's the perfect tool for creating immersive learning experiences, watch this short video intro:
What exactly is Scenario based Learning (SBL)?
Explore the foundational principles behind Scenario-Based Learning in this informative introductory blog post: What is Scenario Based Learning? Learn why it is so popular as a method of instructional design, and why it's ideal for compliance training, safety training, soft skills training and more.
You can also watch all of our Scenario Builder content on the dedicated playlist here, including our masterclass webinar, where we build a whole scenario from scratch!
Explore the simplest of our new Scenario Builder templates: Linear Scenario
The most basic of the scenario builder templates is the Linear Model. Here's an example of what it might look like in action. We have created an online course in Understanding Bias which takes the learner through the types of bias. They then have an exercise to complete to identify what bias is being demonstrated in a series of true-to-life situations.
Want to replicate these images for your own course? Use our free Canva background template for the images we used in this above course on Understanding Bias.
However a linear template could be used to deliver any type of training! Our Certified Creator Course is a great example of the linear scenario model in action!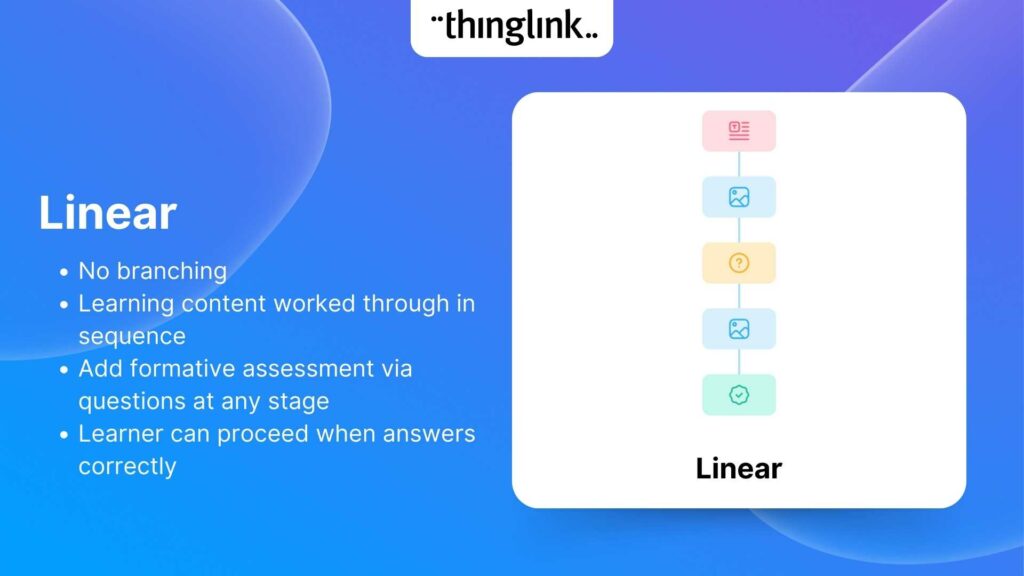 What else can you add to the linear template?
Incorporate gamification principles into your learning journey with elements such as completion badges and points earned as learners progress.
Make it more challenging by integrating formative assessments with questions at various stages. These questions challenge learners to provide the correct answers before advancing, employing a conditional transition. If an answer is incorrect, the feedback gently nudges learners to backtrack and review the material or reconsider their response. However, unlike the more complex escape room model which is another alternative template offered to creators, here, the wrong answer yields a uniform, generic message, without individual consequences. There are no decision points which can steer you down an alternate path or transport you to another scene or text.
In all models, you can add as many media items as you want. Remember these can be any type of ThingLink! An interactive image, video, 360 image/video or 3D model. Your media can also be an entire virtual tour – or Guided Tour! Here is a guide to the 6 blocks that can be added to any scenario.
Plan your scenario structure with our handy free Canva whiteboard template.
Create a virtual learning environment: Use 360 tours of different rooms/areas/environments to introduce each in sequence. Great for onboarding!
What other types of scenario template can I choose?
There are three other types of scenario model for which we have created these handy templates. These are:
For a full round-up of all four, see our new Scenario Templates PDF guide.
What are the benefits of Scenario Builder for training content creators and learners?
Tailored Training Solutions: With Scenario Builder, crafting and adapting training materials in-house is simple. This means you can effortlessly cater to the unique training needs of different departments or individual employees. Quickly address competencies and skill gaps by identifying knowledge deficiencies and updating your entirely customized scenario-based learning content within minutes.
Versatile Training Approaches: ThingLink enables the creation of online training courses and learning materials that can flexibly accommodate various training methods. You also have the flexibility to embed a wide array of apps and integrations, expanding the diversity of content you can offer.
Convenient Scheduling: Design a training schedule that harmonizes with employees' other commitments. ThingLink's online learning packages can be conveniently completed from the comfort of home or during daily commutes. Real-life situations and environments and real-world problem-solving can be recreated and explored safely – anywhere!
Comprehensive Learner Insights: Take advantage of built-in statistics features to assess and monitor each employee's progress. This empowers you to closely track individual performance and milestones. Set training objectives, measure outcomes, and fine-tune the training process as needed. See how employees respond to decision-making in a challenging situation.
Meet a product expert
If you'd like some additional support in creating bespoke training content for your organisation, schedule an online meeting with one of our learning experts below.
No matter the learning outcomes you have in mind, and the specifics of your employee learning objectives and needs, Scenario Builder is purpose-built to assist you in crafting immersive and captivating training resources – from bite-size micro-learning, all the way up to entire courses and training programs. Plus, with the introduction of our new templates, the process of creating impactful courses and modules has been further streamlined for your convenience.
Connect and engage with fellow creators
For more ideas, use cases and inspiration on content creation, join our communities on social media! Twitter / X ThingLink or ThingLink Education, LinkedIn Community and ThingLink Education Facebook Group.