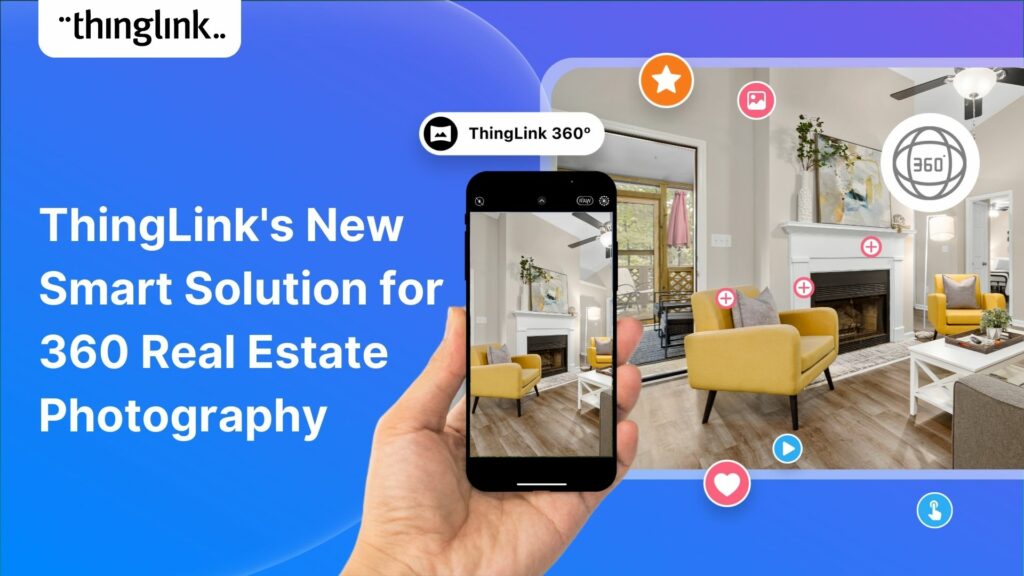 ThingLink's New Smart Solution for 360 Real Estate Photography
Virtual tours are now one of the cornerstones of real estate marketing, giving potential buyers the opportunity to view a property at a convenient time and place if they are unable to see it in person. 3D software platforms like Matterport and CloudPano are common ways to create 3D home tours, but for many freelance realtors or small real estate companies, they can be a daunting investment.
In the last few years however, more cost effective and simple solutions have emerged that mean that anyone can create virtual real estate tours. In this blog, we show how ThingLink can be used as your virtual tour creator. We also invite you to hear more about a game-changing way to create 360 degree real estate photos using your smartphone!
On-demand webinar
Register to receive the action replay and links!
ThingLink's low cost alternative to 3D tour software
Traditionally, the photographic hardware alone needed for capturing imagery for the 3d tours used by many real estate agents cost from $4500 (4100 Euros). ThingLink's easy-to-use interface and features make it a great alternative for building high-quality photographic tours of a property – without the prohibitively expensive 3D virtual tour software.
Virtual tours that can be shared and published anywhere
ThingLink provides you with simple sharing options, meaning that you can embed your 360-degree tours on any website, share them via social media platforms, or send with a link via email. Read about publishing ThingLink content in this support article.
This example below is entirely created in ThingLink and shows the variety of content that can be embedded!
The equipment needed to create virtual tours
To create the 360 images you'll require for your virtual tour, until now you have needed a 360 camera. ThingLink have tested and approved the Ricoh Theta and Insta360 brands – details below.
The Ricoh Theta z1 is a top of the range model priced around $1400, but the Ricoh Theta SC2 can be yours for only $375, providing all the essential features.
The Insta360 is a user-friendly model which you can buy for around £575.
Google Pixel phones are the only smartphones currently on the market with the capability of capturing true 360 images.
Until June 2023 the Google StreetView app (now discontinued) could be used to capture 360 imagery.
ThingLink's Pano to 360 feature is a game changer!
The panoramic photo setting on android phones and iphones don't capture true 360 photospheres, which are required for creating dynamic virtual 360 tours
Due to the lack of any real alternatives after the loss of Google Street View, the ThingLink development team have created a fantastic solution to convert any panorama taken on your smartphone into a 360 image. In our launch webinar on 26th July we gave a full run-through and demo. Register below to watch the recording where we walk you through the steps for creating 360 images for virtual tours using any smartphone.
Watch our demo webinar on-demand!
With ThingLink, add interactivity to your scenes
Importantly, ThingLink allows you to annotate your 360 images. Interactive hotspots or tags are added to areas of an image or video. These hotspots can contain text, images, videos, audio, and even external links. Tags are used to give additional information about a room or space, highlight specific features, or link to external resources. Read more about the different types of ThingLink tags here.
Link your 360 images and create a walkthrough tour of your property
Once you have annotated all your images, link them together with the tour tag to create a virtual tour. You can also add a floor plan to your tour which can assist in orientating prospective buyers. Walkthrough the steps in this support article.
Additional ways to create a more immersive experience
A 360 video tour can bring each room or space alive for your target homebuyers. Read more on how to create interactive 360 video at this blog.
Why not add aerial photography to your virtual tour? In ThingLink can you create a tour that links regular images with 360 imagery. Drone photography adds an extra dimension to your tour.
We hope that this blog has demonstrated that complex 3D software is not necessary to create multimedia virtual tours for real estate. ThingLink's alternative solution gives anyone the potential to create engaging tours in just a few hours.
Looking for more inspiration?
Outside the real estate industry, ThingLink is used for creating a wide variety of interactive content. To see more, why not join our friendly communities of creators on social media such as the ThingLink LinkedIn Community?