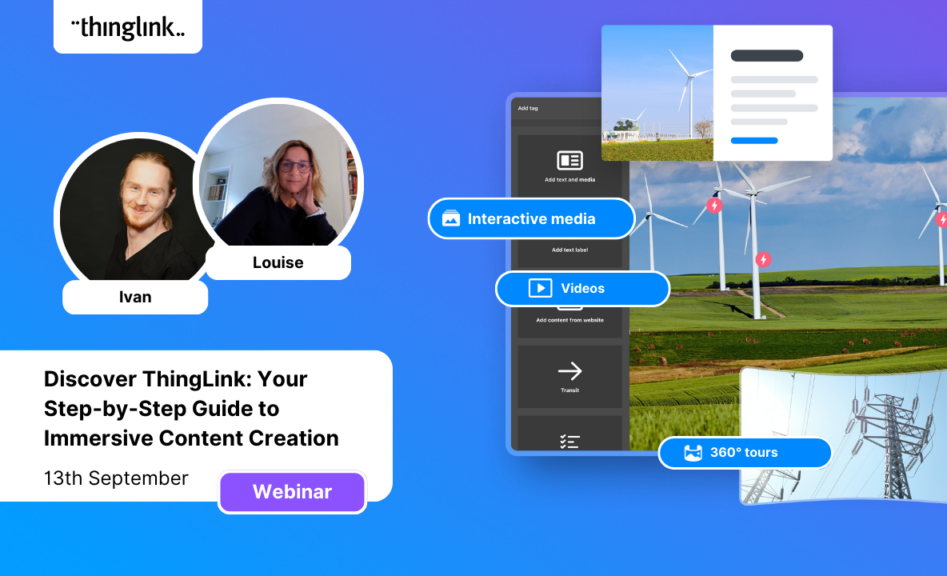 New Webinar! Step-by-Step Guide to Creating Immersive and Interactive Content
Dive into "Discover ThingLink: Your Step-by-Step Guide to Immersive Content Creation."
On Demand
Register to receive the on-demand recording link!
This webinar introduces ThingLink, a game-changing platform that transforms static visuals into interactive and immersive experiences.
Whether you're new to ThingLink, digital content or looking to elevate your creations, this session will equip you with the skills to engage your audience in compelling new ways. Join us to unlock the future of dynamic content!
Now On-Demand!
You will receive a link to the action replay!
Webinar Objectives:
Introduction to ThingLink: Unveil the powerful interface and easy to use tools designed for crafting interactive and immersive digital experiences.
Transforming Traditional Content: Learn hands-on techniques to evolve static images, 360 media and videos into dynamic, interactive masterpieces.
Maximizing Audience Engagement: Understand key principles to keep your audience immersed, ensuring content not only attracts but also retains viewer interest.
Sign up for our Exclusive Webinar!
Other Ideas for learning about ThingLink you'll love!
Schedule a 1-1 Demo!
If you'd like to learn more about what ThingLink can offer to your school or organization company, you can schedule an online meeting with one of our product experts below.
For more ideas, use cases and inspiration on content creation, join our communities on social media! LinkedIn Community, Twitter Creative Learning Design Community and ThingLink Education Facebook Group.