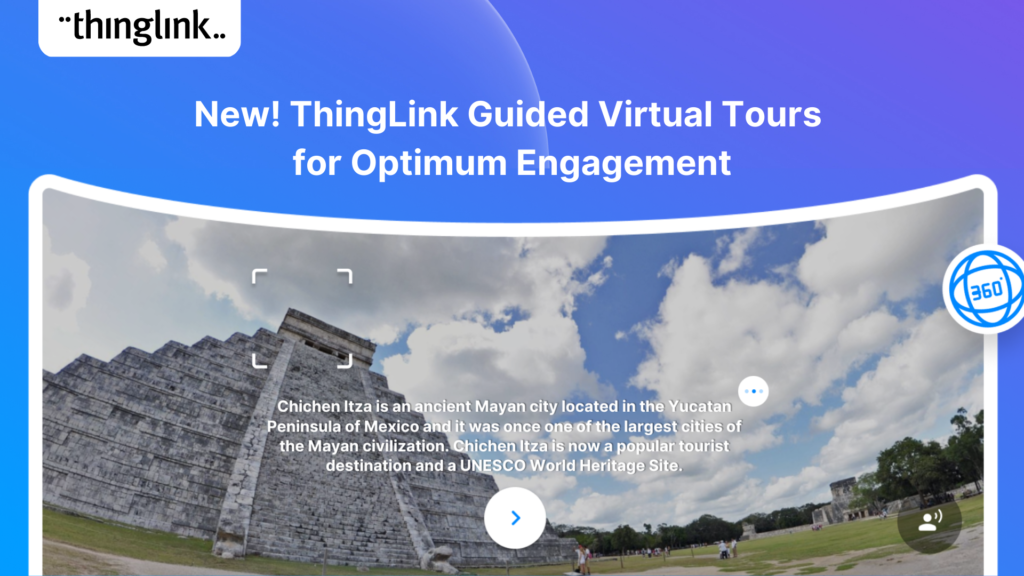 New ThingLink Guided Virtual Tours for Optimum Engagement
Have you ever wondered how to offer more structure in your virtual tours, trips or experiences? We are delighted to say that ThingLink is announcing the perfect solution to achieve this.
ThingLink is today offering a new product for creating 'Guided Tours'. We've listened to your feedback about offering you the ability to create not only free-form 360 experiences but also a type of tour to hand-hold, guide and offer narration to your viewers. Here are the top reasons as to why you might wish to use a Guided Tour.
Direct the viewer to specific focal points that may be obscured in a free-from tour e.g for onboarding or exhibits in a gallery
Reduce the options for points to click with a single clickable arrow to guide viewers in a sequential way e.g. young learners in a virtual tour or field trip
Ensure everyone has gone through the same experience, important for mandatory training
Offer narration (in over 17 different languages) to help learners read and hear the information texts which are not within a text and media tag.
Show the answers / results to a gamified learning escape room or scavenger hunt activity.
Creating virtual tours or field trips using 360 media are some of ThingLinks most popular, effective and versatile applications. They are used to solve challenges across an extensive range of different environments. This includes staff development and training in virtual learning environments, in K-12 and higher education, by realtors and other real estate professionals and by museums, galleries and other cultural sites.
Introducing new Guided Tours
The current ThingLink Editor is generally used for creating free-form style virtual tours, in which your viewers can choose which scenes to explore, in whichever order they prefer. The same goes for the interactive tags or hotspots within each scene; your viewers are free to explore any or all tags in whichever order they choose.
The new Guided Tours editor allows you to create a high quality and professional-looking guided experience that takes the viewer from one point of interest to the next in a predetermined, set sequence.
Check out the example below to see the new guided tour in action. Click on the person / speaker icon to activate the spoken narration.
Have a go at embedding one of our example guided Virtual Tours and see how professional it looks. Experience how engaging and accessible it will be for your viewers! Click below to obtain example embed code in our support article.
In-depth Guidance
Our support article, with a tutorial, provides you with all details and information you need to start creating your own Guided Tours.
The ability to share your Guided Tours is exclusive to our paid plans. Upgrade your account to easily embed content in your website, Learning Management System (LMS), share around the world or social media. Embedding your interactive tour is simple with the automatically-generated unique embed code.
ThingLink: Immersive Media Made Easy
ThingLink is used as a virtual tour creator tool and loved by almost 10 million creators around the world because it's so easy to use compared to the majority of virtual tour software.
Taking the 360-degree images required to create tours in ThingLink is simple too, by using a 360-degree camera such as Ricoh Theta or Insta360. (Please note that 360 panoramas/panoramic images created by many cameras/phones are not true 360 photospheres and therefore can be unsuitable for creating a virtual tour.)
The uses of Guided Tours for interactive and immersive experiences is virtually limitless! They can be viewed on desktop, tablet or android / iOS mobile devices.
Provide a free virtual tour of your location for subscribers, attract potential buyers with virtual staging of your property, create a guided tour for transitions or for students who are unable to access a physical tour of a site for any reason. Showcase your institution to potential new recruits or build the best onboarding / walkthrough materials with interactive hotspots.
Helpful Pro Tip! You can use Guided Tours in the ThingLink Scenario Builder too, giving you lots of options to mix and match your interactive learning assets.
The easy new way to create 360 images for Guided Tours: Pano to 360
NEW! Creating virtual tours, exhibitions, escape rooms and other immersive content just got even easier! ThingLink has now launched Pano to 360 by ThingLink: an easy way to create a 360 photosphere from a panoramic image using any smartphone. For more information, including step-by-step instructions see this helpful support article. 
Try the free Pano to 360 converter
The Pano to 360 photosphere converter is free to use for anyone, no ThingLink account required! Upload a panoramic image to see it in action.
Other posts that might be of interest to you
Get started with virtual tour creation today!
Access ThingLink today with a free trial account.