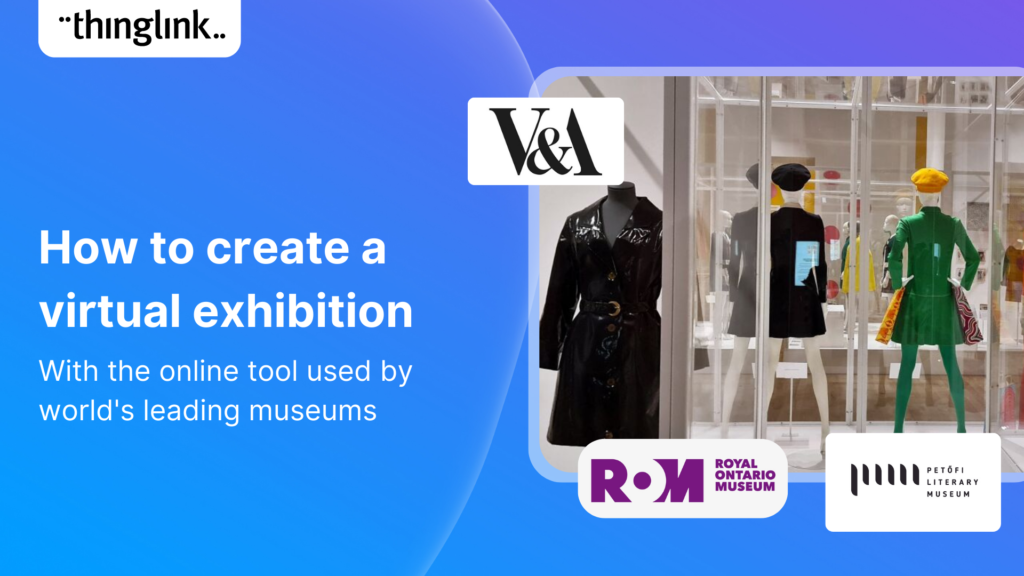 How to Create a Virtual Exhibition – The Online Tool Used by World's Leading Museums
Regardless of size, museums worldwide face challenges related to funding, staffing, and audience engagement. One way that museums are overcoming these challenges is by creating virtual exhibitions.
In this blog post, we will explore how to create a successful virtual exhibition. We will show you how easy it can be to curate digital content effectively, and how to share and promote your virtual exhibit so that it reaches as many people as possible. Creating a successful virtual exhibition is critical for museums looking to engage new audiences in today's digital age.
However you don't need a physical space to create your own stunning exhibition. With ThingLink, even local artists groups, individuals, schools and colleges can use the same super-simple platform used by international museums and galleries such as the V&A and the Royal Ontario Museum, to create and host stunning virtual exhibitions. Read on for our expert tips!
Meet a product expert
If you'd like to learn more about what ThingLink can offer to your school or organization, you can schedule an online meeting with one of our product experts below.
1. What is a virtual exhibition?
A virtual exhibition is any online presentation of a collection of material, made accessible to a global audience via the internet. It allows users to explore the exhibits from the comfort of their own homes, schools or workplaces and at their own pace. This material is usually based on visual content, particularly in the context of museums and galleries. The Pandemic saw a huge rise in the numbers of art, cultural and heritage institutions creating or expanding their virtual or online presence. However the idea of a virtual exhibition has spread beyond the realm of real galleries and museums creating virtual tours of art exhibitions. It's now easier than ever for anyone to create a completely virtual space for their content to be displayed! In the example below, Hungarian schoolchildren created their own online exhibition in a completely virtual space, with the help of Museum Educators from the Petofi Literary Museum, Budapest.
2. Why create a virtual exhibition?
While a physical exhibition requires significant time and financial investment to mount, a virtual exhibition can be created for a fraction of the cost and without many of the logistical challenges.
A virtual exhibition also has the potential to reach a far wider, even global audience than a physical exhibition since it can be accessed from anywhere in the world with an internet connection. For these reasons and more, creating a virtual exhibition is an increasingly popular option for museums looking to engage new audiences and tell new stories.
A virtual exhibition is a great way to engage with your audience and provide them with an immersive experience that they can explore at their own pace, and explore using the sort of media they prefer. that might be video, audio, additional images – or something else!
It also creates the opportunity to create one joint, collaborative exhibition between institutions. In this example from Budapest, 6 major museums and cultural institutions who had never collaborated in this way before created a schools tour together. Explore their virtual exhibition created in ThingLink below.
It also means that delicate or fragile artefacts can be taken out of the archives and shown to a wide audience who might not normally be able to see them, even if they were able to visit you in person. This was the case at the Highland Folk Museum in Scotland where fragile artefacts were placed in situ in the on-site buildings, a virtual tour was created, then the artefacts were returned to the archives. This open air museum is always closed throughout the winter, so it also enables visitors to enjoy the exhibition out of season. Explore the full open air museum site virtually at their website here! A snapshot of their immersive virtual museum tour is below.
3. How to create a virtual exhibition
How do I make a virtual exhibition ?

This can be done using existing collections, or specially commissioned for the purpose.
If you are a museum or gallery curator or educator, you can base your material on photos of your real-life exhibition space. These can be flat images or, for a more realistic immersive experience, 360 images. You can create these with a 360 camera, or even with a smartphone – many of which are able to "stitch together" a 360 image from individual photos. Our support article here explains how you can use the Google Streetview app to do this.

With ThingLink, you can easily create your own virtual exhibition by tagging images with hotspots that link to additional information, videos, or even other exhibitions.

How do I create a virtual gallery?
How do you organize an online exhibition with ThingLink?

Organizers can share folders to collaborate on the project, editing the content together in real-time. That was the approach taken by the Budapest Museums when co-creating their Kapocs joint exhibition.

What are some tips for creating a virtual art exhibition?

In any online gallery, whether you use photos of physical art pieces or digital art that has been created using software alone, take as high quality images as you possibly can. In ThingLink, your audience will be able to zoom in – you don't want blurry images! This support article provides all the detail you need for image specifications.
For any type of art exhibition, audiences love to hear from the artists themselves. Why not record videos of the artist creating their work? Alternatively you can add an audio of the artist talking about their work to a carousel of images. This is super easy in ThingLink: you can record straight into the editor, no need to record and upload audio files!
For an exiting 3d virtual exhibition you can display 3d models. A 3d gallery works the same as any other. You can even use your smartphone to create 3d models yourself which can be uploaded into ThingLink! Read how at our support article here.
4. Benefits of creating a virtual exhibition
Virtual exhibitions have many advantages, including being able to reach a global audience, promoting interactivity and engagement, and increasing accessibility. By taking advantage of these opportunities, museums and galleries can reach new heights in terms of programming and outreach.
A huge benefit of creating your virtual exhibition in ThingLink is the ease by which you can update your content. Should your gallery or exhibition space change at any time, simply take a new background image and swap in the background – simple! This works even if you have created a 360 tour of your space.
Displays can be updated instantly and easily:
"ThingLink is so responsive – we can update it ourselves in 30 seconds. It's able to change and adapt as we do".
Sarah Elliot, Digital Content Producer, Royal Ontario Museum, Toronto
5. Examples of successful virtual exhibitions
How do I share my virtual exhibition?
Social media is a great place to start. Share a direct link to your ThingLink virtual exhibition to Facebook or Twitter and allow your audience to explore from there.
You can also embed in your website or landing page, or simply share the link via email or your favourite messaging service!
For a truly immersive experience, you can instantly share the exhibition in Virtual reality mode. Read more on how to do that here in our support article.
You could even host a virtual event or private view where you share your virtual exhibition for the first time with a select audience at a particular time via a link or via Microsoft Teams or Google Meet.
Over to you!
After reading this post, you should be equipped with the knowledge of how to create your own virtual exhibition using Thinglink. This is a great way to showcase your products or services in a unique and engaging way. If you have any questions about how to get started, feel free to reach out to our team of experts at ThingLink. We would be happy to help you create a stunning virtual exhibition that highlights your space, your work or brand in the best light possible.
Meet a product expert
If you'd like to learn more about what ThingLink can offer to your school or organization, you can schedule an online meeting with one of our product experts below.