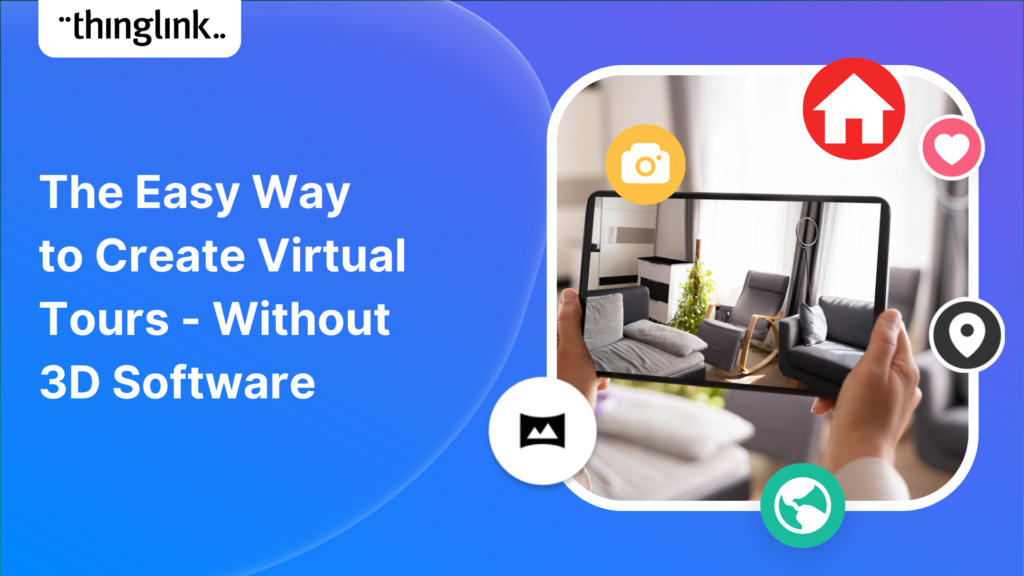 The Easy Way to Create Virtual Tours -Without 3D Software
Virtual tours have become an integral part of the real estate industry, allowing potential buyers to explore properties from the comfort of their homes – at any time that suits them. Over the last few years, 3D software platforms such as Matterport and CloudPano have been used to create and 3D home tours, but the price point is still high for many freelance realtors or those who are just starting out. There are alternative solutions for creating virtual tours however, which will save you time and money, and can be easily and instantly shared, edited and updated. In this blog, we will explore how you can use ThingLink, a powerful interactive media platform, as your virtual tour creator.
We also share news of a very recent and innovative development from ThingLink which allows you to create 360 images using your smartphone and ThingLink's free-to-use Pano to 360 image converter!
Start creating interactive content today!
Get started with ThingLink with a free trial account – and start creating immersive and engaging interactive content instantly!
A low cost alternative to expensive 3D tour software
The start up costs virtual tour can be prohibitive. For example, the photographic hardware required to capture the images required for some of the 3d tours used by many real estate agents cost upwards of $4500 (4100 Euros). ThingLink offers a user-friendly interface and a wide range of features that make it an excellent choice for creating high-quality and engaging virtual tours without the need for complex and expensive 3D virtual tour software.
Share and publish your virtual tour anywhere
ThingLink provides easy sharing options, allowing you to embed the tour on your website, share it on social media platforms, or distribute it via email.
What equipment will you need to create a virtual tour?
To create the 360 images you'll require for your virtual tour, you will need a 360 camera. We recommend both the Ricoh Theta and Insta360 brands which have reasonably priced starter models that are incredibly simple to use.
The top of the range Ricoh Theta z1 comes in at $1420, but the Ricoh Theta SC2 starts at only $375 and has all the features you will need.
The Insta360 is also a great user-friendly device which retails at around £575.
Google Pixel phones also feature 360 image capture and are a great alternative*.
How to shoot in 360 for the best results
Each 360 camera will work a little differently but there are a few key points to keep in mind.
Even when mounted on a tripod/monopod, you may find that the camera point of view is too low to capture a room at its best. Consider a longer tripod, or mounting the tripod/monopod higher.
You and anyone else need to be out of shot! Ensure that anyone on site is briefed so that you don't need to go back for any post-shoot editing or retakes.
Virtual staging: As with any type of real estate photography, ensure that each room is well-presented from all angles. 360 cameras often pick up details that aren't immediately obvious at first glance!
NEW! Creating 360 images with your phone
The panoramic photo setting on your android or iphone won't take a true 360 photosphere. However, ThingLink has developed and launched an innovative solution!
The easy way to create 360 images: Pano to 360
Creating virtual tours, exhibitions, escape rooms and other immersive content just got even easier! ThingLink has now launched Pano to 360 by ThingLink: an easy way to create a 360 photosphere from a panoramic image using any smartphone. For more information, including step-by-step instructions see this helpful support article. 
Try the free Pano to 360 converter
The Pano to 360 photosphere converter is free to use for anyone, no ThingLink account required! Upload a panoramic image to see it in action.
How to make a virtual tour in 5 easy steps
The ThingLink workflow is super easy and intuitive and requires no coding or design experience. Here's a quick tutorial, with links to our support pages for further help.
1. Take your 360 images and save to your drive or device
First you'll need to take your 360 images – which we covered in the section above.
2. Upload your 360 image to ThingLink
If you don't already have a ThingLink account, you can create one here. Once you're logged in to your ThingLink account, you can start creating your 360-degree tour. In the main ThingLink editor, upload your 360 images that you took in Step 1.
Bear in mind that with ThingLink you can also include normal images as the scene background in your new tour. Video, 360 video and 3d models can also be used as the base media for an individual scene. Whatever the type of base media, it uses exactly the same easy drag and drop functionality within the editor. Read more here.
3. Add tags to your scenes
Next, use ThingLink's intuitive editor to annotate your 360 images. Interactive hotspots or tags can be added to specific areas of an image or video. These hotspots can contain text, images, videos, audio, and even external links. You can use the tags to provide additional information about a room or space, highlight specific features, or link to external resources such as property listings or contact details. Read more about the different types of ThingLink tags here.
4: Link your scenes and create a walkthrough tours like these:
Once you have annotated all your images, it's time to link them together to create a seamless virtual tour. Use the tour tag in the ThingLink editor to create transitions from one scene to another.
You can also add floor plans to your virtual tour to help orientate your visitors. This is incredibly easy to do: we walk you through the steps in this support article.
5. Share your tour
You can share your ThingLink tour in a number of different ways. You can simply share via url, add as an embed to your website or landing page, share in social media, or generate a QR code. Read more about publishing your content in our support article here.
Additional ways to create a more immersive experience
We hope that this blog has shown that creating enticing and detailed multimedia virtual tours for real estate doesn't necessarily require complex 3D software. ThingLink offers a user-friendly alternative that enables you to create interactive and engaging tours that can be made in a matter of hours. Embrace the power of virtual tours to provide potential buyers with immersive and interactive experiences that bring your real estate listings to life.
Further reading
For Unity creators: How to Create a 3D virtual tour to share easily: The ThingLink Unity Plugin
Looking for more inspiration on creating interactive content?
As well as real estate virtual tours, ThingLink can be used to create a huge range of interactive, multimedia content. To see more examples in action, join our active communities of creators on social media such as the ThingLink LinkedIn Community.
Notes
*Until recently it was also possible to use the Google StreetView app to capture 360 imagery however this is in the process of being discontinued.