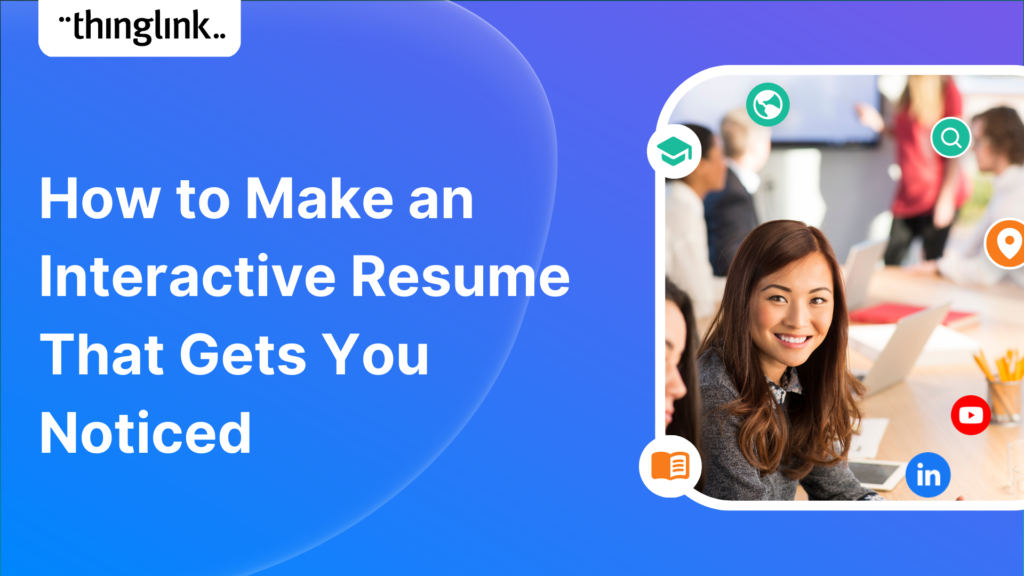 How to Make an Interactive Resume That Gets You Noticed
These days, a standard resume or CV may not be enough to stand out amongst other applicants in your job search. This is where interactive visual resumes come in. Interactive resumes are not just visually appealing but are also the most surefire way to convey your skills, creativity, and personality to potential employers. In this blog we show you how to make an interactive resume using two of the most popular, accessible and easy-to-use online tools: Canva and ThingLink.
Meet a product expert
If you'd like to learn more about how ThingLink can help you create interactive content, schedule an online meeting with one of our experts today.
What is an interactive resume?
An interactive resume is simply a digital version of a traditional resume that allows job seekers to display their skills and experiences in an engaging and interactive way. Unlike a static resume, an interactive one could be described more of an "infographic resume" and includes multimedia elements. These could include videos, images, and links to relevant projects or work experience – all of which should showcase your skills and talents. Here's an example that we created to show you what they can look like and what they might contain.
What is the difference between an interactive resume and an interactive CV?
They are the same thing. CV stands for curriculum vitae and is simply another name for a resume.
Why should I create an interactive resume?
Employers are increasingly turning to interactive resumes as a way to differentiate potential candidates and to gain a deeper understanding of their qualifications and experience. Commonplace for many years in the creative industries, they are now being increasingly used across all sectors.
How can I make my resume interactive?
Firstly, let's start with Canva. If you haven't used it before, sign up for a free account today. This game-changing platform has revolutionised the way that the world creates visual content, making graphic design easy for everyone – even those who have never designed anything before. Their free plan contains everything you need to create an impactful resume from one of their resume or CV templates. For even more premium features, Canva Pro pricing is extremely reasonable when you consider just how much free customisable content is available. This includes 75 million+ free images, professional fonts and free templates for every sort of visual media you can think of.
To begin, create a free account and choose from their array of creative resume templates. The best resume example to choose is one that is visually and professionally most appropriate for you. Remember: you can customise it with your own colours, fonts and images. You can upload any photos you would like to include. In the unlikely event that you are struggling at any point, check out some of their free tutorials which should answer any questions you have.
When you are happy with your work, download your resume as a PNG or JPG file to your local drive, OneDrive or Google Drive. It's now ready to be ThingLinked!
Now make your new resume interactive!
The next step is to add ThingLink for the interactive functionality and wow factor! ThingLink is a tool that creates interactive visual experiences. ThingLink allows you to upload visual content and tag them with information, pictures, videos, 3D objects and more that will pop up when your viewer hovers over a specific hotspot.
Once you have created your ThingLink account, upload your Canva resume to the simple drag and drop ThingLink editor. Once the image is uploaded, start tagging each section with the relevant information, photos or videos.
Hint: You can also choose to use the handy Canva integration within ThingLink to cut out the download and upload step in this process. For more on the Canva integration, please see this blog.
Top tips for creating your interactive resume
Don't forget to add an "about me" section where you can introduce yourself and talk about your skills, hobbies and passions that will make you stand out. This is a great place for short video clips!
You can even add the more traditional elements to an interactive resume. Even your cover letter could be added as a PDF in a link at the top.
Benefits of an interactive resume
Having an online resume means that you can keep It updated regularly. Show that you are staying current on industry trends, changes in technology, and new job openings. Add new experiences or roles, update your skills as you acquire them. Because ThingLink content is hosted in the cloud, any updates you make will be instantly made everywhere so wherever it is shared will be instantly updated too.
Regardless of the role you are applying for, showing that you have an understanding of the skills required to create a strong interactive CV (design, social media, marketing) adds extra skills that employers value.
Sharing your interactive resume
Once you are satisfied with your interactive resume, it's time to share it. Why not share via your LinkedIn or other social media platforms to make the most of its interactive aspects?
Other ways to share: You can easily share your resume via the unique url. Resume website embed codes are also easy to generate in ThingLink via the share options. If you have your own website or landing page, it can be embedded like the example above.
Top tip: Why not easily generate a QR code that you can print to stickers? Stick them on a business card, to your phone, your laptop – anywhere! It's a handy instant way of being able to share your resume wherever you go. Because you never know when the right opportunity might strike! ThingLink allows you to generate QR codes for any content you create.
Other interactive content that you can easily create with Canva and ThingLink
This selection of blogs and articles cover some other interactive content that you can start creating – using the powerful but super-easy combination of Canva and ThingLink!
Get started with an interactive resume and land that dream job!
Interactive resumes are the future of job applications. They showcase your skills, creativity and personality to the recruiter and provide a strong first impression. Canva and ThingLink both offer fantastic, user-friendly options for creating an impressive interactive resume. These types of resumes can make you stand out from the crowd and give you an edge over other job applicants. So, get started today, and create a resume that showcases the best version of yourself.
Meet a product expert
If you'd like to learn more about how ThingLink can help you create interactive content, schedule an online meeting with one of our experts today.