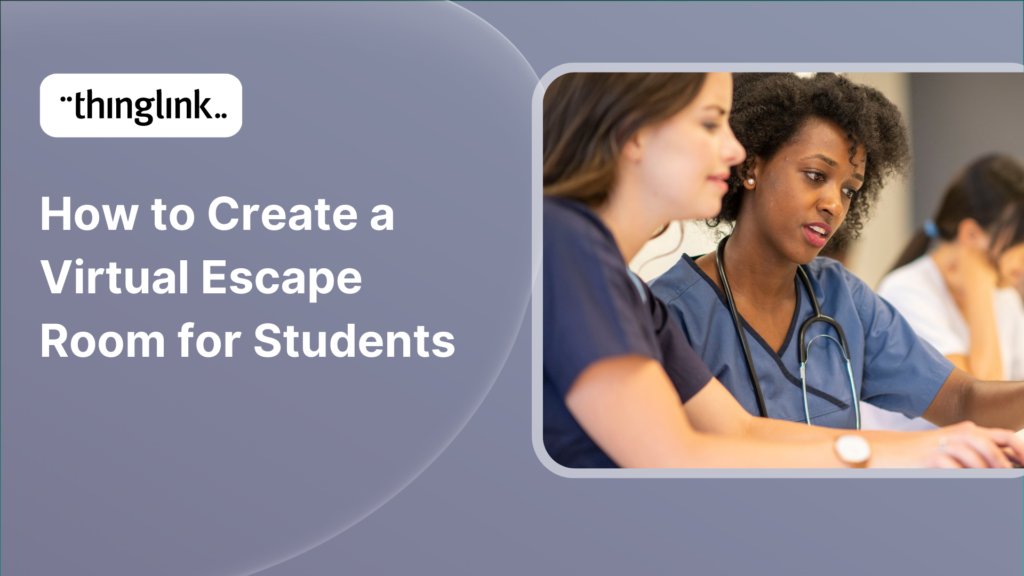 How to Create a Virtual Escape Room for Students
The medical school at the University of Central Lancashire uses real-life escape rooms to recreate typical time-critical emergencies for students. They used ThingLink to recreate the experience virtually as a digital escape room for a virtual team to complete together. The escape game proved to be a powerful tool for achieving learning outcomes, but also for improving teamwork. This example is a great template for any virtual escape room to follow.
Meet a product expert
To learn more about how ThingLink can provide elearning solutions for your organisation, schedule an online meeting with one of our product experts!
Dr Abhi Jones is an experienced user of ThingLink and Clinical Lead for Interprofessional Education at the University of Central Lancashire. She has previously used ThingLink to create realistic patient scenarios for her medical, nursing and multi-disciplinary healthcare students. In pre-pandemic times she had created physical breakout rooms at the university to create a realistic sense of urgency in problem-solving scenarios with her students. This is a key part of the learning pathway, as students learn to work together as a team when faced with a medical emergency where every minute counts.
Dr Jones and her colleague Dr Emma Gillaspy, Senior Lecturer in Digital Learning at UCLan, wanted to create the same scenarios in an interactive virtual setting and realized that ThingLink would be the perfect tool for the job. But could the sense of urgency created by the real-life version really be re-created as an online escape room, where students were remote from the room and from each other?
What are the steps to make a virtual escape room?
Using an Insta 360 camera provided by the university technicians, Drs Jones and Gillaspy took a 360 image of the real training room, set up to simulate a sepsis patient in critical care exactly as it would be for their previous physical sepsis escape room challenge. As well as using the conditional transitions tool to move from one scene to another by inputting the correct answer, they embedded a game in the Flippity app with a series of padlocks that had to be opened. Once this puzzle had been solved, the resulting code had to be entered into the conditional transition in the tag by the exit, and the students could "escape" and complete the task.
Students had to move through the tags in the room to view, assess and interpret the medical data. This included all the data that would be provided in a real-life sepsis situation, such as hospital admission notes, blood and urine results, heart rate and temperature and records of drugs administered. Some were provided in written or image form, another as a phone message recorded as an audio file in a tag. Each learning outcome on the sepsis pathway was included in the challenge that the doctors created.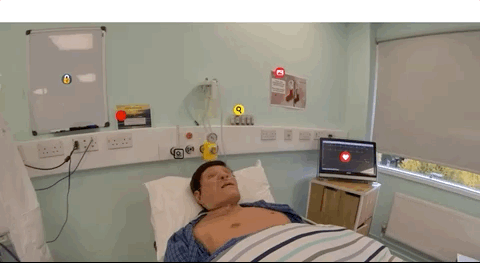 How the virtual escape room works
The escape room was presented remotely in real-time on Microsoft Teams, using different team channels for each group. (You could also use Zoom or any other video conferencing software with a chat function.) At the start of the challenge, the students were given a 20-minute introduction session as a remote team. The facilitators placed the story in context, including the patient's back story and notes, and gave them their timings. The students were also shown how to use ThingLink to ensure they were confident in navigating the room. The countdown then started and they had 45 minutes to escape the room in their respective teams.
Benefits of the online escape room
As the students worked through the room, it became clear that this was more than just a lesson in dealing with a sepsis patient. The facilitators could clearly see that the same pressures were being exerted on the students as in the physical escape room, despite being remote from the room and from each other. They were exhibiting the same levels of confusion and anxiety that the traditional escape room produced, as their brains became overwhelmed with new information. However after a while they began working together, communication and delegation improved and they clearly began to enjoy the challenge, with each team not only keen to escape but to answer questions and beat the other teams. It enabled them to experience – for possibly the first time – how they reacted to decision-making under stress, which will help them recognize and deal with a similar response in real-life with newfound techniques.
"Trying to give students that ability to practice in a safe environment is actually really hard work. We do simulations but it's still quite artificial. So what we were surprised about was these human factors that came through. We thought we were using escape rooms for a playful experience, but what we weren't expecting was the human emotions that come through in stressful and in frustrating environments. People stop talking and actually don't hear as well, they're suddenly not listening and communicating as well. When they overcome that, suddenly they're solving the puzzles. Before, it was all about learning about sepsis…but then we turned it around and realized it was more about team dynamics and how things change in different environments."

Dr Abhi Jones, Clinical Lead for Interprofessional Education at the University of Central Lancashire
Try the ThingLink Escape Room for yourself!
Virtual escape rooms for teams
Dr Jones noted that the participants who found the task most challenging were not the students, but the professional staff, who are used to being in an environment where they are confident and know what they are doing. They suddenly and unexpectedly felt out of their depth, frustrated and lost. She concluded that as well as being an educational tool for teaching specific learning outcomes to students, the escape room is a great solution to give more experienced professionals to improve their own team-working and problem solving skills. As a result, the concept has now been adopted by other faculties at the university who are keen to replicate the teamwork development aspects.
Impressive feedback
When asked to rate this escape room overall,
Participants gave it an average of 4.76 out of 5

98% rated it either 4 or 5 out of 5

97% agreed that it stimulated/challenged their thinking and would recommend it to other students.

The students said:
"A great experience which developed our team working skills and critical thinking"

"An exhilarating experience".

"A very creative and innovative way of incorporating clinical medicine into leisure activities to stimulate interpersonal skills such as teamwork and communication skills. It also helps us to learn about how a team can operate under stressful situations and what skills we need in order to provide care efficiently."

"It was a brilliant session. Even though it was delivered remotely, I think there were many learning points from it about communication, sharing thoughts and ideas and looking after other members of the team."
Tips for creating, facilitating and solving your own virtual escape room for team building activities
You can create a successful escape room using a flat image if you don't have access to a 360 camera, or read more about our incredible new solution for creating 360 images below!
Use it to see how our teams function together – you can easily see how human emotions, stress and other factors can affect decision-making under stress.
Players who shared their screens tended to escape more quickly.
Remember that single-player escape rooms can also be used to successfully achieve individual learning outcomes.
The easy new way to create 360 images: Pano to 360
NEW! Creating virtual tours, exhibitions, escape rooms and other immersive content just got even easier! ThingLink has now launched Pano to 360 by ThingLink: an easy way to create a 360 photosphere from a panoramic image using any smartphone. For more information, including step-by-step instructions see this helpful support article.
Try the free Pano to 360 converter
The Pano to 360 photosphere converter is free to use for anyone, no ThingLink account required! Upload a panoramic image to see it in action.
Virtual escape room experiences are the ideal training tool for critical situations
Although an enjoyable approach that embraces aspects of gamification that are more commonly seen in video games, the playful learning in escape room games disguises a very powerful learning and team-working tool. Both gamified learning and stressful situations have been proven to stay in the memory longer – and a virtual escape room is the ideal combination of both. It is a particularly useful tool for an area like medicine where it is vital that students and teams undertake a challenge initially in a low-risk environment, where nevertheless human emotions and stress play a significant factor. Other applications could be engineering, aerospace, manufacturing, military, or emergency environments where timeliness and teamwork are vital.
Looking for more escape room ideas?
See this example from Huddersfield University based on a murder mystery game!
Tip: You don't necessarily have to replicate the real world version of your work environment to use an escape room and challenge your problem solving skills. Challenges using riddles, trivia or a scavenger hunt would also put a team under pressure!
Meet a product expert
If you'd like to learn more about what ThingLink can offer to your organisation, you can schedule an online meeting with one of our product experts below.