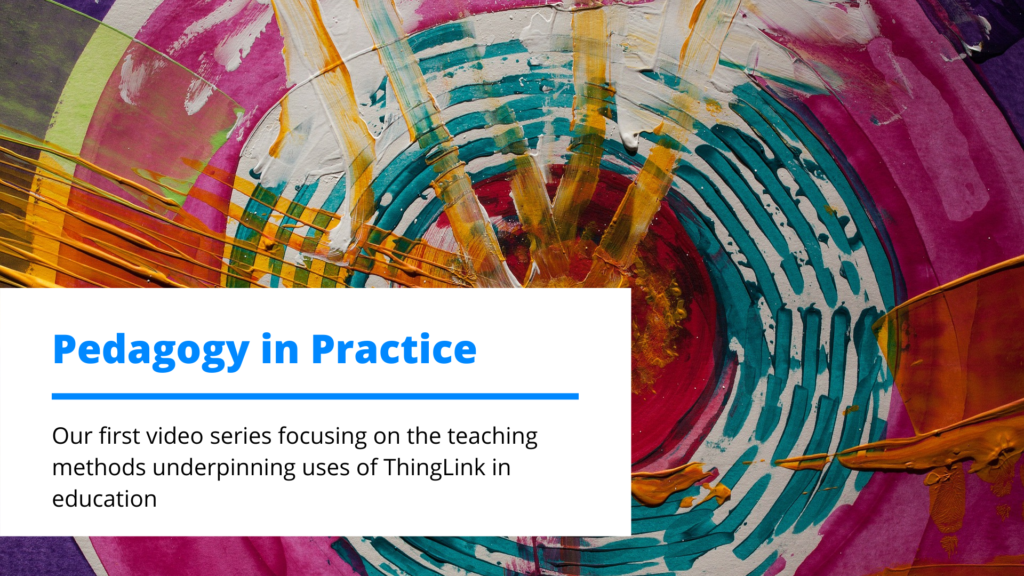 Pedagogy in Practice: Teaching in Action with ThingLink
We are delighted to present our first video series covering  specifically the teaching methods underpinning uses of interactive media in education.
The 'teaching in action' videos presented here, with narration, take you through a journey looking at bringing concepts to life for learners, documenting learning, virtual tours and creating engaging and exiting learning experiences. Each short video explores a use case with explanation of the teaching methods in action. The second part of the video series (coming soon) will look a little more closely at the pedagogical uses of ThingLink in Technical, Vocational, Education & Training (TVET) settings. 
 1. Demonstration of concepts
Many concepts require the student to comprehend complex ideas and to combine knowledge from different sources. With the help of Thinglink, you can combine various media, and better illustrate big ideas. You can create a thinglink yourself and distribute it to students, but often a good approach is to challenge students to produce content themselves. This way, the focus shifts more to the learning process and producer-centered pedagogy.
2. Documenting learning
Documentation is fundamental to making the learning process visible, it is one of the corner stones of formative assessment. The documentation can be a process, an output, or both. Multimedia documentation – using not only text but also images, videos, and audio) gives students more opportunities to express themselves than traditional methods. It can help develop new literacy skills as well as digital storytelling and production skills.
3. Virtual tours
With ThingLink, students can access places and situations that would otherwise be difficult or impossible to reach. You can use our ever-expanding 360 image library or ask students to create tours from scratch. The tours develop contextual understanding, introduce students to history and culture, and also to skills required in different work environments or social situations. Again, specific learning objectives would determine the method of implementation you choose.
4. Exciting Learning Experiences
ThingLink is primarily a platform for easy visual production, and students should be challenged to produce the content themselves – a learning process in itself.
We hope you found these videos useful. Whether you are looking to bring concepts to life for learners, enable them to document their learning, offer virtual tours or create new and exciting learning experiences, it's definitely worth taking the time to use ThingLink.
If you would like to tell your colleagues about all these videos, here's one very handy thinglink with all the videos in to share! 
Even more ideas to support your use of ThingLink!
To be continued, part two coming soon!
As always, please contact our education or support teams with any questions.
Email education@thinglink.com or support@thinglink.com