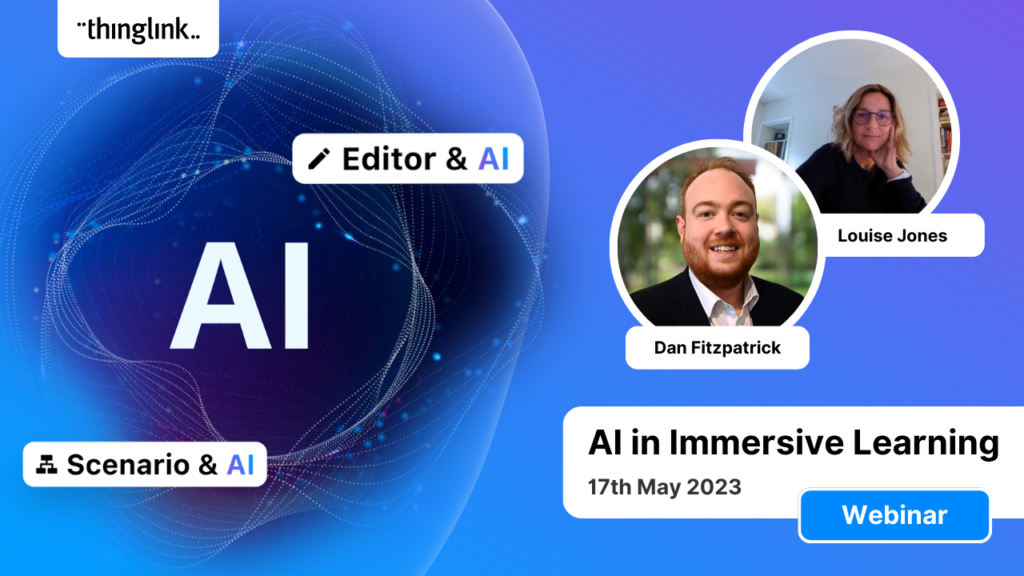 New Webinar! AI in Immersive Learning
This webinar has taken place but you can still sign up to watch the action replay!
Register to receive an email with all the links so you'll not miss out!
ThingLink has been a leader in learning technologies, consistently seeking innovative ways to stay ahead of the curve. When it comes to AI, we wish to take a more holistic approach and start a series of discussions around how AI can assist creators, educators and learners in the future.
We are inviting our community of creators to explore and discuss AI powered tools that provide real assistance and guidance throughout the content creation process.
By attending our first free one hour webinar you will:
Learn how AI is changing the world of education and training
Hear more about how ThingLink's developing AI Tools and the latest tools to assist content creation
Contribute to the discussion of AI and Immersive Learning
One participant will win bestseller The AI Classroom: The Ultimate Guide to Artificial Intelligence in Education
In this webinar, Dan Fitzpatrick, The AI Educator and Louise Jones from ThingLink explored more generally how learners can demonstrate authenticity in a world of AI generated content, and which AI tools help content creation and save valuable time.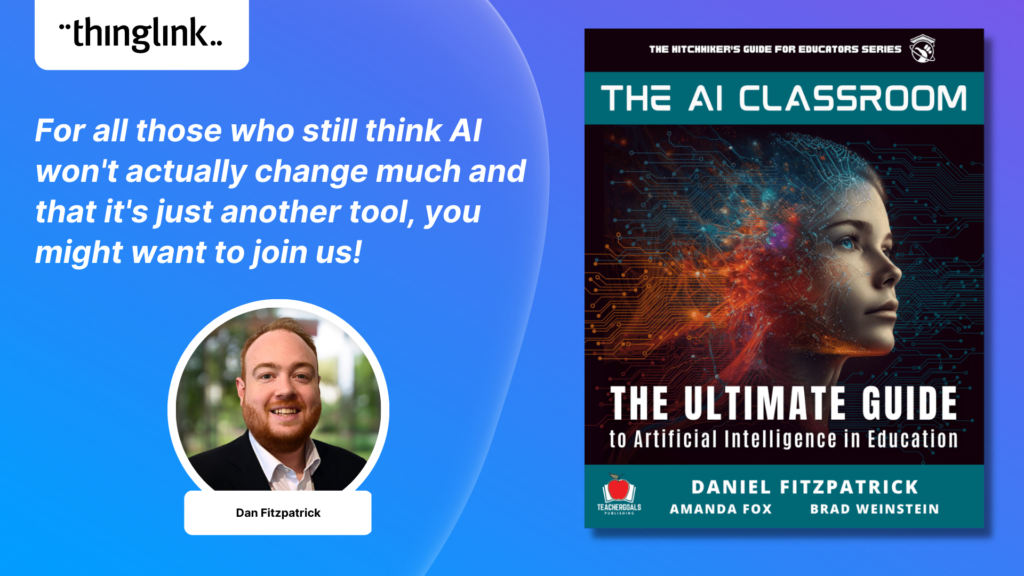 Introducing Dan Fitzpatrick
The author of the acclaimed book, The AI Classroom: The Ultimate Guide to Artificial Intelligence in Education, Dan imparts invaluable insights and tactics for harnessing AI in education. His exceptional work in the industry has earned him esteemed accolades such as the Tech Champion Award at the Digital Industry Dynamite Awards in 2022, and recognition in the latest EdTech50 awards.
It's not too late to catch this unmissable webinar!
Sign up to receive all the details and we'll send you a link to the action replay!
Sign up for our Exclusive Webinar!
Get started today for free
Sign up for a free trial account and explore all the features. We have accounts designed for educators, elearning professionals for work based learning, museums, higher education and even marketing and learning professionals.