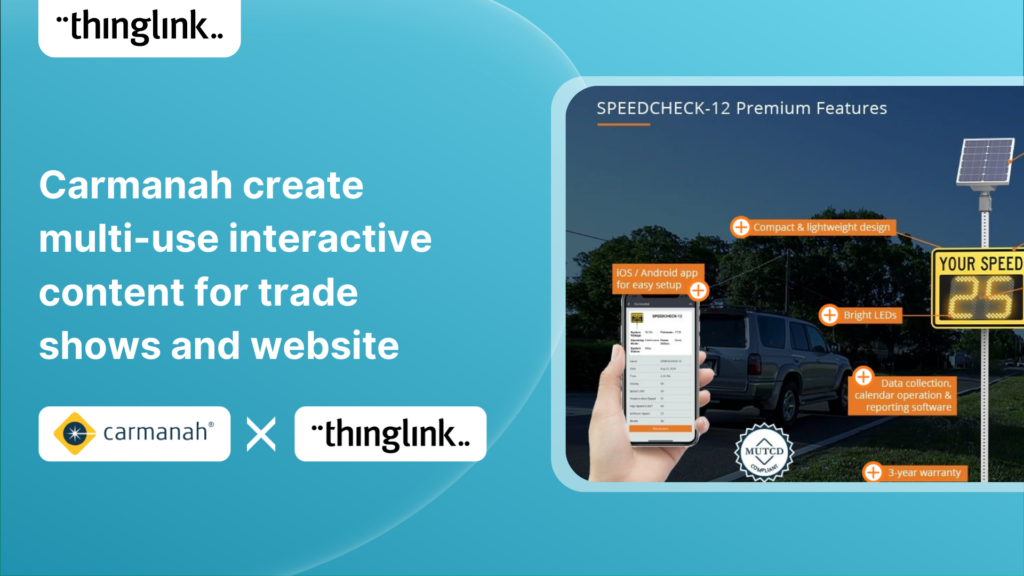 Carmanah Create Multi-use Interactive Content for Trade Shows and Website
Background
Carmanah is a company based in British Columbia, Canada, that helps improve road safety with a range of products including flashing beacons, radar speed signs and sign systems. Their products and solutions are used for crosswalks, school zones, highways and many other areas where traffic and pedestrians mix. Customers include cities, towns and transportation departments across all of North America.
Carmanah have used ThingLink to create interactive content since 2018. They have embedded ThingLink content on their website to demonstrate how their products work, the technology behind them and the difference they make when used to solve a traffic challenge.
Meet a product expert
If you'd like to learn more about what ThingLink can offer to your company, you can schedule an online meeting with one of our product experts below.
Carmanah's initial ThingLink content creation solved their challenge of adding a large amount of information to the product images – including features, assembly, results and statistics – to create interactive infographics. Tags variously contained text, images, infographics and video content containing a huge amount of information in a number of different easily digestible and accessible formats. This produced a better user experience as the base image is kept clean and clear.
Interactive infographics and images
In 2020-21 the marketing team were looking to create an interactive experience which could be used for both their website and trade exhibition use – whether in person or virtual. Their solution was a clever "virtual walking tour" in ThingLink, which links 360 images, videos and 360 videos. Each contains interactive elements for the viewer to explore and discover more about the Carmanah products. 360 images were used from Google Street View (now deprecated) to show a number of their products working in situ.
Tags or hotspots contain:
links to case studies for those specific locations, clearly showing the challenge and the solution, with solid evidential metrics of the change in driver behaviour and accidents
data sheets
links to download application guides
short video animations showing the Carmanah project approach
links to further information and pieces of content that would help their target audience choose the correct solution
This solution worked so well that it was worked up into the next level of interactive videos, created specifically for trade shows and exhibitions.
Carmanah's interactive experience goes on the road
Carmanah's marketing strategy involves presenting at national trade shows and exhibitions. Previously, these events had proved a serious challenge from a logistical and product marketing point of view. For previous exhibitions they had produced a scaled-down demo version of one of their products. However, logistical concerns and available space limited the range of products they could show. So it was impossible to demonstrate how products worked together and the different configurations available. It also didn't answer the challenge of demonstrating them in context – urban and suburban environments where traffic and pedestrian meet.
Carmanah required a solution which:
Was stand-out with eye-catching and engaging content
could show the full range of products
was flexible in its application for both online and offline use
Was fully interactive for visitors to explore depending on their specific needs.
Interactive content – online and offline
Another of the challenges which the team anticipated involved wifi. The unpredictable reliability of wifi at trade shows is a challenge which can impact on the success of any interactive content. They looked at other types of presentation software which could be used both online and offline but no content tools provided the functionality of ThingLink.
They used the ThingLink offline app in combination with a Microsoft Surface, wirelessly broadcast to a projector – a set up that worked seamlessly for the Business Development Team.
The benefits of interactive content at exhibitions
The final ThingLink content created for the trade show (above) drew a lot of positive feedback from visitors and other exhibitors – immediately grabbing their audience's attention and helping Carmanah stand out from other exhibitors. More importantly, this type of interactive content meant that the team were able to immerse the customers in the environment in which the products normally sit – showing off their full capability.
"It was invaluable to be able to place the product in context for our stand visitors rather than see it on its own. They were totally immersed by the content as we took them into various parts of the tour."

Business Development Team, Carmanah

The content acted as a self-selection tool – with users navigating themselves to the specific area they were interested in. To explore a different product, they clicked on the home button to return to the landing screen where they could choose one of the 4 "families" of products.
"With ThingLink we're now able to provide a journey to meet different customers' needs and let them take different paths. It was able to answer and expand on whatever inquiries they had. One platform provides a leaping off point for them all."

Dakota Hoeppner, Marketing Communications Specialist, Carmanah
How can ThingLink help your sales and marketing teams?
Because Carmanah's interactive material in ThingLink provides information in different formats – from infographics, detailed text and data, to video footage showing the products working in context, it works well for a range of different users. For those interested in the technical specs and data points, they can dive deeper and easily find as much information as they require. This allows teams to upsell and cross-sell your product or service when appropriate.
Added value: The Intangible Benefits of Interactive Content
Using ThingLink to display their products also provided what Dakota describes as "an intangible sense that we are experts in this industry."
"ThingLink matches our technological expertise in our field. We need to show that we are thought leaders in our space – that we know how to create and apply intelligent systems to solve problems. This goes hand in hand with using ThingLink to demonstrate these solutions."

Dakota Hoeppner, Marketing Communications Specialist, Carmanah
Interactive content marketing: the key to a fruitful content marketing strategy
Quality content such as interactive maps, timelines, images and videos and interactive ebooks can all be used in a multifunctional way across your website, trade shows and email marketing. Replace static content on your landing pages to increase lead generation. Create interactive quizzes to get to know your market better and gain valuable user data.
Meet a product expert
If you'd like to learn more about what ThingLink can offer to your company, you can schedule an online meeting with one of our product experts below.
Want to see more examples of interactive content marketing like this?
You'll find lots of inspiration at our dedicated Editorial and Marketing page. You can also join our helpful communities on social media for tips, great examples and inspiration, advice and support. Our LinkedIn Community is a great place to start!
"Nobody else does this combination of simplicity, flexibility, plus the offline capability so well as ThingLink. There are so many different features and so much potential in there. It's just a question of where do we want to take it?"

Dakota Hoeppner, Marketing Communications Specialist, Carmanah