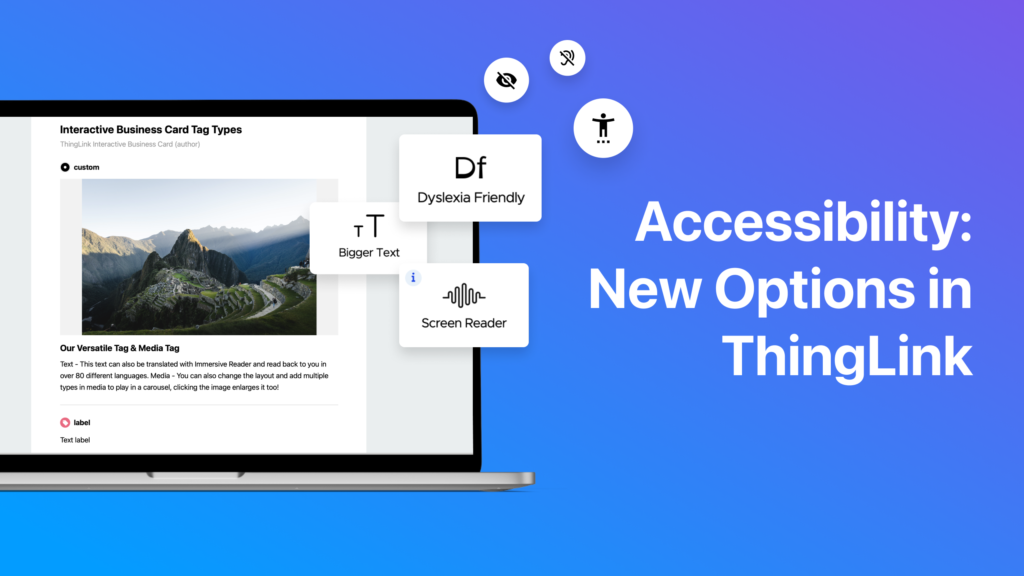 Accessibility: New Options in ThingLink
Web View Now Available!
From today, ThingLink has a new additional 'Web View' function available for enhanced usability. This offers your viewers more options for how they access any of the information or digital content contained in your ThingLink scenes.
ThingLink creators and viewers tell us they love having the Immersive Reader function built into Text and Media Tags. This will still be there, but we're going further by enhancing your tool set with a new 'Web View' of your ThingLink scenes. It is compatible with screen readers and keyboard options.
We know that in presenting content on your websites you also wish to adhere to legislation such as WCAG 2.1. Our new feature available for embedded ThingLink scenes helps you to achieve this – as well as providing enhanced usability.
Accessibility – By Design and Default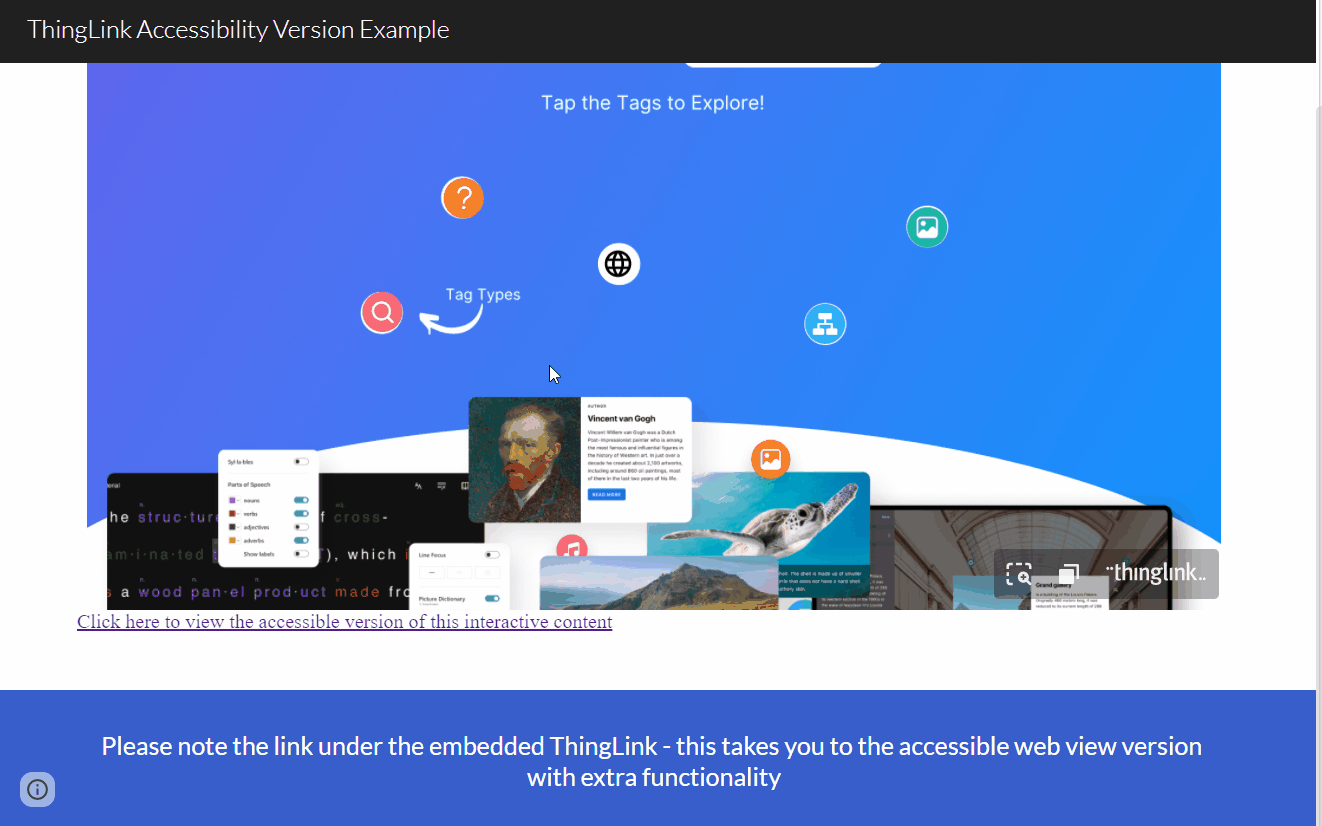 As a tool that's loved by users worldwide, a core benefit of ThingLink is the ability to present information in multiple ways and languages. ThingLink helps creators to design content with inclusion and accessibility in mind, making it accessible anywhere and on any device. Many educators, for example, use ThingLink in Universal Design of Learning (UDL) approaches where ThingLink can be the optimal choice for creating accessible curriculum content.
Other good practices demonstrated we have seen is the ability to present the same information in multiple ways, for example a Text and Media Tag offers multi-modal ways to present the same information, with audio, video and accessible text all in one tag!
The new Web View accessed by a link on an embedded scene gives your viewers the function to use keyboard navigation to click through tags and view digital content embedded within the scene in multiple ways.
When sharing your ThingLink scene to be embedded, check the box to add the additional code to your embed code to copy and paste. This will add a linked sentence displayed underneath your embedded ThingLink scene. Viewers can click on this to open up the Web View and function key widget.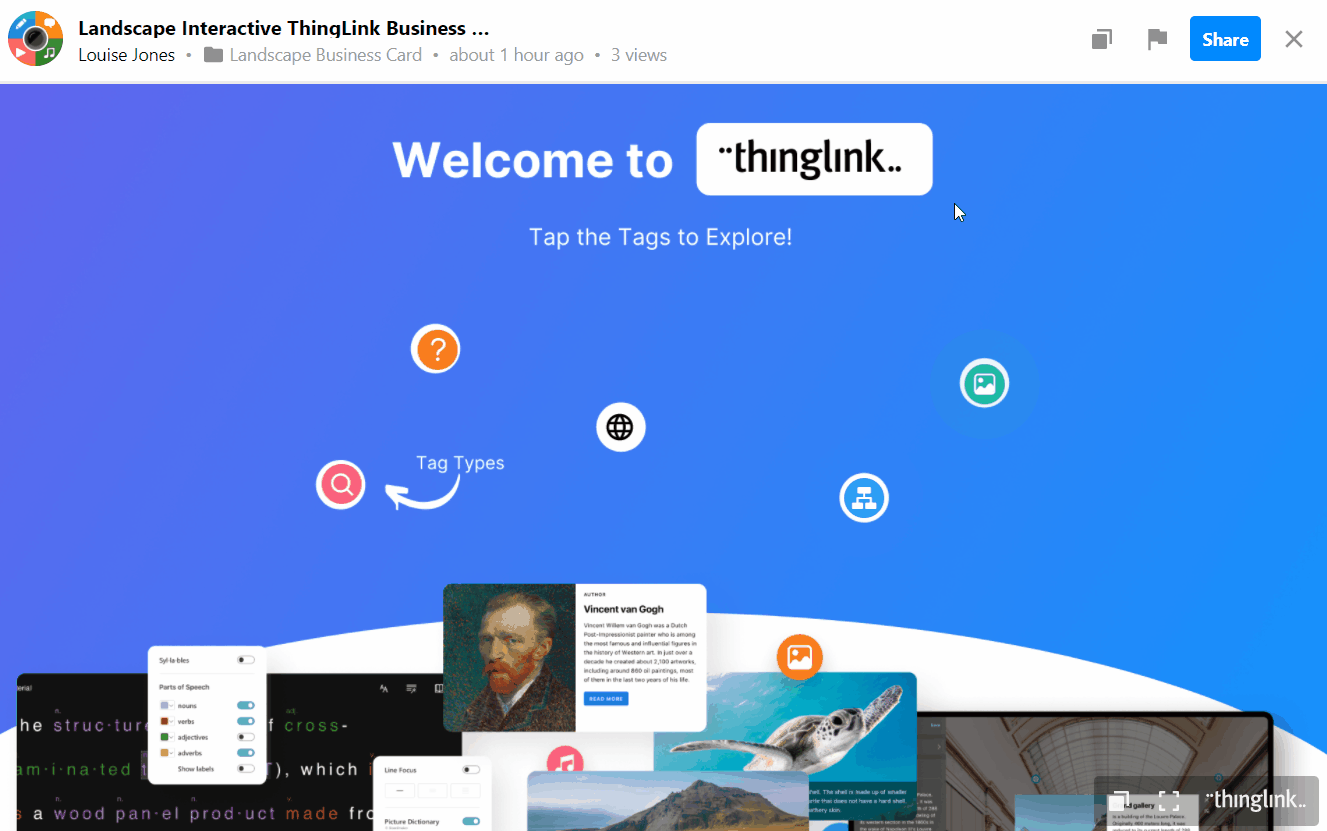 Two Pro Tips!
You can edit the text displayed in your code. Simply alter the text you wish to be added in the embed code
You can also extract the Web View link and share separately if required.
Helpful Resources
ThingLink 2022 Accessibility Statement PDF
ThingLink Accessibility Support Pages
If you have any recommendations, feedback or simply stunning ideas to share with us please do get in touch or join our communities. Our Twitter, Facebook, LinkedIn groups are great places to chat about tips, tricks and share great examples in action.
Thinking of upgrading to an Organization ThingLink account for your school, university or workplace? Find out more about our various plans for education, eLearning or Marketing here.