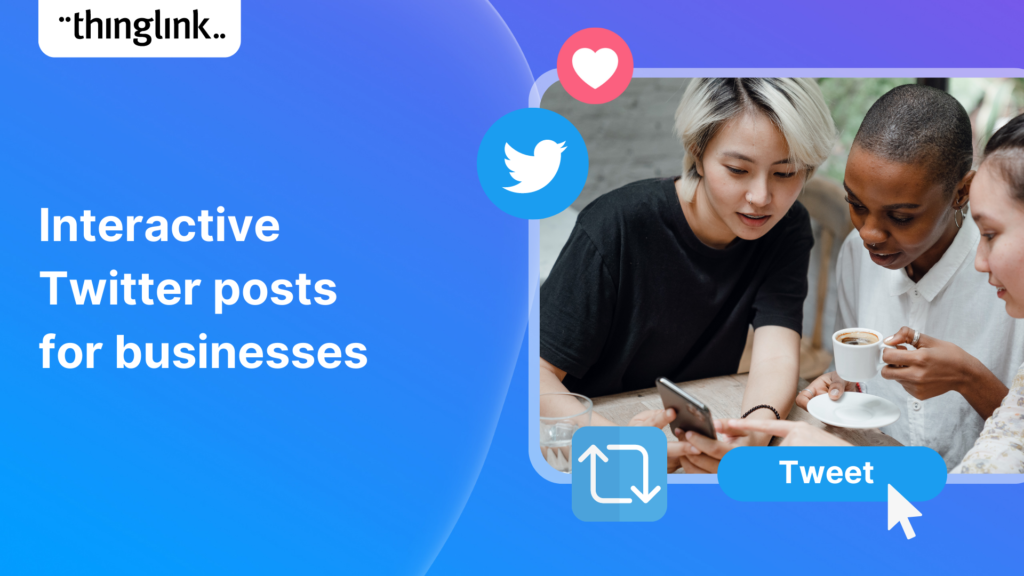 Interactive Twitter posts for Businesses
Twitter is a powerful social media tool for large and small businesses, but many struggle to use it effectively. Creating interactive posts is a great way to engage your audience and optimize your Twitter account and other social networks. In this blog post, we'll share some tips on how to create interactive Twitter posts that will help your business stand out. Got a new product you want to shout about? A pricing update coming that you need to make your audience aware of? Some amazing testimonials to share? Or perhaps you just want to increase brand awareness for your target audience. Whatever your social media strategy and goals, interactive posts containing different types of interactive content should be part of the mix.
What make good Twitter posts for businesses?
In today's digital age, social media marketing on platforms like Facebook, LinkedIn and Twitter is more important than ever for businesses and should be key to your overall content strategy. Twitter is a great social media platform for businesses to interact with their customers and an excellent way to build relationships with other businesses and other social media users. However, simply posting on a business page is not enough. To be truly effective, businesses need to create engaging posts with the kind of content that invites customers to interact. This can be done by asking questions, holding quizzes, contests or giveaways, or providing exclusive offers. By taking the time to create interactive posts as part of their digital marketing strategy, businesses can make the most of their social media marketing efforts and reach a wider audience.
Examples of successful interactive Twitter posts for businesses
A simple way to make your Twitter posts interactive and eye-catching is to use an interactive image or 360 image in your social media content. Your audience can then interact with the interactive content directly in their feed. Here's a great example below! Here, the audience can click on various hotpots to register for a webinar, find out more information about the event, and even take a look around a 360 image – which itself contains more tags to explore! You could add a huge variety of content within those tags, from videos to quizzes, polls, calculators, games and more.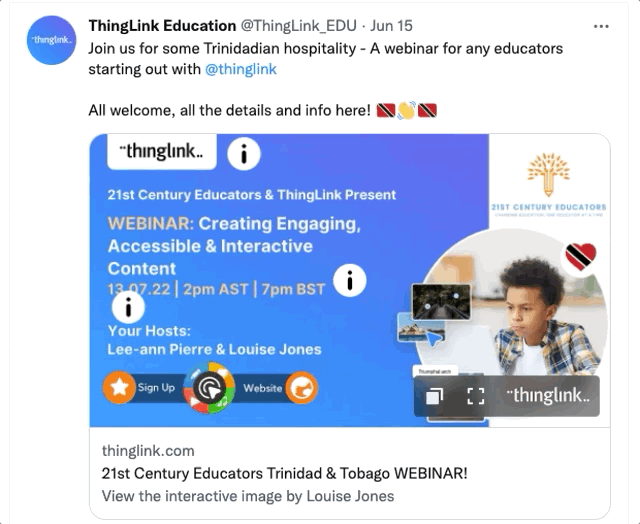 How to create an interactive Twitter post for business
Any infographics, images, videos and 360 images which are published in ThingLink can be shared on Twitter. For example, this interactive video below, created by Carmanah Technologies for trade shows can equally become an interactive Tweet. You can read how it was created at our blog here.
A 360 image or video content made interactive in ThingLink makes a really eye-catching Twitter post. In the Twitter newsfeed itself, the image is embedded and the viewer is able to navigate around and click on interactive hotspots, just as in the example above. These types of posts are still relatively new but we know that they are great for social media engagement! In this blog post we looked at how interactive content on social media can instantly increase engagement: in one example an interactive map in ThingLink shared on Facebook went viral across the world.
Tips for promoting your interactive Twitter post to boost engagement
If you're looking to promote your interactive Twitter post, there are a few things you can do to give it a boost and drive engagement.
Try tweeting about it at different times of the day to see what are the best times for the most engagement.
Try to include relevant hashtags so that your post is more likely to show up in trending topics.
Make sure to share it on your Facebook page and any other social media channels. This will help to increase its reach and ensure that your target audience sees it. You can also highlight in your Facebook group that you have a Twitter account and encourage group members to follow you across both platforms. Make sure your social media links are shared on your website or landing page too.
Most importantly, share interesting and engaging types of content in the first place.
What about Facebook marketing?
Many of the content ideas in this blog post are just as applicable for Facebook content. For some interactive social media posts ideas to increase your Facebook engagement rates, read our blog about interactive Facebook posts ideas!
Want to start creating interactive, high quality content to use across your content marketing strategy? Read our blogs below on creating infographics, maps and more. Many of the blogs contain tutorials and user-generated content to get you started and inspire your post ideas, and even some great Canva templates to adapt.