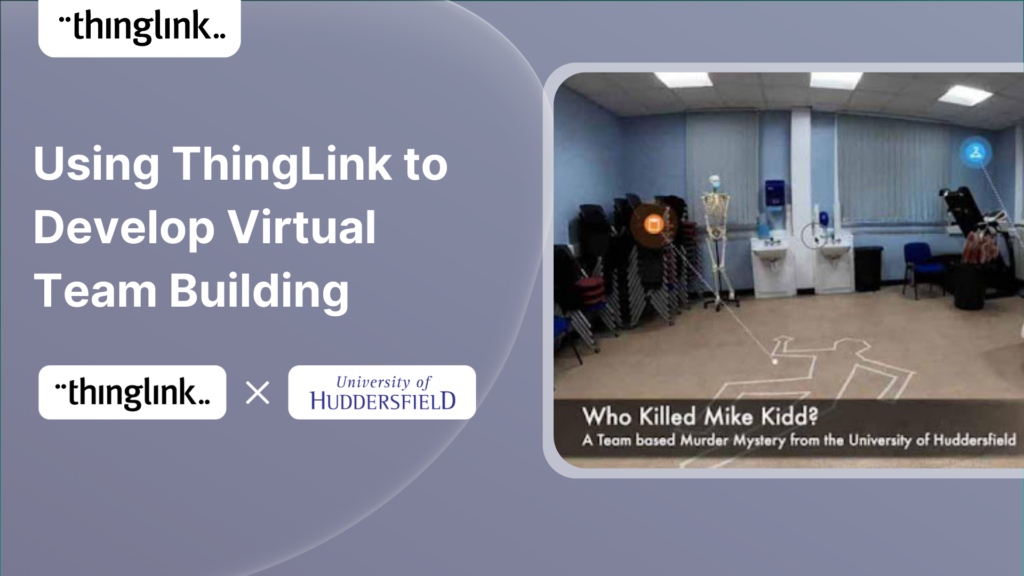 Using ThingLink to Develop Virtual Team Building Activities for Nursing Students

This case study was written by Tim Cappelli, Lead for Technology Enhanced Learning and Hayley Hewitt, Instructional Designer, both from the University of Huddersfield. They demonstrate how they used ThingLink as part of real-time online team building exercises at the University with impressive results including high student satisfaction scores. The remote team building activities that they designed could be used in any healthcare setting, or in fact any work environment to develop teamwork and collaboration whilst reinforcing core skills.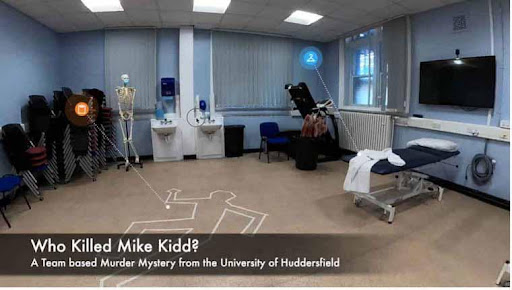 Introduction
As the UK government increases University places for student nurses, so demand for clinical placements grows. Simultaneously, hospital placements become more restricted due to Covid. To ease pressure on placements, the Nursing and Midwifery Council (NMC) have recently authorised the use of 'simulated placements' to fulfil a limited number of clinical hours. The challenge for universities is to design and deliver simulated placements that are meaningful, realistic and meet the strict criteria of the NMC. 
Start a free ThingLink trial today
If you'd like to create content like this, get started with a free trial of ThingLink today!
At Huddersfield University, the Department of Nursing has designed a 3-week simulated placement by orchestrating and coordinating a series of technologies to provide a structured, innovative, virtual learning experience focused on team building. ThingLink has been critical in the design and delivery of these immersive activities.
This particular initiative was designed for the BSc Year 2 Pre-registration Nursing Programme, with a cohort of over 300 students, and was delivered wholly online. It was decided to focus on 'Team Building and Leadership', key skills in nursing. The focus of this placement was to encourage students to recognise and develop their role in a team and their skills in leadership.
To achieve this, the team at Huddersfield developed a series of interlinked, virtual and immersive scenarios. These innovative activities were designed to be fun, engaging and motivating to encourage students to engage during the full three weeks, whilst also achieving their learning outcomes. During the placement, students completed a virtual Escape Room based on heart conditions, an online Murder Mystery set in a hospital, and stopped the breakout of an infection in a virtual care home. These formed the keystones of the simulated placement, together with interactive sessions on Inflammatory Bowel Disease, a group activity on promoting health and wellbeing, and a synchronous session on 'Mental Health First Aid'.
Asynchronous activities were interspersed with synchronous sessions to provide instruction and feedback, with each activity building on the last. The use of appropriate technologies also allowed instant data capture ensuring debrief sessions were relevant and targeted. Between activities, students were asked to determine their Team Role using a bespoke phone app and complete an online Action Plan.
In common with many universities, Huddersfield has an organically developed ecosystem of services that support online learning. At its core are Brightspace – the University's VLE (Virtual Learning Environment) – and Microsoft Teams, used for all online synchronous teaching. These two systems form the backbone for online delivery. Neither provide for rich, group-based, immersive, problem-solving interactions deemed necessary for this placement. The 6-months the working group had available did not allow sufficient time to procure, test and integrate new enterprise systems into the University. Instead, the group was faced with using easy-to-use, subscription-based services, of which ThingLink was key.
Since pedagogy should lead design, a series of teaching activities were designed based on pedagogical good practice in simulated and online learning.
Based on this, three key scenarios were agreed:
A Virtual Escape Room Activity where students work in groups to 'Escape' by applying clinical theory
A 'Murder Mystery' in which students interview suspects, find clues and work together to solve a hospital-based murder
An Infection Control scenario where students had to control the spread of an infection and take leadership decisions in a clinical environment.
These scenarios were chosen on the basis that they:
required teamwork in small groups
could be completed online
involved problem-solving skills and the application of clinical theory
represented increasing levels of complexity and realism
After 3 months, the design was completed, and the team moved into content development. The group used drama students to act as suspects in the Murder Mystery, and media students to help with filming and editing videos, ensuring students beyond Nursing benefited from the process. Each scenario was tested with both academic and IT colleagues to identify bugs and check content validity and accessibility. During this testing phase several issues were identified and addressed. In this way both reliability and validity were checked prior to release.
At the start of the placement, students were allocated into small teams of around 8 -10 students. They completed all the activities in this group, working with the same students, each time attempting to recognise and improve their team building skills. The first of these activities was a Virtual Escape Room created in a 2D immersive space where the students were represented by avatars that could interact with each other and objects. The task involved solving theory based puzzles to escape. The second and third activities were both based entirely in ThingLink. These were:
1. Murder Mystery
This was a hospital-based virtual murder mystery where students were challenged to work together to identify the murderer. The student groups were timetabled to meet in MS Teams and asked to work through the ThingLink scenario together. The scenario consisted of a series of 360° rooms that students could explore independently. Each room contained clues, and a suspect who could be interviewed using interactive videos. Although the students met as a group, they could each explore the ThingLink scenario independently. This meant the students had to allocate tasks, exchange information, and decide on the murderer together to complete the task in the allocated time limit. Support was provided via a live chat room, staffed by two tutors, that students accessed from within the ThingLink scene.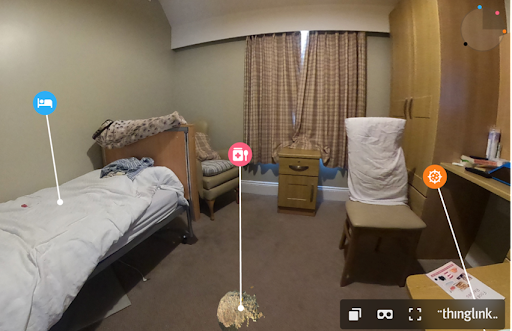 2. Breakout!
Once again, the student groups were timetabled to meet in MS Teams to complete a scenario created in ThingLink. This time the scenario was based in a Care Home in which the group needed to prevent the outbreak of an unknown infection. Students had to apply their knowledge of Infection Control and make leadership decisions in a time-limited environment. Only by applying the correct Policy Guidelines could students successfully complete the Task. For example, determining which residents should be kept in their rooms and which were allowed out; how the laundry should be safely handled and cleaned. This scenario was chosen as the last activity as it was the most complex and true-to-life; the two previous scenarios providing students with the confidence to tackle it successfully. This scenario continued over two days as students were given updates on the escalating infection. As the infection grew, they had to make critical decisions on the wellbeing and safety of residents and staff.
Each of the three scenarios was preceded with an online briefing session, to ensure students understood the task, together with the opportunity to complete a practice session using a very simple ThingLink scenario with clear instructions.
Each of the virtual activities was followed with a debrief session to provide feedback and generate discussion. Because the technologies used included a range of data capturing systems, it was possible to quickly download information from each activity and include it in the debrief presentation. For example, capturing the response time for each group or using MS Forms to capture each groups' Murder Mystery answers.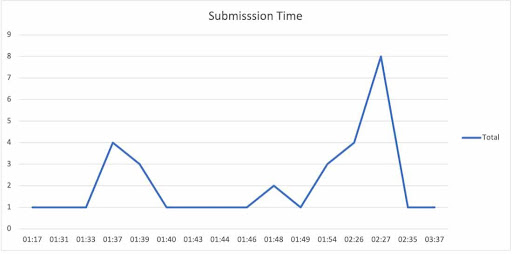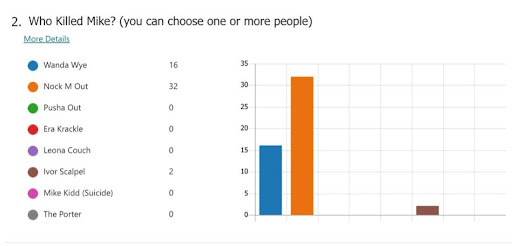 Between each scenario, students were asked to download and use a bespoke phone app.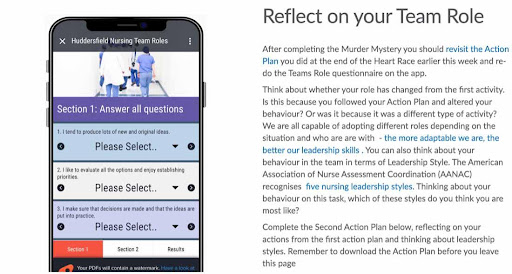 They used this to identify their predominant Team Role before completing a structured Action Plan on how to improve their contribution to the remote team. The students could download and save this as a PDF and submit it as evidence of successful completion of the task. Students were also encouraged to add the Action Plan to their professional portfolio and discuss it with their Academic Advisors.

How the Initiative was Received
Student satisfaction with the placement was measured as part of an overall Evaluation plan. Evaluation of the placement was carried out through a combination of student questionnaires and collection of relevant data from the systems. Satisfaction on the ThingLink scenarios was particularly high. 80% or more of the students agreed or strongly agreed each of the evaluation statements, with most statements scoring over 90% agreement, demonstrating their satisfaction with the scenarios and the effectiveness of the learning.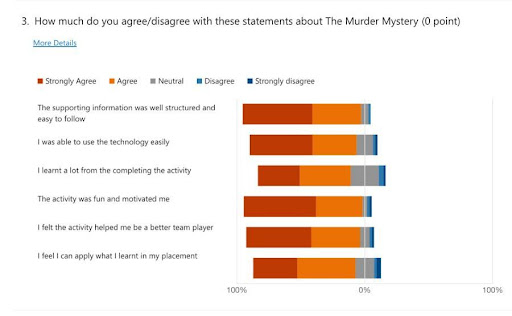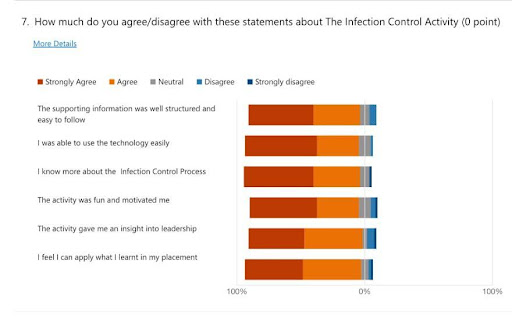 Their comments on the evaluation form reinforced this.
"The murder mystery was my favourite activity of the placement as it was engaging and got our minds working. It helped some of the team members open up and become more comfortable as-well. Great activity."
"loved this actively, was perfect for me as I am a visual learner and enjoy working out puzzles etc, I am also dyslexia so the fact you are doing things like this that work well with my dyslexia mind and allow me to show my strengths is amazing thank you so much :)"
"This was probably the most difficult activity of the lot. However, that did not stop it from being fun and engaging. Making decisions in part two and three was very difficult and allowed us to put ourselves in the shoes of the ward manager etc, which was great and insightful."
The scenarios have now been delivered four more times since their inception, and each time the evaluation results have reflected similarly high levels of student satisfaction.
In addition to the evaluation form, staff noticed students were fully engaging during the activities and were motivated to complete them; often difficult to achieve with online learning. The chat on Teams was particularly active during the scenarios, with students voicing their theories.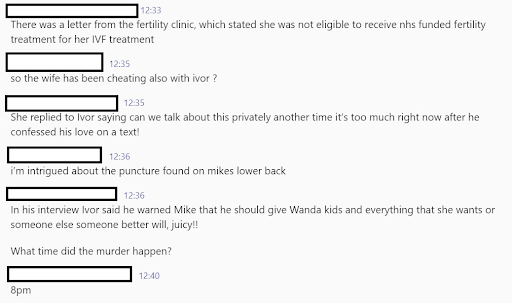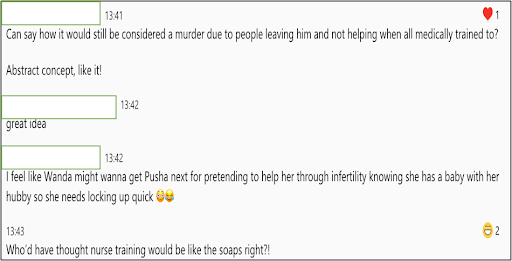 This was also reflected during the debrief sessions which directly followed each scenario. Students were keen to voice their theories, but also express how much they had enjoyed each of the activities and what they had learned from it. None of the students reported difficulties using ThingLink as a medium. Instead, students were focussed on the activity and completing the task without the technology being a barrier. In addition, structuring and use of ThingLink in this way allowed all students to complete the activities simultaneously and semi-independently. This activity was completed successfully by over 380 students, with support from just two members of staff.

The Learning Outcomes
The Placement had two key learning outcomes:
Collaborate via a virtual environment with other health care professional students to build on your leadership and team working skills.
Reflect upon leadership styles and group dynamics when working in teams from your own and colleague perspectives
These set out to address the NMC Standards of proficiency, Platform 5, "Leading and managing nursing care and working in teams" whilst also building students' confidence in using technology to collaborate.
Improvements in leadership and teamwork are difficult to measure objectively over a short period, but the evaluation plan described above sought to gauge students' own measure of the effectiveness of the learning.
For example, the statement, "I felt the activity helped me be a better team player" was scored as strongly agree/agree by over 85% of students for all activities, whilst 90% of students strongly agreed/agreed with the statement, "the activity gave me an insight into leadership" for the Breakout Scenario.
In addition, comments from students in the evaluation indicate that students were reflecting and understanding their own role in a work environment team successfully.
"It was fun and didn't feel like work, however raised my awareness around teamwork and leadership skills"
"This was good for team working and taking on different roles working together to get one outcome everyone was happy with"
"I enjoyed this activity and it did push me out of my comfort zone in terms of pushing my leadership skills forward when others don't speak out."
"One of the best activities, we split in groups and merged together at the end to discuss the outcome and complete the activity"
Plans to Further Develop the Initiative
Following the successful first delivery of this placement in February 2022, the Department of Nursing have pursued a 4-step approach to develop the initiative further. These are:
1. Improve the initiative using feedback from students and staff.
2. Repurpose the content for different programmes
3. Reproduce the design principles in other disciplines
4. Disseminate the approach to the learning community
The hope is to develop the approach and the initiative further and to promulgate good practice in the application of multiple technologies to build a scaffolded series of scenarios across Higher Education and beyond. To this end, the team delivered a workshop at a National Learning Conference in September 2022 to demonstrate the principles and approach.
Through such workshops we hope to provide others with the tools and knowledge to create similar activities, transferring these practices to other disciplines and applications of simulation.
The Simulated Placement as a whole also reached the final ten of the ECEL e-Learning Excellence Awards in 2022, receiving a Certificate of Merit from the Judges.
Biography
Tim Cappelli has worked with learning technology for over 20 years, from setting up work-based learning centres to introducing blended learning initiatives to HE. He managed the first large-scale deployment of iPads in HE, the development of a learning platform in WordPress and the creation of a digital Curriculum Mapping Tool.

Hayley Hewitt worked as a teacher in the UK and abroad, as well as in FE colleges before moving into HE as an Instructional Designer. She uses pedagogical knowledge combined with technology to help create engaging and effective learning experiences for students. She enjoys working with subject matter experts to improve e-learning materials and course content.
We are very grateful to Tim and Hayley for allowing us to share this case study.
FAQs about using ThingLink for virtual training
What are the benefits of virtual team building?
Escape Rooms and scenarios using ThingLink can also be used in any situations where an element of team bonding is required, particularly between remote employees who may eventually work in person together in a situation where time pressure or jeopardy is very real. Remote workers can collaborate on a realistic scenario which might be faced in a real life work day. They are simultaneously practising their core skills whilst also developing the softer skills of working under time pressure, collaborating, communication skills, knowledge sharing, delegation etc.
Meet a product expert
If you'd like to learn more about what ThingLink can offer to your team, you can schedule an online meeting with one of our product experts below.
What software is required for creating virtual team building games and challenges like these?
As in the example from Huddersfield University, these team challenges work best by using any sort of video chat or video conferencing platform to create a shared virtual workspace – such as MS Teams, Google Meet or Zoom calls.
What other virtual team building activities could be used with ThingLink?
You may want to assist team building in a more general way, in a non-work context. Here are some more virtual team building ideas involving fun games; they work especially well for large groups or teams who remote work and need to increase team cohesion. With many teams now working entirely from a "virtual office", those water cooler and coffee break conversations which used to be part of organisational or company culture are difficult to replicate when teams only ever meet via video conference.
What about a virtual scavenger hunt around a series of linked ThingLink scenes?
Embed a virtual trivia game or quiz into the interactive tags in ThingLink for employees to solve. This could be shared during a video call team meeting, a virtual happy hour or can be accessed asynchronously if your team is split between timezones, making it tricky to schedule even conference calls and virtual meetings.
To welcome new team members, why not create an interactive organization chart like this editable Canva template? You can include bios and interesting facts if you like! A fun way to build team camaraderie and increase employee engagement.
ThingLink can also be used as the hub for other types of virtual events as in this example of a virtual careers forum, created during the pandemic.
For an immersive team building event, ThingLink works with Igloo Vision to deliver in-person, face-to-face shared VR experiences in 360 pop-up pods.
Further reading:
Case study on the use of ThingLink by University of Central Lancashire scenarios in multi-disciplinary healthcare teams
Case study on the use of ThingLink to create escape rooms for medical, nursing and multi-disciplinary healthcare students