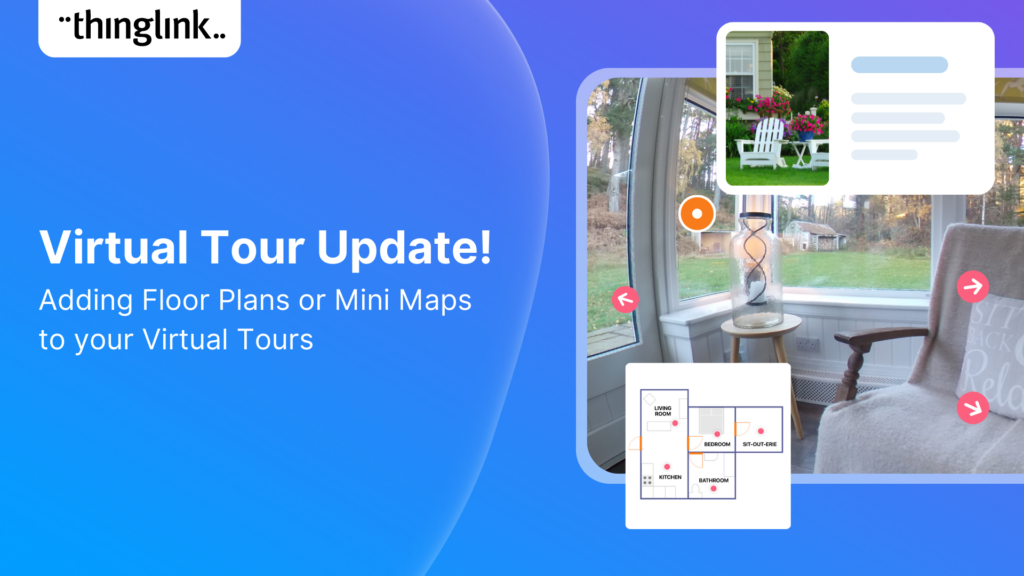 Adding Floor Plans or Mini Maps to your Virtual Tours
Your viewers won't get lost with this brilliant new virtual tour feature!
Our latest ThingLink update enables you to add a floor plan or 'mini map' that shows the exact location of where you are on the 360-degree tour!
Virtual tours with embedded hotspots are increasingly popular, and uses soared during the pandemic in so many different ways. These highly interactive and accessible ways of showcasing a place, space or situation have continued to increase in popularity.
Meet a product expert
If you'd like to learn more about what ThingLink can offer to your organisation, you can schedule an online meeting with one of our product experts below.
We've seen a real surge in virtual tours created for real estate, interactive games by educators, holiday homes, virtual schools, transitions, campus tours and staff development, particularly essential training for onboarding new employees.
In fact, real estate professionals and potential buyers see virtual tours as an essential part of the purchase process now. In learning and development training, virtual tours or interactive 360-degree images are seen as cost and time saving assets enabling organizations to be more efficient and effective.
Check out this brilliant virtual tour example featuring our new floor plan feature here, simply enter! What's really nice about this is you can also click on the hotspots directly on the floor plan to transition to that scene / room.
Virtual tour quick and easy instructions!
Tour creation: To try this feature, you can create your own floor plan as a base image for a scene and add your 360 media scenes using the Tour Tag. Then simply add your floor plan scene ID in the settings panel. Read more in our brilliant walkthrough support article
Are you looking for a new virtual tour platform? ThingLink was the Best Rated Virtual Tour Software of 2022. It is the quickest and easiest virtual tour creator. Get started for free today. Once you've created your tour simply share or embed in your preferred place, social media or website!
Discover more about virtual reality and virtual tours in our post with great examples
How do I create a Virtual Tour? Quick and easy tutorial to create tours.
Where can I see some examples? View great examples of virtual tours here
How do I make a high-quality virtual tour with my phone? You can create 360-degree images with (e.g Insta360) or without a 360 degree camera.
NEW! The easy way to create 360 images: Pano to 360
Creating virtual tours, exhibitions, escape rooms and other immersive content just got even easier! ThingLink has now launched Pano to 360 by ThingLink: an easy way to create a 360 photosphere from a panoramic image using any smartphone. For more information, including step-by-step instructions see this helpful support article.
Try the free Pano to 360 converter
The Pano to 360 photosphere converter is free to use for anyone, no ThingLink account required! Upload a panoramic image to see it in action.