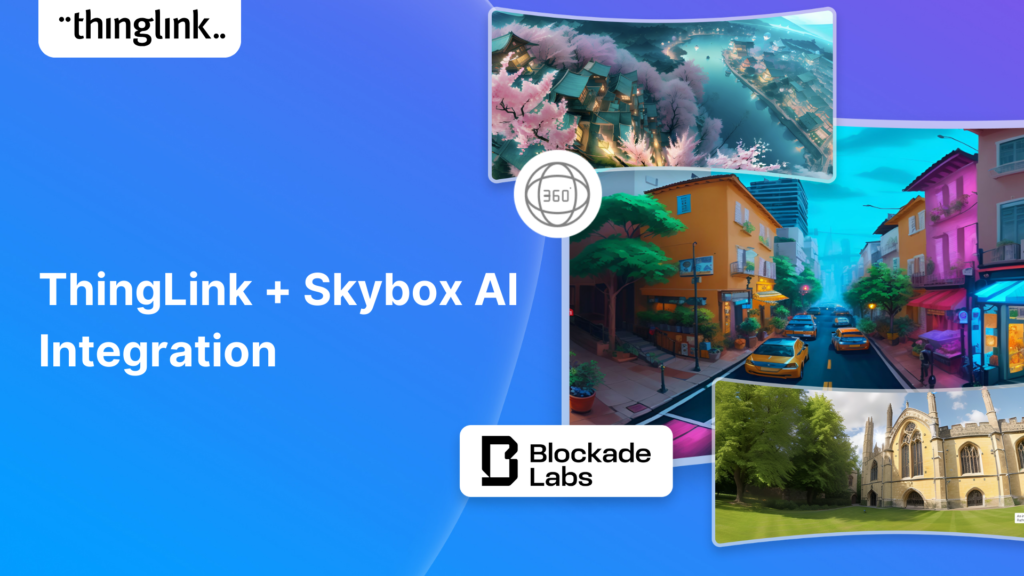 Unlocking Creativity in Education: ThingLink Integrates with Skybox AI to Elevate Immersive Learning Experiences
ThingLink, an award-winning immersive learning technology platform is announcing a strategic partnership with Blockade Labs, creators of Skybox AI, an innovative AI-assisted 360-degree image generation platform. Starting today, ThingLink's organization account holders, schools and universities can purchase access to Skybox AI's image generation technology for their entire organization directly through ThingLink.
Adding AI-assisted image generation to ThingLink's creation flow
Since 2016, ThingLink has empowered educators and students to create virtual field trips, interactive walkthroughs, and engaging point-and-click games using annotated 360-degree images and videos.
Until now, users have had the option to download or purchase these images from libraries and photo services, or create their own. The integration with Skybox AI adds an exciting new dimension to ThingLink's creative workflow. Educators and students can now utilize cutting-edge artificial intelligence to generate scenes for immersive learning experiences, storytelling and entry-level game development, further enhancing engagement and educational outcomes.
Embracing the next generation of storytelling
"We are empowering educators and students to become creators and embrace the next generation of storytelling. Using Skybox AI and ThingLink, it's possible to both design and execute a visually stunning point-and-click game in the same study unit. It is like having a team of the world's fastest and best illustrators helping visualize your ideas".

ThingLink founder and CEO Ulla-Maaria Koivula.
ThingLink's integration with Skybox AI helps streamline the immersive content creation process and saves time from creating visual assets in one service, and interactive projects in another. Previously, ThingLink has announced similar integrations with Canva and Unsplash.
In addition to the technical integration, ThingLink and Blockade Labs have agreed on a strategic partnership through which Skybox AI can be made accessible to entire organizations, instead of just individual users. This lets Blockade Labs quickly test customer interest in new market segments.
"Creating 3D worlds from text prompts without coding is a powerful step towards unlocking human creativity. We are excited for our partnership with ThingLink and for users to interact with these incredibly imaginative easy-to-use tools".

Marguerite deCourcelle CEO Blockade Labs.
Schools, universities and businesses that have a ThingLink organization account can purchase Skybox AI as an add-on service for all of their users. The entry level package, priced at $1,000, includes 15,000 image generations per year.
Check out our information page!
To find out more or activate the Skybox AI package or your school, University, organization or company now, please click the link below1
About ThingLink
ThingLink is a trusted immersive learning technology partner for leading businesses and educational institutions in Europe and North America. Thousands of companies, schools, and higher education institutions use ThingLink to create interactive 2D, 3D, VR, and AR learning experiences, such as virtual tours, guided field trips, employee trainings, and branched multimedia simulations.
About Blockade Labs
Blockade Labs specializes in AI-assisted 360-degree image generation technology. With Skybox AI, Blockade Labs aims to make the world of 360-degree imaging more dynamic, interactive, and accessible to all.
Connect News and Stories
ThingLink X (Twitter) and Blockade Labs X (Twitter)
ThingLink LinkedIn and Blockade Labs LinkedIn
Press Contact
For additional information or to schedule an interview, please contact
Louise Jones
Community and Engagement @ ThingLink