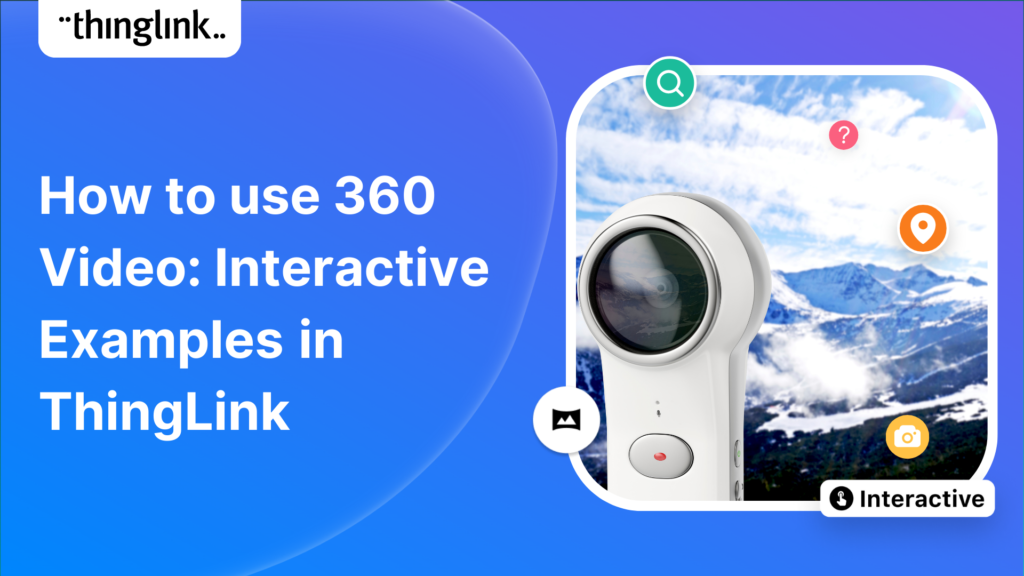 How to use 360 Video: Interactive Examples in ThingLink
ThingLink is used all over the world as a tool to easily create interactive learning experiences with images, video and 360 images. But one way to create a valuable and even more richly immersive experience for your learners or audience is with 360-degree video. In this blog we are going to show you just how easy it is to create an interactive video experience using a 360-degree camera and ThingLink. We also share some wonderful 360 video examples from the ThingLink community.
Try ThingLink today!
See how easy it is to create interactive and immersive content with a free ThingLink trial account.
What can you do with a 360 video?
360 video content is ideal in any situation where it's important to see a subject in action, and to hear the audio or soundtrack of what's happening. For this reason it can be used for a wide range of learning and training purposes.
Many people use 360 video to create immersive language learning experiences. Learners can watch and listen to conversations between native speakers and explore the environment where the conversation is taking place, such as a busy market or a restaurant.
You can use it to teach any process where you have to see the whole 360 picture. For example it could be used for boat crew training, showing the entire deck or below deck area as different crew members undertake different tasks.
360 video is used increasingly for customer service and retail training and e-learning. The reason is that in these environments there is very often a lot happening in one space. It lets trainees become familiar with the concept of looking around in all directions, including behind them, to keep an eye on lots of different micro-environments. Read how Gradia college in Finland used 360 video to create virtual learning environments for students here.
It is also used by real estate and construction professionals to create walk throughs and virtual tours of properties, to show their features in use or during build.
What are the benefits of a 360 video?
360 video format enables you to record two or more processes going on simultaneously. For example in a restaurant or a hotel setting it could show two members of staff or more who are dealing with individual customers at the same time.
It is more life-like as it allows and encourages the learner or the audience to explore the video and look around the scene, rather than simply study one set scene.
It can be used in emergency services to demonstrate an emergency or crisis situation. For example in this example below of ambulance driver training. (The material is in Finnish; please click the pink i icon, and then click proceed.)
How can you make a 360 video?
360 video production is far easier than you may think! You will need a 360 or omnidirectional camera, such as a Ricoh Theta or Insta 360. You can read our advice on the models we recommend as well as some useful advice here at our support article.
Simply set your 360 camera to video (rather than photo), set it in place, and start recording. Most 360 cameras can synchronise with your phone, enabling you to remove yourself from the scene and record out of sight.* You may find it easiest to use a tripod and keep your camera in one place for the duration. Once you have a bit more experience, you can try taking your camera on the move.
*If you take your camera with you as you move, YOU will most likely remain in the video!
Tips on video creation:
If you are using multiple "actors" to create your video, it's a good idea to do some storyboarding first so you can work out where everyone needs to go, and who needs to do what, when! You may have multiple storylines happening concurrently – but you need to ensure that everyone can be seen by the camera when the vital action is taking place.
How do you make a 360 video interactive?
Making your 360 video interactive with ThingLink is very simple, and uses the same easy drag and drop functionality as any other type of visual media in the ThingLink editor. If you have ever created a ThingLink using a 2D image, a 360 image or a video – the process for 360 video is exactly the same. You can add interactive hotspots anywhere on the video which can contain text, images, external links, embeds, and links to other ThingLink scenes to create a virtual tour.
Here's another example below of an interactive 360 video in action with ThingLink!
If you are completely new to ThingLink, don't worry – you can learn in minutes! Here's a quick tutorial on creating an interactive 360 video with ThingLink.
Create a Thinglink account and log in.
Click on the "Create" button on the top right of the screen and select "video or 360 video".
Choose the option you'd like to use to upload your 360 video (import from Google Drive or One Drive or upload from your device) and select the video file you want to use.
Once the video has uploaded, you can add interactive elements by clicking on the "Add Tag" button.
Choose the type of clickable tag you want to add, such as a text and image tag, or a tour tag to another ThingLink scene.
Place the tag on the video at the appropriate location and add any relevant information or links.
Continue adding tags until you have created the interactive experience you want.
Preview your interactive 360 video to make sure everything looks and works as expected.
Publish your video by clicking on the "Publish" button, and share the link directly with your audience, embed on your website, landing page or LMS, or publish on social media.
For more information, please see our full support article on 360 videos.
Creating interactive VR experiences
It's also possible to create 360 VR video content with ThingLink – for a super-immersive virtual reality user experience with a real-life feel! We recommend a VR headset such as ClassVR. The content is created in exactly the same way as above, but there are a few limitations on the types of tags you can add. For a full explanation, please see the support article here.
What else can you create?
360 videos are just one of the many types of interactive content you can easily create with ThingLink! Take a look at these blogs below for some more inspiration and see what our global community has been busy creating!
New! An easy way to create 360 images: Pano to 360
Creating virtual tours, exhibitions, escape rooms and other immersive content just got even easier! ThingLink has now launched Pano to 360 by ThingLink: an easy way to create a 360 photosphere from a panoramic image using any smartphone. For more information, including step-by-step instructions see this helpful support article. 
Try the free Pano to 360 converter
The Pano to 360 photosphere converter is free to use for anyone, no ThingLink account required! Upload a panoramic image to see it in action.