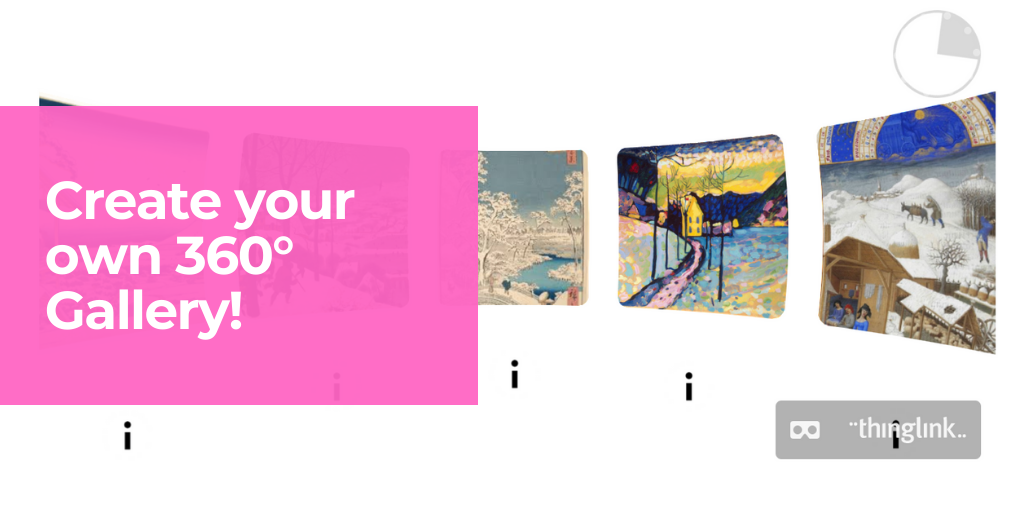 How to create a virtual exhibition: A 360° Gallery made with Canva and ThingLink!
We show you how to make your own 360° virtual art gallery with our Canva template and ThingLink
People often think that you need specialised tools such as Adobe Photoshop to create a 360 image using graphic design. You can, with other less complex presentation tools, create an image with a 2:1 pixel aspect ratio, but it is a little tricky to stitch images together.
Start creating with ThingLink today
To get started with ThingLink, why not start a free trial?
The clever ThingLink Team have devised a quick and easy way to create a 'Fake It!' 360 2:1 panorama gallery image. Use this to create a virtual art exhibition, any kind of virtual event or online exhibition. The template we have created in Canva is available for you to copy and have some fun creating your own! Now you can show off your art pieces in your own online exhibition space. Share it as an embed, a link, on social media, or even using VR (virtual reality) mode for a VR exhibition experience.
A Fake It 360 in Action – Explore the Gallery of Snowy Art!
Here's what your blank copy should look like:
Now over to you – create your own copy here!
How to create your own 360 images from our Canva Template: quick tutorial
Create your own copy from our template – link above.
Simply upload your images into Canva ready to insert into your copy. You'll now be able to drop them into the placeholders in your own 360° Image.
Download your new gallery image as a JPEG file
Now you can ThingLink It!
In ThingLink click on the blue Create button and upload into your ThingLink Account page it will appear in 'My Media'.
Click the edit pen icon and tag away!
Share your ThingLink with your audience, embed into your site or share with the link!
What kind of uses do these 360 images have?
Why not create a top ten gallery on a favourite or current subject that your learners are studying? This is a great discussion starter as the carousel style of this "digital art gallery" does not place an order on the top ten or hierarchy. Use embedded tags to conduct research and collect data.

Use the carousel to create a timeline or demonstrate an ongoing cycle or process.

Ask learners to create their own online gallery to share with their group or class, provide images or ask them to curate their own.

Create a virtual space or showroom for your product as part of a marketing campaign.

Design a gallery of worldwide travel destinations in each window or a new place to explore with a tour tag below the image.

Create a universe to explore from the cockpit of a spaceship!
More ideas and tips on using your 360 images
Why not add audio to the carousel to really bring your immersive experience and context to life?
Why not add a beautiful backdrop to your gallery? You can achieve this by adding a 360° image (equirectangular) to your Canva template copy. Try downloading our 360° sample image and uploading to your Canva media and setting as the background, the outcome is shown below.
*Please note you are unable to download the images from the ThingLink 360° Image Gallery for this purpose.
Use Canva to create your virtual exhibition base image
You can create a huge array of images and infographics using the brilliant design platform Canva. From maps to graphs, presentations and CVs – Canva makes it easy to create high-quality professional looking materials for learning, publishing, marketing and everything in between. Anything you create on Canva can all then be uploaded to your ThingLink account as a base image or part of a tour.
We've created this template free for all thinglinkers to use. As always we'd love to see how you adapt it and use it with your real-world learning materials, products or content!
The easy new way to create 360 images: Pano to 360
NEW! Creating virtual tours, exhibitions, escape rooms and other immersive content just got even easier! ThingLink has now launched Pano to 360 by ThingLink: an easy way to create a 360 photosphere from a panoramic image using any smartphone. For more information, including step-by-step instructions see this helpful support article.
Try the free Pano to 360 converter
The Pano to 360 photosphere converter is free to use for anyone, no ThingLink account required! Upload a panoramic image to see it in action.
ThingLink 360 Image Library
We recently released our new royalty-free 360° image library for all ThingLink users. There you can find and use some incredible scenes from all over our wonderful planet – including UNESCO world heritage sites, cityscapes and historical landmarks.
The ThingLink Team are often asked for advice on how else to create 360 images. We have created support pages on taking 360 images using a 360 camera.
Looking for more inspiration on how to create a virtual exhibition?
Read how museum educators and exhibition organizers at real galleries have been using ThingLink to create virtual exhibitions for global audiences.
Stay up to date with the ThingLink community: join us on social media at Facebook or Twitter