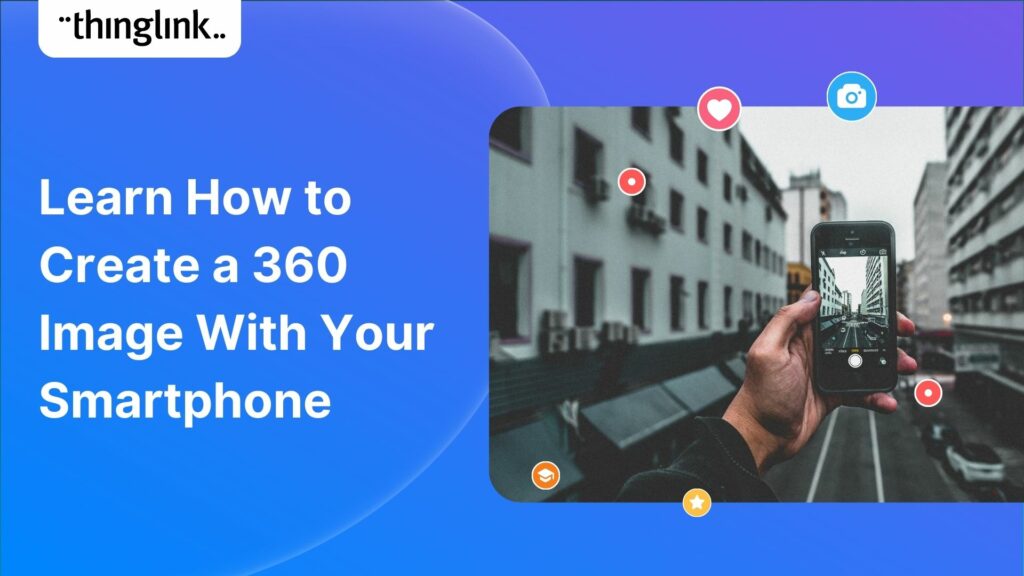 Learn How to Create a 360 Image With Your Smartphone
Now On Demand!
Sign up to receive the action replay and the links
ThingLink Launches a Revolutionary Solution for Capturing 360 Images
In light of the discontinuation of the Google Street View Camera app, ThingLink has answered the call for a mobile-friendly alternative with a new and groundbreaking addition to its suite of tools. Our game-changing new conversion solution allows you to effortlessly create virtual tours using 360-degree photosphere images, using nothing but your mobile phone.
No need for a specialist 360 camera or equipment
Until now, capturing 360 degree images was only possible with a 360 camera such as the Ricoh Theta z1 or Insta360, plus a monopod or tripod. Now, panoramic photos taken on an iphone or any android mobile device can easily be converted for use in a virtual tour.
Explore the possibilities with this ThingLink Guided Tour
Get inspired with a walk through of this guided tour of a co-working space in Helsinki. Immerse yourself in the impressive converted 360 photosphere, originally captured with an iPhone 12 Pro Max on the panorama setting and converted into a 360 degree photo in ThingLink. Click through or scroll around the embed below.
Don't Miss Our Jam-Packed Webinar
Want to learn more about our cutting-edge solution for converting panoramic images into fully immersive 360 photospheres? Join our webinar where we'll take you through a step-by-step tutorial. Witness the endless possibilities come to life through exciting real-life examples and engage in a live Q&A session with our experts. This webinar is suitable for everyone, from complete beginners to experienced ThingLink creators! We give you a full guide as to how to use the new tool.
Watch the Webinar on Demand!
What can you use the new 360 solution for?
This new solution is for anyone who is interested in virtual tour creation. You may be an educator who wants to make an interactive, immersive experience for your learners, a provider of elearning solutions, a gallerist or museum curator looking for cost-effective ways to create virtual exhibitions, or a real estate agent looking to avoid the high costs of virtual tour software. Anyone and everyone can become a virtual tour creator with ThingLink's easy to use solution.
ThingLink allows you to create high quality virtual tours of any environment, annotated with rich media hotspots containing further information and links. They can be shared or embedded anywhere via URL, QR code, or even used with VR headsets in virtual reality mode!
Other posts we think you'll love
For more ideas, use cases and inspiration on content creation, join our communities on social media! LinkedIn Community, Twitter Creative Learning Design Community and ThingLink Education Facebook Group.