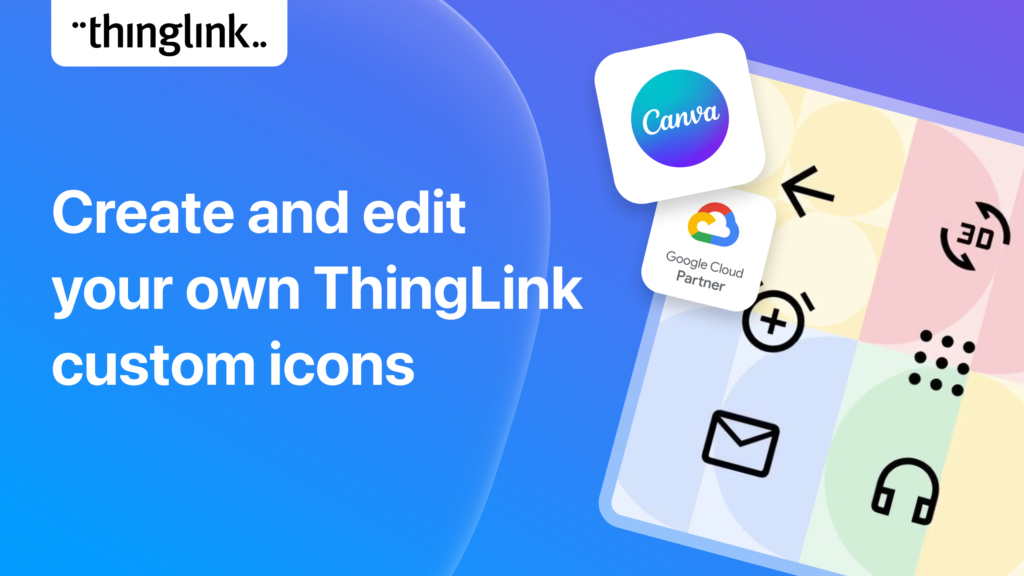 How to Easily Create your own ThingLink Custom Icons
Would you like to create your own distinctive icons to use with tags in your ThingLink content? It's easy – we show you how!
We recently added over 2000 icon variations to our ThingLink editor so there are lots of designs and colourways to find icons to match the purpose and context of your creation. However, we understand that it's vitally important to match your brand style and have the right triggers for your audience. If you need to create custom icons for your ThingLink scenes it's very easy to do so. For educators – It's also a great activity to use with learners developing graphic design, art or digital skills!
Here's our top genius ways to create your own using our technology partners solutions Google Font Icons and Canva
1. Using Google Font Material or Symbol Icons
*A Canva Education (free to teachers) or Pro account is required to download your design as an SVG file.
Step by step guide
Download SVG graphic icons from https://fonts.google.com/icons
Upload to Canva – here is a handy template to use. Then start experimenting! You can change according to your desired style
When you are happy with the result, download the SVG file – remember to select the transparent background option.
Upload to your custom tag icons in the ThingLink editor!
2. Styling Emojis with Google Font NotoEmoji
Download the Google Font NotoEmoji to your desktop/ drive and upload the TTF file to Canva
Create a copy of this Canva Template
Paste in an emoji which will be converted to the text graphic
Then experiment until you are happy with the result. Change the background colour, insert your own emoji and change to any colour you like.
Then download transparent background SVG file.
Looking for more creation inspiration?
More about Custom Icons in our Support Centre article
The ThingLink learning center is the place for inspiration, support, project ideas, tutorials and so much more! Explore live examples and use cases from current users, watch featured tutorials, learn about our newest features and pro tips. You can also access the 360 image library from here and our ThingLink Certified Creator Course.
We would also recommend joining the ThingLink community on social media. You can find us on Twitter, Facebook, LinkedIn – they are great places to chat about tips, tricks and share great examples in action.