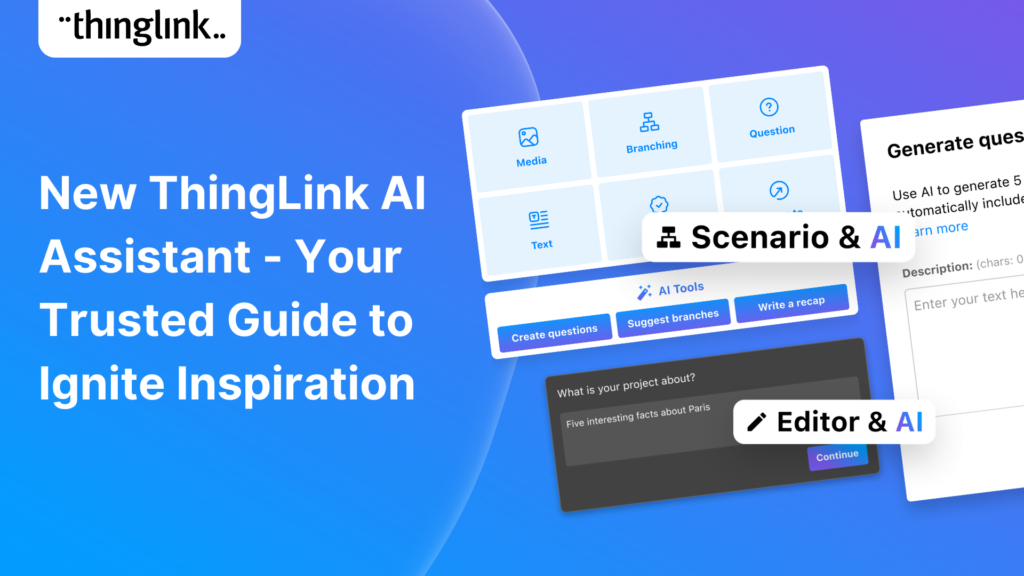 New ThingLink AI Assistant – Your Trusted Guide to Ignite Inspiration
Earlier this year, our team initiated a series of webinars, fostering a dialogue with creators on the integration of Artificial Intelligence (AI) tools into their work. ThingLink Founder and CEO Ulla-Maaria Koivula, at the same time highlighted three guiding principles: transparency, privacy, and control, ensuring responsible AI usage.
Following these conversations and underpinned by these principles, we are now introducing five impressive AI-powered features (in BETA mode), offering content creators the means to jump start their creative journey.
ThingLink AI Assistant – Content Creation Tools
Choose from these tools located In the ThingLink Editor and Scenario Builder, based on your ThingLink project idea it offers;
Tag Suggestions
Suggest Branches
Generate Questions
Write a Recap
Re-write Text Block
Check out the features in the tags below!
Privacy, Control and Access
Firstly, your data remains yours. The AI Assistant tools work via ThingLink's own installation of OpenAI, meaning data stays within ThingLink.
ThingLink School or Organization accounts will have the option to turn off AI functionality for the entire team, school, campus or organization. Simply head to your organization settings. Please note: The ThingLink AI Assistant tools will not be available to students.
What are the benefits of the AI Assistant Tools?
We understand from our community that sometimes getting-going with the content creation process can pose a challenge if you're starting out with ThingLink. The new AI Assistant suggests five tags that can be edited or deleted, simply enter a little detail about your project or your ideas. Give it a try!
The AI Assistant simply helps speed up the writing process for your written content. If you want to change the ai-generated content, you can – simply use the suggestions as a template to get you started. For example you may want to change the tone of voice for your piece of content to suit your target audience, or include specific product descriptions.
The five new AI writing tools help you overcome writer's block. Think of them as your writing assistants! Just as many content writers today use grammar checker tools to hone their long-form content, ThingLink's 5 new AI content generator tools speed up your workflow and allow you more time to get creative.
How does it work?
Like the other AI tools you may be familiar with, such as ChatGPT and Copy.AI, the ThingLink AI tools use natural language processing algorithms, where machine learning creates content based on the content brief that you provide.
Phased Roll Out
We are rolling these out on an incremental basis. The first ThingLink Creators will see this change in their accounts on Tuesday 27th June.
Other posts we think you'll love
For more ideas, use cases and inspiration on content creation, join our communities on social media! LinkedIn Community, Twitter Creative Learning Design Community and ThingLink Education Facebook Group.