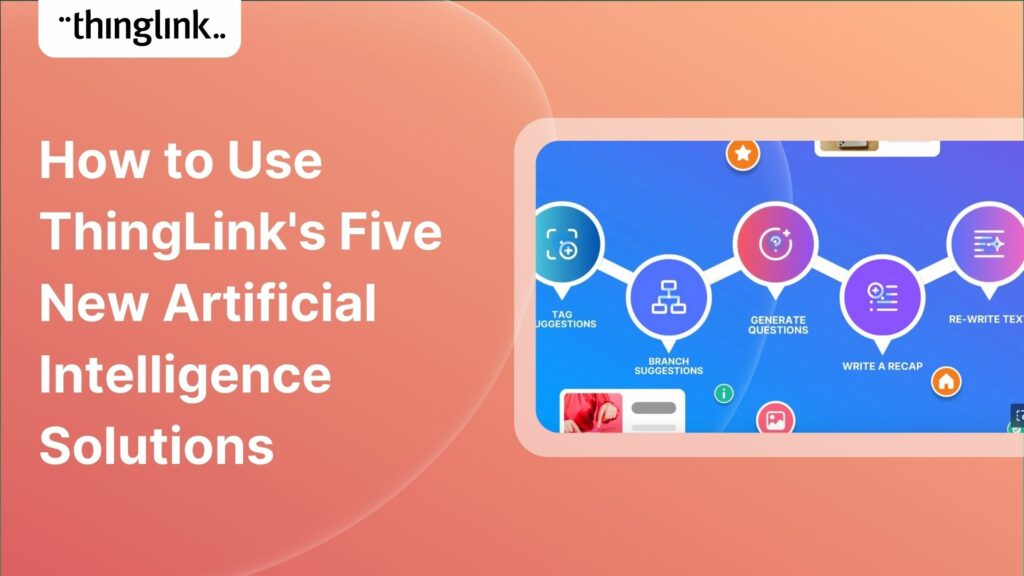 How to Use ThingLink's Five New Artificial Intelligence Solutions
Earlier this year, we launched an exciting group of webinars, to engage with ThingLink creators and explore how AI solutions could be integrated into their work. ThingLink Founder and CEO Ulla-Maaria Koivula emphasized three guiding principles: transparency, privacy, and control, ensuring responsible AI technology use.
Building upon these fruitful conversations and grounded in these fundamental principles, we are thrilled to introduce our latest offering: AI Assistant Tools. These five remarkable AI-powered features (in BETA mode) empower content creators to optimize their time. ThingLink's AI capabilities can speed up your workflow, giving you more time to spend on creativity.
Whether you use the ThingLink Editor or you've started using Scenario Builder, you can use our AI Assistant tools to bring your ThingLink project idea to life:
Tag Suggestions (in the ThingLink editor)
And in Scenario Builder:
We have created this ThingLink below to show you how each of the five tools works. Go in and explore!
Privacy, control, cybersecurity and access is paramount
Rest assured, your data is securely stored end-to-end within ThingLink's own installation of OpenAI. Moreover, ThingLink School or Organization accounts allow admins to enable or disable AI functionality for your team, school, campus, or organization. Head over to your organization settings to configure the experience for your specific ecosystem. Please note: The ThingLink AI Assistant tools will not be available to students. For more information on all our plans and pricing please go to ThingLink.com
What are the benefits of our AI Assistant Tools?
We understand that starting the content creation process can be daunting, especially when you're at the beginning of your ThingLink journey. That's where our AI Assistant comes to the rescue. in the editor, Tag Suggestions suggests five editable or deletable tags based on a brief description of your project or idea, expediting the writing process for your written content. Feel free to modify the AI-generated content to align with your target audience or incorporate specific product descriptions. Let our AI Assistant be your trusted companion in overcoming writer's block and achieving unparalleled creativity.
Or perhaps you need some extra help getting started with ThingLink's Scenario Builder? Scenario Builder has become invaluable for educators who want their students to practice real-time decision-making and problem-solving before entering a real-world environment. It is an easily accessible way to create mixed-reality learning experiences, forecast to be one of the most important trends in education and training this decade. Utilize our AI systems to help with questions, branching, text boxes and even get a recap of your whole scenario! Recreate any environment, simulate a customer experience, or put learners in the shoes of real characters from history.
Curious about how it works?
Similar to other renowned generative AI tools and apps like ChatGPT and Copy.AI, our ThingLink AI models utilize natural language processing (NLP) algorithms. Using machine learning models, they generate predictive copy and suggestions that align with the input content brief, simply giving you more time to unleash your creative potential.
Other posts we think you'll love
For more AI project ideas, use cases and inspiration on content creation, join our communities on social media for case studies, templates, chat and more! LinkedIn Community, Twitter Creative Learning Design Community and ThingLink Education Facebook Group. We have ThingLink creators worldwide across a huge range of sectors including education, healthcare, financial services, transportation and publishing. We look forward to welcoming you!