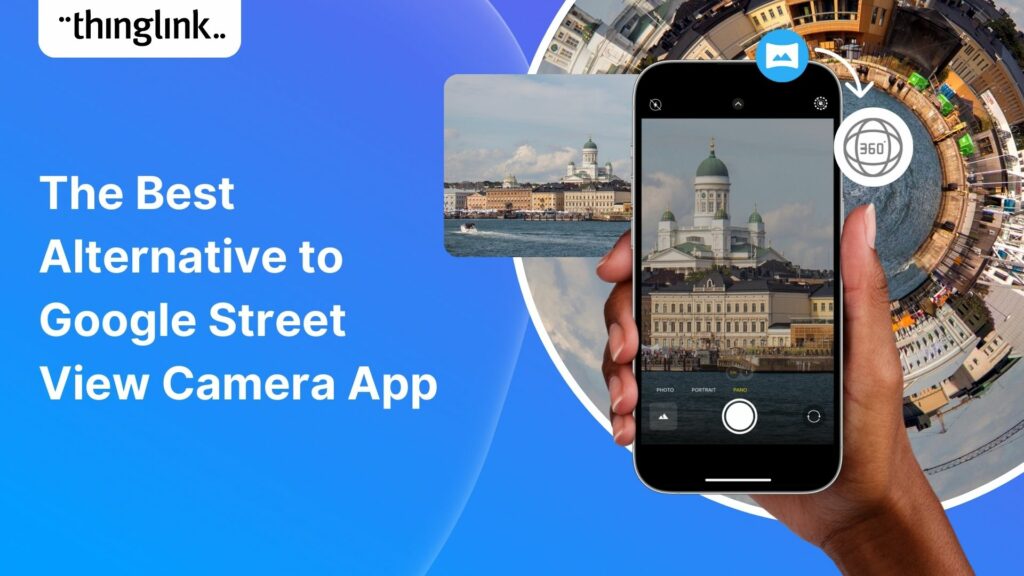 The Best Alternative to Google Street View Camera App
Ever since Google discontinued its much-loved Street View Camera App, users around the world have been searching for a worthy alternative.
The good news? Your search is over! We're excited to introduce Pano to 360 by ThingLink: a new free solution that enables you to create stunning 360-degree photospheres from panoramic images taken from any mobile phone. This revolutionary platform fills the gap left by the Google Street View Camera App, providing user-friendly, comprehensive, and high-quality options for virtual tours, field trips, training content and immersive scenes.
Try ThingLink today
To get started creating interactive content, why not try a free ThingLink trial account?
Transforming Panoramas into 360 Photospheres
ThingLink's latest solution is a free platform designed to convert your panoramic images into immersive 360 photospheres, ready to be shared with the world. All you need is your mobile phone – whether that's an iphone or an android phone. Capture a panorama, and ThingLink will handle the rest. Here's a step-by-step guide:
Take a Panoramic Photo: Start by taking a panoramic photo with your mobile phone's camera. In fact any mobile device with a camera feature can do this, including apple ios and android devices – ensuring maximum accessibility for all users.
Upload to ThingLink: Next, upload your panoramic image to ThingLink's new free platform. The platform is web-based, meaning it is accessible and easy to use, whether you're on a computer, iPad, other tablet or mobile device.
Convert to 360 Photosphere: With a single click, ThingLink will transform your panoramic view into an engaging 360 photosphere ready for you to download. No image stitching or complicated editing tools required!
Customize & Share: If you have a ThingLink account (of any type) you can then upload your new 360 image to your media. You can add interactive tags to your photosphere, customize it to your liking, and then share it with the world. It's that easy!
Why Choose ThingLink's Pano to 360 Solution?
This ground-breaking platform stands out for several reasons:
User-friendly Interface: This free solution is designed with all users in mind, boasting a simple and intuitive interface. You don't need any technical expertise to create stunning, high quality 360-degree photos.
High Quality: ThingLink uses cutting-edge technology to ensure the resulting 360 photospheres maintain the high-resolution of your original panoramas.
Interactive: ThingLink's solutions are known for their interactivity. Add tags to your photospheres to create engaging, informative, and interactive experiences for viewers. Create virtual tours, exhibitions and field trips with your 360 content. You can then share and embed them anywhere: on your website or landing page, use the social sharing option to share to your favourite social media platform – even share in virtual reality mode for viewing on a VR headset. Whenever you update your ThingLink content, it updates in real-time wherever it's shared – making it dynamic, engaging and interactive!
Free and Accessible: Unlike many other 360-degree camera apps, ThingLink's new converter tool is free and accessible on any device, making it a perfect 360-from-panorama app for both personal and pro use.
Try it today for free!
ThingLink's new free solution provides an unparalleled platform for converting panoramic pictures into immersive 360 photospheres. It's the ideal alternative to the now-discontinued Google Street View Mobile App, offering simplicity, high quality, and interactivity. Try it out today and revolutionize your 360-degree image creation. No need to download from the app store – just take pictures in panorama mode and visit our website to try it out!
Try the free Pano to 360 converter
The Pano to 360 photosphere converter is free to use for anyone, no ThingLink account required! Upload a panoramic image to see it in action.
What will you create with Pano to 360?
Join our active social media communities such as the ThingLink LinkedIn Community or the ThingLink Education Facebook Group and show off your new ThingLink creations!
What else can you create with ThingLink?