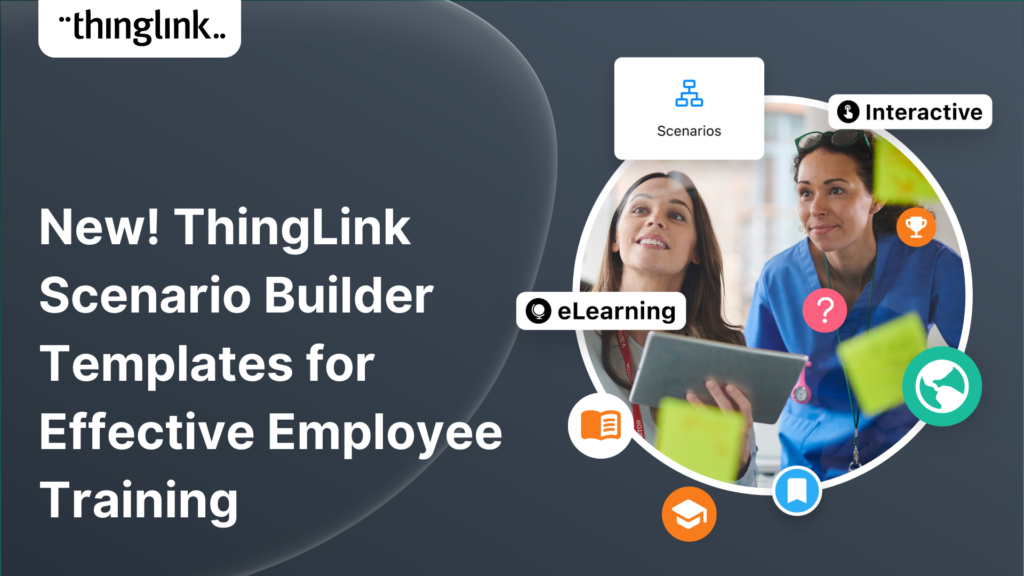 New! ThingLink Scenario Builder Templates for Effective Employee Training
We're excited to unveil ThingLink's new Scenario Builder Templates – the latest in a range of assistant tools to help you create amazing interactive training and learning content!
We know it can sometimes be tricky to know which type of scenario to create for the specific training needs of your learners. So we have developed a versatile range of scenario models that you can clone, adapt and edit to create your own bespoke elearning or training materials. The four types of model will appear when you start creating your scenario. Simply replace our dummy content with your own text, questions, branching and media! But don't worry – you still have the ability to build your own bespoke scenario from scratch if you prefer!
Used in tandem with ThingLink's super-helpful new built-in AI content creation tools, you'll be able to create simple or branched learning scenarios in no time! These scenario builder templates will be invaluable for creating all types of employee training – whether your main training objectives are learning new skills or enhancing existing ones, or even increasing employee engagement and retention.
Get started today!
Explore a world of immersive content and transformative learning experiences with a complimentary ThingLink trial.
Why Use ThingLink's Scenario Builder to create employee training?
For a recap or an introduction to Scenario Builder and why it's such a fantastic tool to create immersive learning experiences, watch this short video intro:
Want to know more about Scenario based Learning (SBL)?
Read more on the fundamentals of Scenario Based Learning in this great introductory blog: What is Scenario Based Learning? Here's our handy PDF of the new Scenario Templates!
Why do training content creators love Scenario Builder?
It addresses your specific training needs: Training created with Scenario Builder is easy to update, clone and edit – all in house! This means that you can provide for the individual training needs of each department, or even individual employees, by easily and quickly responding to their competencies and any employee skill gaps. Identify knowledge gaps and address them effectively with completely bespoke scenario-based learning content that can be updated in minutes.
Flexible Training Methods: Online training courses and learning materials built with ThingLink can accommodate multiple training methods. You can also embed a huge range of apps and integrations into your ThingLink training content – which instantly widens the range of the type of content you can provide.
You can create a training schedule that fits around employees' other commitments. Online learning packages created with ThingLink can even be completed at home or during the commute to/from the place of work.
Learner Metrics: In-built statistics features allow you to analyze and monitor the progress of each individual employee, letting you keep track of individual employee performance and milestones . Set training goals, measure the outcomes, and adjust the training process as required.
Explore our new Scenario Builder templates
1. Linear Scenario
The most basic of the scenario builder templates is the Linear Model. Here's an example of what it might look like in action. We have created a sample Onboarding course for new employee training. This employee onboarding template would ensure that the onboarding process is smooth for all new team members. It demonstrates how a structured onboarding initiative could be delivered, ensuring that new hires understand company values, policies and culture.
However a linear template could be used to deliver any type of training! Our Certified Creator Course is a great example of the linear scenario model in action!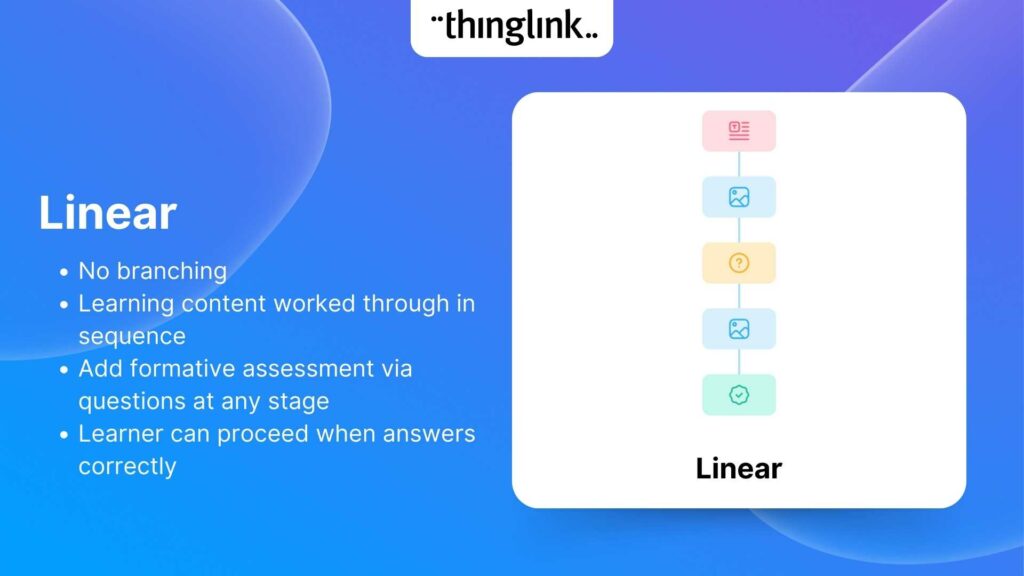 You can add an element of gamification with completion badge and points along the way. You can also add formative assessment via questions at any stage which challenge the learner for the correct answer before they proceed (a conditional transition). The wrong answer message can suggest that they move backwards and review the material again or reconsider why their answer may be incorrect. However unlike the escape room model (below), they are given the same, generic wrong answer message – there is no individual consequence for that choice. It does not take them down a different branch or to another scene/text. 
Here's another example below which could be used for employee training.
2. Escape Room Scenario
The escape room is an ideal employee training template for a huge range of learning outcomes and subject areas. You can embed a wide range of training materials into the escape room scenario, and only by answering a series of questions correctly can the learner "escape". It adds an element of gamification to any learning or training process and is particularly effective when used in team training. Here is an example in action below.
Only one answer is correct at each decision point – at each wrong turn they have to face the consequence of their choice, ie they are taken to another scene or text which shows or explains the consequence of their choice. They have to return to that decision point until they escape.
The goal with the escape room format is to escape as fast as possible. In ThingLink you can add a timer to your scenarios – ideal for virtual learning environments which replicate real-life time-critical situations.
Additional information/learning points/tours can be added before each decision point to give context. However the format/pattern is the same: each choice will result in EITHER a correct choice (moving forward) or an incorrect one (moving back to the choice block).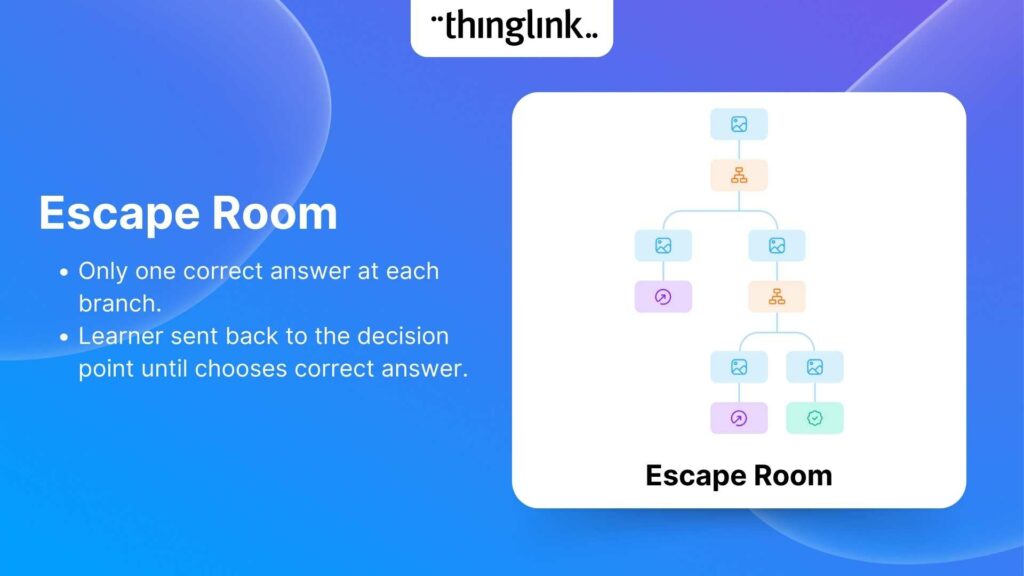 Here's another example of the escape room format in action below!
3. Simulation Scenario Model
This model allows you to demonstrates the ultimate or cumulative consequence of the learners' actions or choices to them.
For example: In medical training, students diagnose virtual patients based on symptoms presented. The patient's condition worsens or improves based on the student's decisions, offering a realistic simulation of medical practice.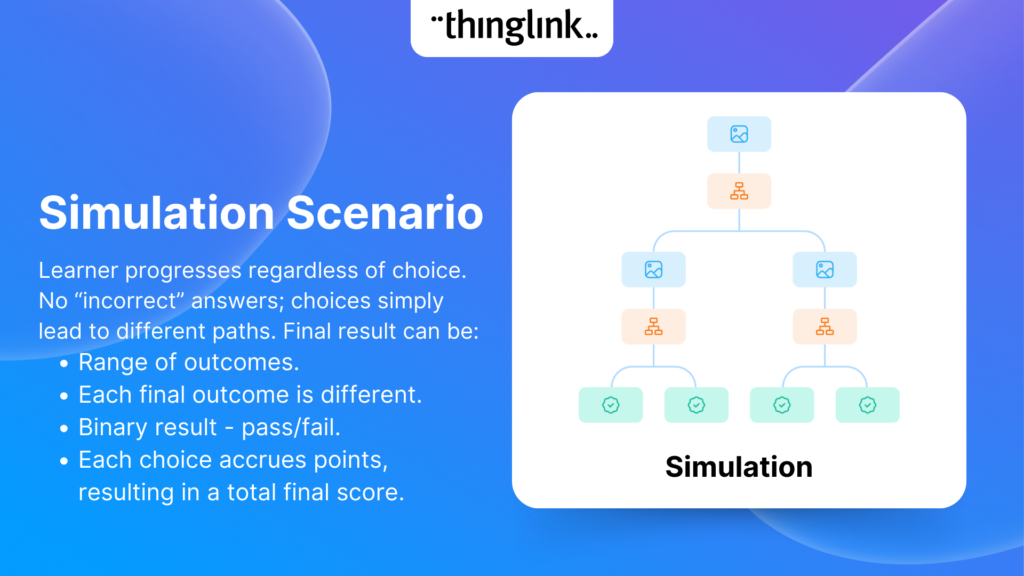 As opposed to the escape room model, the learner keeps moving forward regardless of their choice. There are no "incorrect" answers (ie a step back) at the intermediary stages, unlike the escape room. There are simply choices which have different consequences and send the learner down a different path. Here's an example in action below.

Three are three main variations on this model. The result could be:
Range of outcomes. Each final outcome is different.
A binary result. Pass or fail, or the patient does/does not recover etc. The example below "Survive the Middle Ages" shows this in action!
Each decision at each stage accrues points. The total points accrued could determine the result eg they pass/fail; they either do a refresher/repeat or they move on to next module. In this scenario, as opposed to 3.1, it could be possible to accrue the same number of points as another learner who took a different path.
4. Self-Exploratory Scenario Model – with or without assessment
This is a tour-based scenario model where the choice of which topic (branch) to explore first is left up to the learner – based on what learner is most interested in or feels they need most help in. In a way it's similar to the linear model, but just has multiple branches, with no further choices or decisions.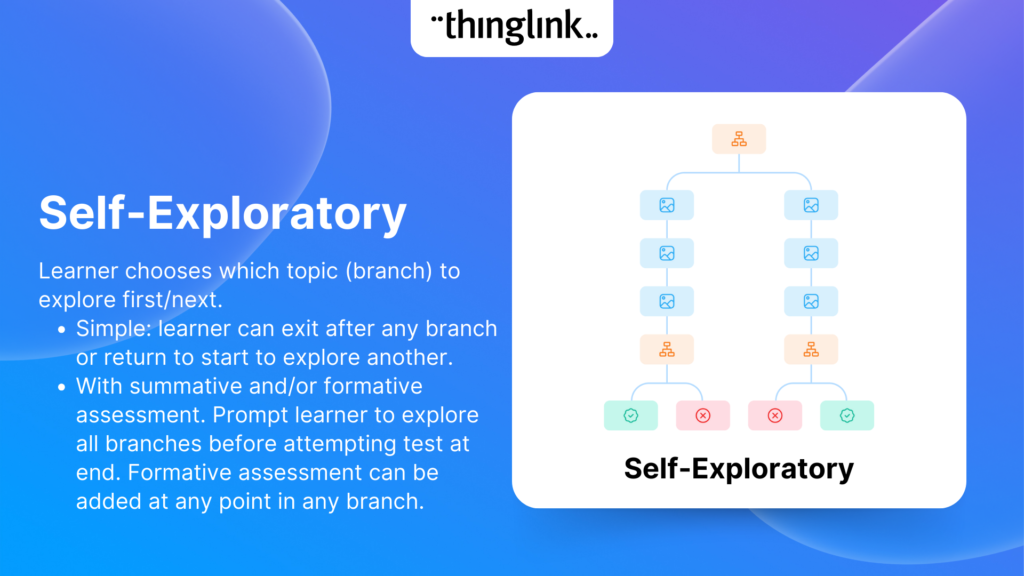 Here is what it could look like in action:
Learners are able to go back and forward and explore different areas as they choose. Jumping back is a CHOICE – not a consequence. There are two variations:
Simple self-guided: can be ended at any point and the learner does not have to explore entire scenario. "What would you like to learn about today?" They can then go back and explore a different path or revisit what they have already explored.
Self-guided with summative and/or formative assessment: The learner can choose to repeat a section, or the entire scenario, or not. They are prompted to explore all of branches before attempting assessment.
Meet a product expert
If you'd like some additional support in creating bespoke training content for your organisation, schedule an online meeting with one of our learning experts below.
Whatever your employee training initiatives and requirements, Scenario Builder has been designed to help you create immersive and engaging training materials. And the new templates now make it even easier to create effective employee training programs.
Whether it's onboarding new hires or upskilling veteran employees, a structured employee training plan is crucial for any business who values its employees and helps them reach their career goals.
Whether you're revamping your existing training program or starting a new one, ThingLink's Scenario Builder Templates will be the cornerstone of a successful and effective employee training journey. Dive in and see just how easy it can be!
Connect and Collaborate
For more ideas, use cases and inspiration on content creation, join our communities on social media! Twitter / X ThingLink or ThingLink Education, LinkedIn Community and ThingLink Education Facebook Group.