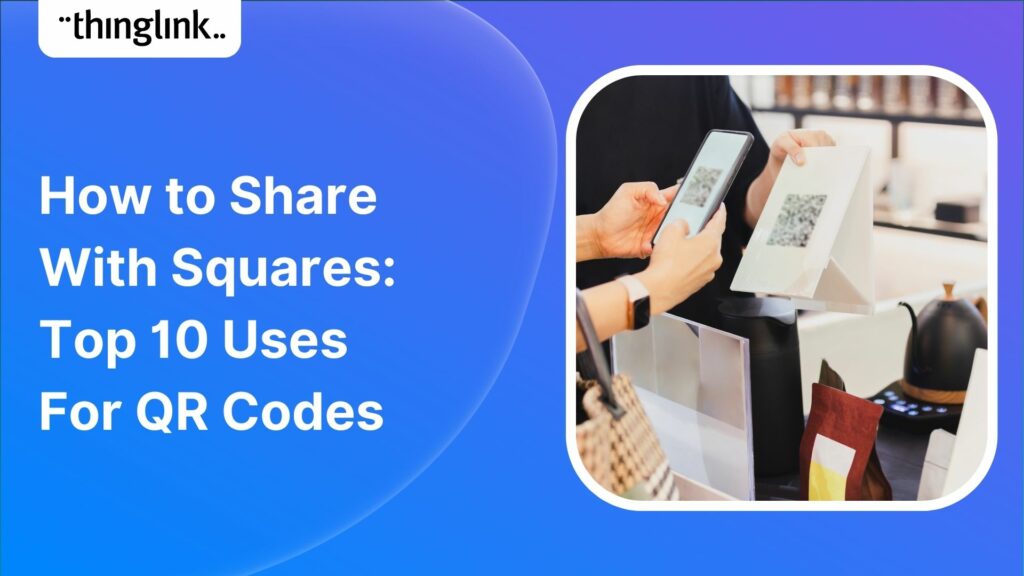 How to Share With Squares: Top 10 Uses For QR Codes
QR codes are having a renaissance – and it's well deserved! These versatile squares offer endless opportunities for creativity and engagement. In this blog post, we're going to look at the different ways you can scan a QR code, how you create them, plus ten really useful ways to use them. From marketing campaigns to interactive experiences, there's a whole world of potential for these little black and white squares!
Why have QR codes made a comeback?
QR codes didn't ever really go away! However, today almost everyone carries a smartphone in their pocket, meaning that the capability to scan QR codes has expanded immensely. In the past, scanning QR codes required you to download a specific QR code reader app from the app store. This meant that they often didn't live up to their full name of Quick Response Codes!
However, modern smartphones, ipads and other mobile devices now come equipped with built-in QR code scanners in their camera apps. This built-in functionality has significantly increased convenience and ease of use.
Meet a product expert
If you'd like to learn more about what ThingLink can offer to your organisation, schedule an online meeting with one of our product experts below.
The technology behind QR code scanning has also improved significantly. As you'll see below, it's now super easy for anyone to generate their own code without having to use a third party app. Scanners in phone cameras today are also faster, more accurate, and capable of deciphering codes even in challenging lighting conditions.
Plus, today there is more wi-fi and enhanced 5G network coverage available across the world. Combine all these factors, and using QR codes is now an all-round faster and more user-friendly experience for everyone. The COVID-19 pandemic may have also accelerated the rebirth of the QR code, with a sudden need for contactless interactions and transactions.
How do you scan a QR code with your phone?
In case you're not familiar with the process – here's a quick recap!
On an iphone or android phone, simply go open your camera app and point it at the QR code. The URL will then appear for you to click and follow. On most android devices or phones you can also now use Google Lens to scan the QR code. Originally only available on Google Pixel phones, it's now standard across almost all android phones and devices.
Note: You may have seen types of QR code with images in the centre – don't worry, these work in exactly the same way!
What can QR Codes be used for?
Businesses and marketers have known for a long time that QR codes work as a powerful marketing tool. The usefulness of QR codes for marketing campaigns lies in the fact that a different code can be generated for each piece of collateral, meaning that marketers can easily trace which campaigns are working best. Here are ten ways in which anyone can make use of the portable technology of the QR code.
Interactive Business Cards
Revamp your traditional business cards by embedding a QR code. This code can link to your portfolio, social media profiles, phone number or a personalized introductory video, providing an interactive experience for recipients.
Scavenger Hunts and Treasure Trails
Organize a fun scavenger hunt or treasure trail using QR codes as clues. Participants can scan the codes to receive hints or find the next location, creating an exciting and immersive adventure.
Interested in creating interactive, immersive virtual escape rooms? Our blog How to Make a Virtual Escape Room with ThingLink shows you how!
Special Offers
Instead of having to reprint your printed collateral each time your offer changes, simply update the webpage or landing page that your QR points to instead!
Art Exhibitions and Museums
Enhance your visitors' experiences at your exhibition, gallery or museum by placing QR codes next to each exhibit. Scanning the codes can provide detailed information about the artist, the artwork's inspiration, or even an audio guide, bringing the exhibits to life.
For more inspiration on how you can use ThingLink in museums, galleries and cultural institutions, take a look at our dedicated page here. Or why not visit the Museums and Libraries section of our blog?
PLUS: Exciting news for museums and galleries!
ThingLink will shortly be rolling out the new AR App – for more information on how this will look, watch the short video below!
Product Packaging
This is of course where traditional barcodes started out – the precursor to the modern QR code! With a custom QR code on your product or packaging, you can offer customers instant access to additional product information, user manuals, instructional videos, exclusive discounts, pricing, offers, how-to videos…the list is endless! For example, why not add to a clothes label in your clothing store, linking to a landing page or ThingLink showing how you can style this item, what it looks like dressed up or down etc?
For more information on how you can use ThingLink for interactive product marketing, take a look at this helpful case study from Canadian brand Carmanah!
Restaurant Menus
Incorporate QR codes into your menus to allow customers to access digital versions, view nutritional information, or even place orders directly from their smartphones. To reduce clutter you could even print the code onto your tablecloth, or stencil onto the wall next to each table!
Fundraising
For any type of fundraiser, why not print your QR codes onto stickers that you can stick to your phone, print on t-shirts or bags – so that you can share info wherever and whenever and raise awareness and funds on a very small budget!
Travel Guides and Visitor Information
Create a digital guide to your visitor attraction by placing QR codes at various popular spots. Scanning the codes can provide historical facts, local insights, or even audio tours, allowing visitors to explore destinations at their own pace and in a range of formats.
Read how you can create a virtual tour easily and quickly with ThingLink – and share with a QR code! Here's a great example from the Royal Ontario Museum in Toronto.
Networking Events
Say goodbye to traditional paper resumes and business cards and create QR codes that link to your professional portfolio, LinkedIn profile, or personal website. Attendees can easily scan the code to access your contact information and connect with you digitally. Again these can be printed onto stickers or labels and attached to anything!
Virtual Real Estate Tours
For real estate agents and property owners, QR codes can offer virtual property tours. Place codes on "For Sale" signs or property brochures to give potential buyers a 360-degree virtual tour, showcasing the property's features and amenities. Read this blog post to see how this can be done in ThingLink.
How do you create a QR code?
Previously, third party apps were required to generate a QR code, but the process has become much simpler in recent years. Any URL can instantly be converted into a QR code!
Create a QR code with Google Chrome
On your smartphone or mobile device, you'll find a free QR generator built into Chrome (both the mobile app on the Android operating system and Apple iOS.) It's also available on every desktop version of Chrome. It's on the right hand side of the address bar and looks like a window with 4 small square panes. Click on it and a code is generated; click Download to save it to your device or drive.
Use ThingLink's built-in QR code generator to share your interactive content
Did you know that you can generate QR codes straight from the ThingLink Editor? This means you can easily share your Virtual Tour, Learning Scenario or in fact any piece of interactive ThingLink content – instantly. Simply click "Share" and then "Share link" or "Get Direct Link", and in addition to the URL, you have your own custom QR code ready to go!
The beauty of sharing your ThingLink content with a QR code is that your ThingLink content is updated in real-time – regardless of where it's shared. So whenever and wherever you share your QR code, you can be sure that people will always be sent to the current version of your content!
Squaring is Sharing
Hopefully this has given you an insight into the huge potential of the humble little monochrome square, the QR code. Why not get started creating and sharing your interactive content today with a free ThingLink trial? Follow the link below!
Try ThingLink for free today
Start creating interactive content instantly with our free trial account!