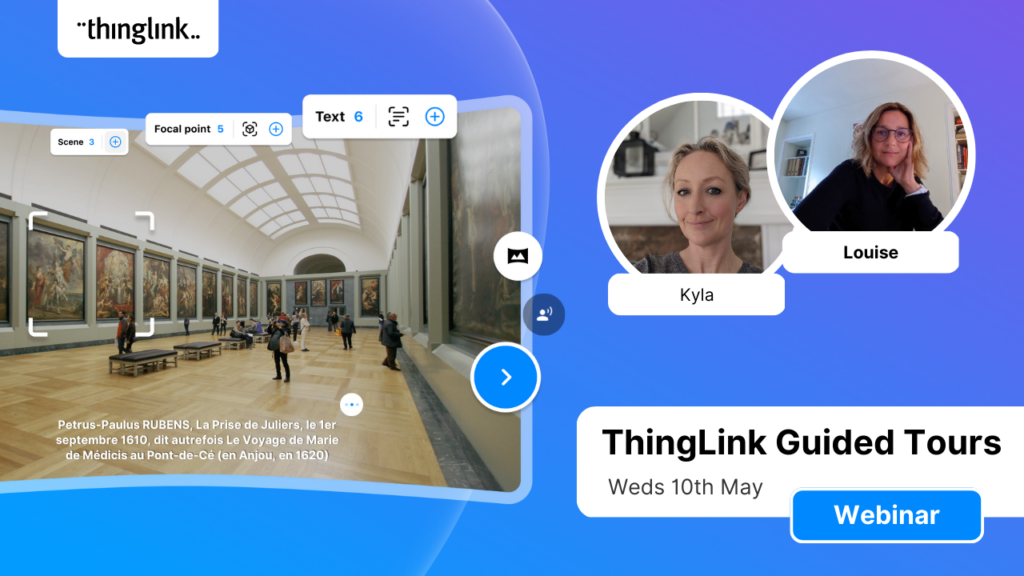 Webinar! New Guided Tours in ThingLink
The action replay is now available!
Have you ever wondered how to offer more structure in your virtual tours, trips or experiences? We are delighted to say that ThingLink is announcing the perfect solution to achieve this.
We showcased all the great new features, explore uses and more in our New Guided Tours Webinar! Couldn't join us? Sign up anyway and you'll receive the action replay.
What are ThingLink Guided Tours?
ThingLink Guided Tours offer an easy way to create structured introductions to a physical space using 360 images. Instead of free-form exploration, ThingLink Guided Tours focuses viewer's attention to one single point at a time. The creator of the tour can add subtitles and audio playback for each focal point.
Try this for yourself with this quick exhibition experience! Click the arrow to move through the focal points in a sequential way. Make sure to click the person speaking icon on the bottom right corner to hear audio narration. When activated this will move you automatically through the experience.
Sign up to receive the webinar recording and slides!
Try ThingLink today for free!
Sign up for a free trial account and explore all the features. We have accounts designed for educators, elearning professionals, museum curators, organizations and even marketing and communication specialists.