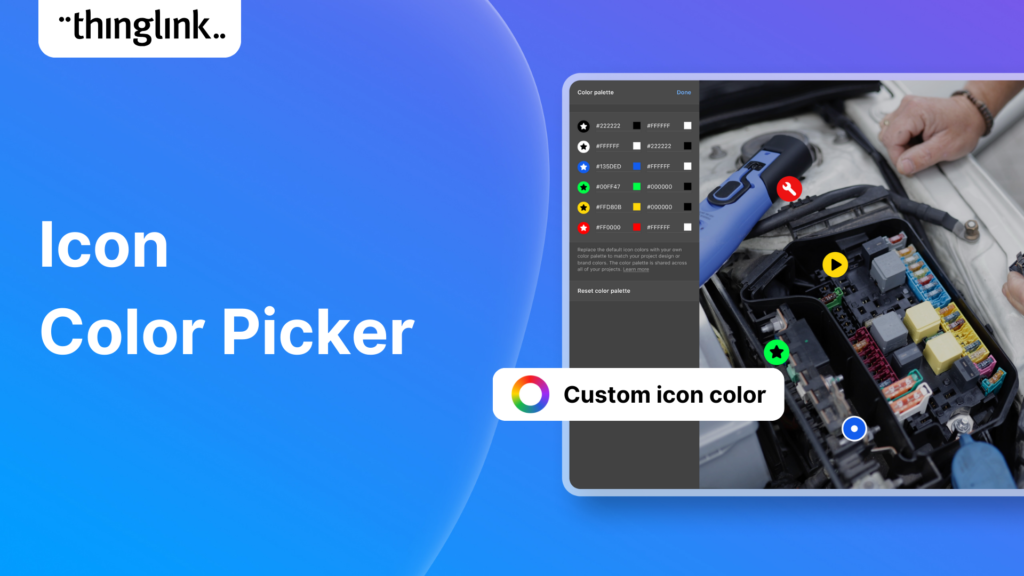 The New ThingLink Color Picker has Arrived!
We're thrilled to announce the launch of our much-anticipated feature: the Icon Color Picker! This great new update comes as a direct response to the invaluable feedback we've received from our user community.
With the new Icon Color Picker, you can now customize your tag icons with infinite colorway variations, offering you unparalleled control and creativity.
Schedule a free demo with a ThingLink expert
If you'd like to learn more about what ThingLink can offer to your company, you can schedule an online meeting with one of our product experts below.
Quick Step by Step
Click to add or edit your tag
Select a new icon (not your previously used icons)
Choose your new colorway!
The tag colors will now be in the color way options for that tag
Check out our support article for further info if required.
Other Ideas for learning about ThingLink you'll love!
Connect and Collaborate
For more ideas, use cases and inspiration on content creation, join our communities on social media! LinkedIn Community, Twitter Creative Learning Design Community and ThingLink Education Facebook Group.