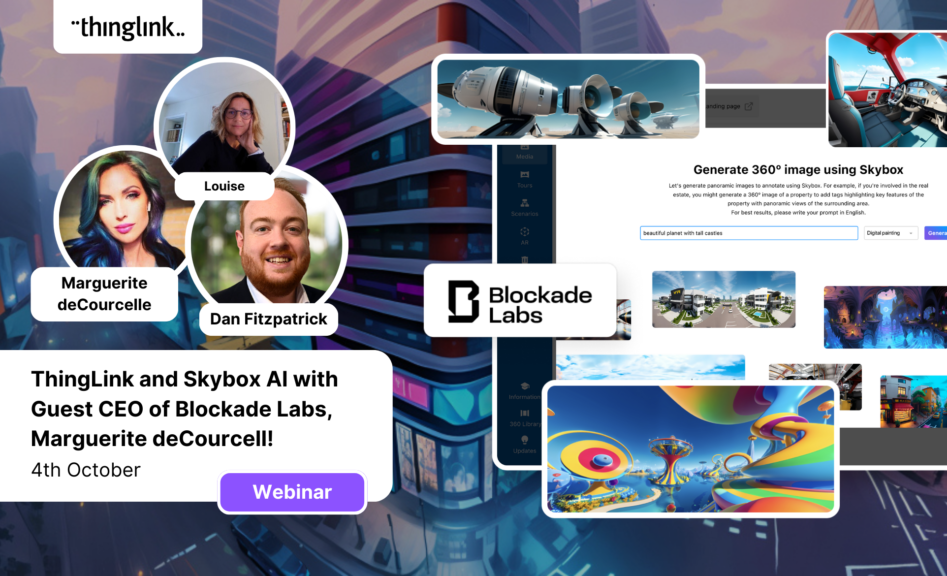 Discover Impactful Ways to Create Immersive Learning with ThingLink + Skybox!
ThingLink and Blockade Labs Skybox AI 360 Image Generation = Infinite Uses!
Wednesday 4th October
9am PDT | 12pm EST | 5pm BST | 6pm CEST | 7pm EEST
We're excited to extend an invitation to a special webinar that aims to bring new dimensions to interactive and immersive learning. Join us as ThingLink collaborates with Blockade Labs to introduce you to the transformative potential of Skybox AI technology.
Special Guests:
– Marguerite deCourcelle, CEO of Blockade Labs
– Co-Hosts: Louise Jones, ThingLink & Dan Fitzpatrick, The AI Educator
Can't Make It? Unable to join?
Don't worry, we've got you covered. Sign up anyway for the action replay!
Webinar Outcomes
Immersive Learning: Discover how text-to-360-image generation can be used to craft interactive learning materials that transcend traditional teaching tools.
The Gamification Factor: Learn how to incorporate elements of gamified experiences or games design into your curriculum to boost student engagement and enhance learning.
Ease of Technology: Learn how this is all pretty uncomplicated! We've simplified the tech aspects so that educators of all tech skill levels can integrate these new tools into their teaching methods effortlessly.
Deep Dive into AI: We'll be discussing the role of AI in educational technology and going through some compelling examples.
And! A Special Bonus: Stay tuned until the end for a chance to win in our exclusive giveaway!
Who Should Attend?
This webinar is tailored for educators, course creators, games-design enthusiasts and learning technologists interested in adopting new approaches to learning and teaching. Whether you're new to tech tools or have years of experience, this session is for you!
Key Takeaways:
Create learning assets with 360° interactive images for immersive experiences
Unlock strategies for boosting student engagement through gamification.
Gain insights into integrating user-friendly technology into your classroom.
Find out more about ThingLInk + Skybox Integration
If you'd like to learn more about the recent partnership announcement and how you can activate ThingLink + Skybox AI for your school please click below!
Don't miss this opportunity to explore new horizons in educational approaches.
We look forward to seeing you there!
In Action: Case Studies
Sign up for our Exclusive Webinar!
Connect and Collaborate
For more ideas, use cases and inspiration on content creation, join our communities on social media! Twitter / X ThingLink Education and Blockade Labs Skybox AI LinkedIn Community and ThingLink Education Facebook Group. Discord Blockade Labs Community.