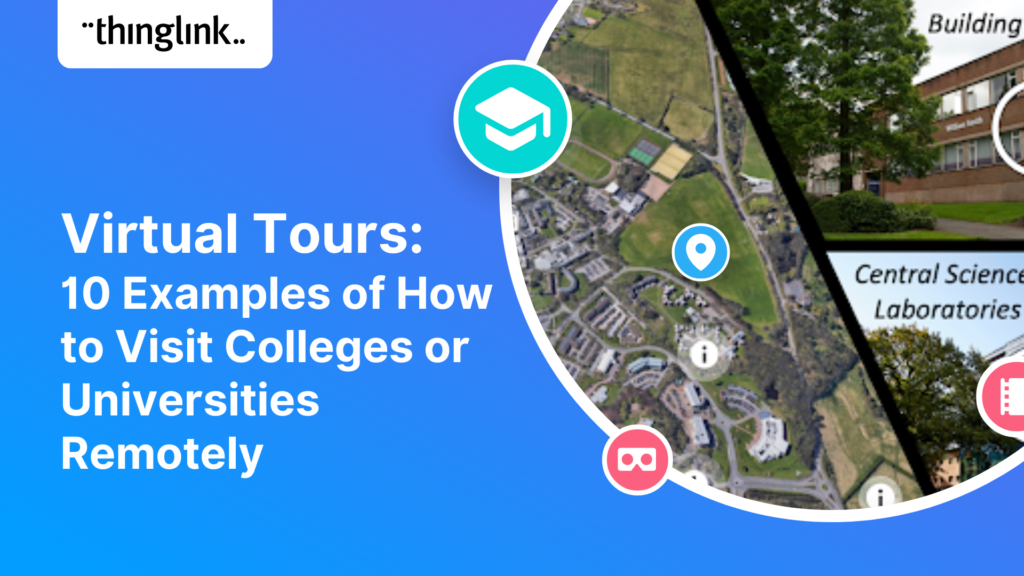 Virtual Tours: 10 Examples of How to Visit Colleges or Universities remotely
Wherever high school students plan to study, most would ideally like to do an on-campus visit to the schools that they are considering. But the covid pandemic made us all ask: how can prospective students tour colleges when campuses are closed for any reason? Virtual campus tours are the answer!
Universities and Colleges crate virtual campus tours
The covid pandemic made it hard for students and parents to visit a new school in person. Consequently, increasing numbers of colleges and universities created virtual tours to embed in their websites or admissions pages. These self-guided tours can help students and their parents make better informed choices about where to study, or where to follow up with an in-person campus tour. For a real inside peek at college life, why not include videos and introductions from student ambassadors and current undergrads?
Create your first virtual tour!
Get started with ThingLink today and create a virtual tour from scratch.
Benefits of virtual campus tours
As well as the academic programs on offer at your college or university, prospective students and their families want to see residence halls, sports and athletics facilities that undergraduate students can access.
Providing a virtual tour that gives an immersive experience of the campus and teaching facilities helps increase enquiries and applications from overseas students or those who otherwise might face challenges in attending in person.
Examples of virtual campus visits from the US, UK and Australia
Keele University creates a virtual campus tour
The University of Keele is a public research university in Keele in England. They created an interactive campus map for their virtual experience. The map uses an aerial photo that connects to points of information. However there are also 360 videos from different parts of the campus area. In addition, they included reports from international field trips in the tour.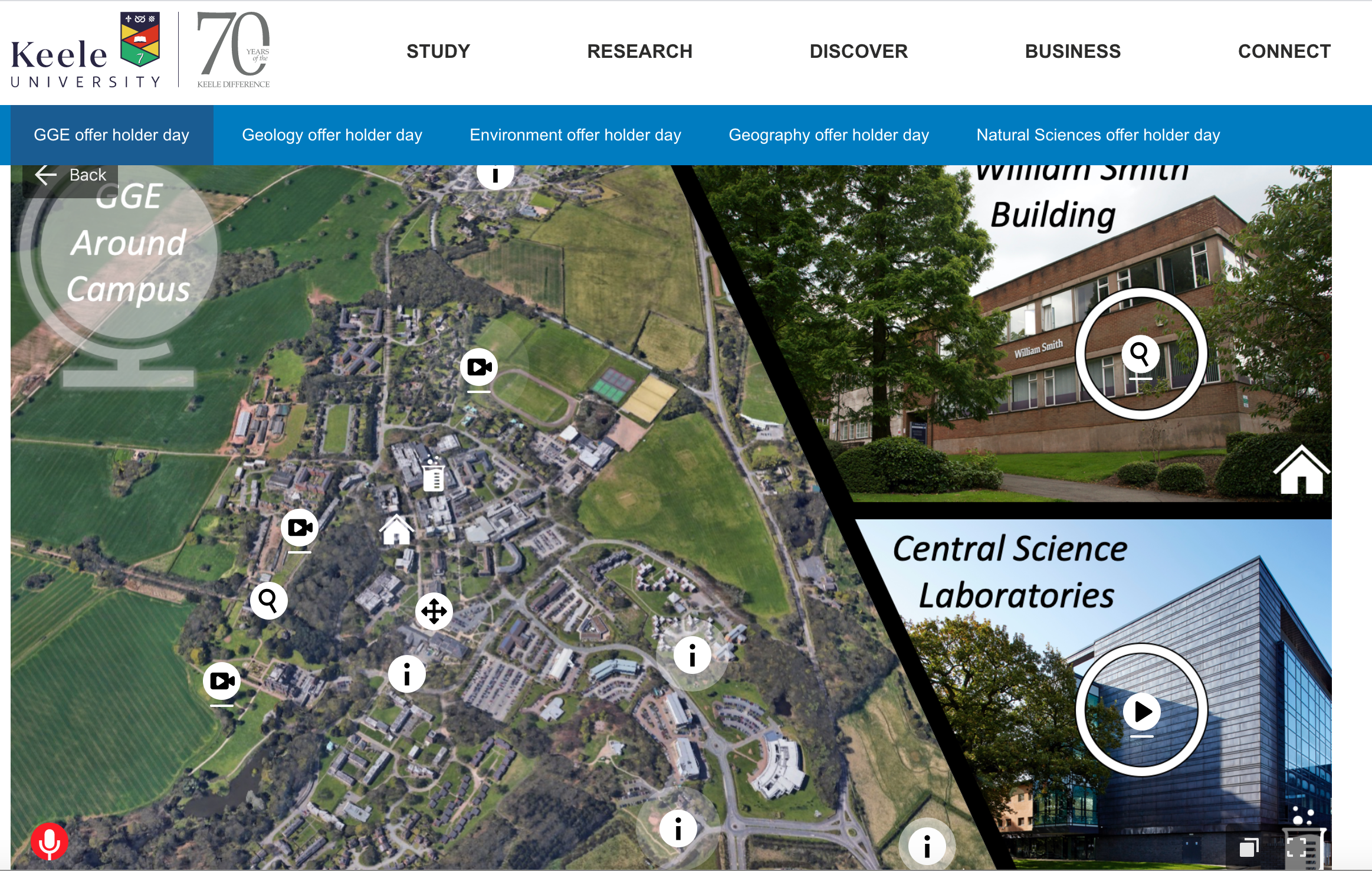 Loyola Marymount University's virtual campus tour
Loyola Marymount University is a private research university in Los Angeles. Ray Andrade is a librarian and is a member of the Library's outreach department. Ray coordinates library visits, student programs and tours. In 2019 Ray began to develop a virtual library tour that could serve all students. Above all, he wanted to create a standard tour in English. However, firstly he worked with faculty staff, and students to create a tour to support LMU's international community. As a result, he created the tour in different languages. His tour includes eighteen 360 degree images. These contain over 65 interactive tags, 17 original videos and 4 "How To" videos. You can read the full project description here.
How do you make a virtual campus tour? Creating a virtual visit is easy with ThingLink!
You can add a huge variety of types of content in tags to your virtual tour. Here's a handy guide to what you can add in tags. You could also add:
Recorded videos of

information sessions

with Admissions regarding entry requirements,

financial aid

etc.

Sample timetables

Sample menus from the canteen

Introduction videos from clubs, societies or members of the

student panel
Remember your tour can link to images or infographics as well as photos or 360 images. An infographic or timeline would be super helpful as a guide to the undergraduate admissions process.
NEW! The easy way to create 360 images: Pano to 360
Creating virtual tours, exhibitions, escape rooms and other immersive content just got even easier! ThingLink has now launched Pano to 360 by ThingLink: an easy way to create a 360 photosphere from a panoramic image using any smartphone. For more information, including step-by-step instructions see this helpful support article.
Try the free Pano to 360 converter
The Pano to 360 photosphere converter is free to use for anyone, no ThingLink account required! Upload a panoramic image to see it in action.
Easy and instant to edit and update your virtual tour
If any of your content needs to be changed or updated, it's instant with ThingLink. Swap out the background of any scene and keep the tags in place, or update the tags themselves, and wherever your virtual tour is embedded will update in real time too.
More examples of virtual campus tours to inspire you
Virtual campus tour from Johns Hopkins University Peabody Institute
The Peabody Institute of The Johns Hopkins University is a music and dance college and university-preparatory school in Baltimore. In 2017, it created a virtual campus tour of its facilities. Now, students can now virtually visit the school and its various spaces.
Virtual Campus Tour at Charles Darwin University
Charles Darwin University used ThingLink to introduce their Casuarina campus. It is the largest study location at CDU, and the hub for Higher Education, Vocational Education and Training (VET) and Research. The tour features various buildings, landmarks as well as links to more information and resources about the campus.
Washington University Center at Olympic College Poulsbo
Olympic College Poulsbo is a collaboration between Olympic College and Western. Above all, it serves the community and businesses on the Kitsap and Olympic Peninsulas. So that new applicants could visit the university online, the college used ThingLink to create a virtual campus tour of the college. The tour is available for all visitors to their website.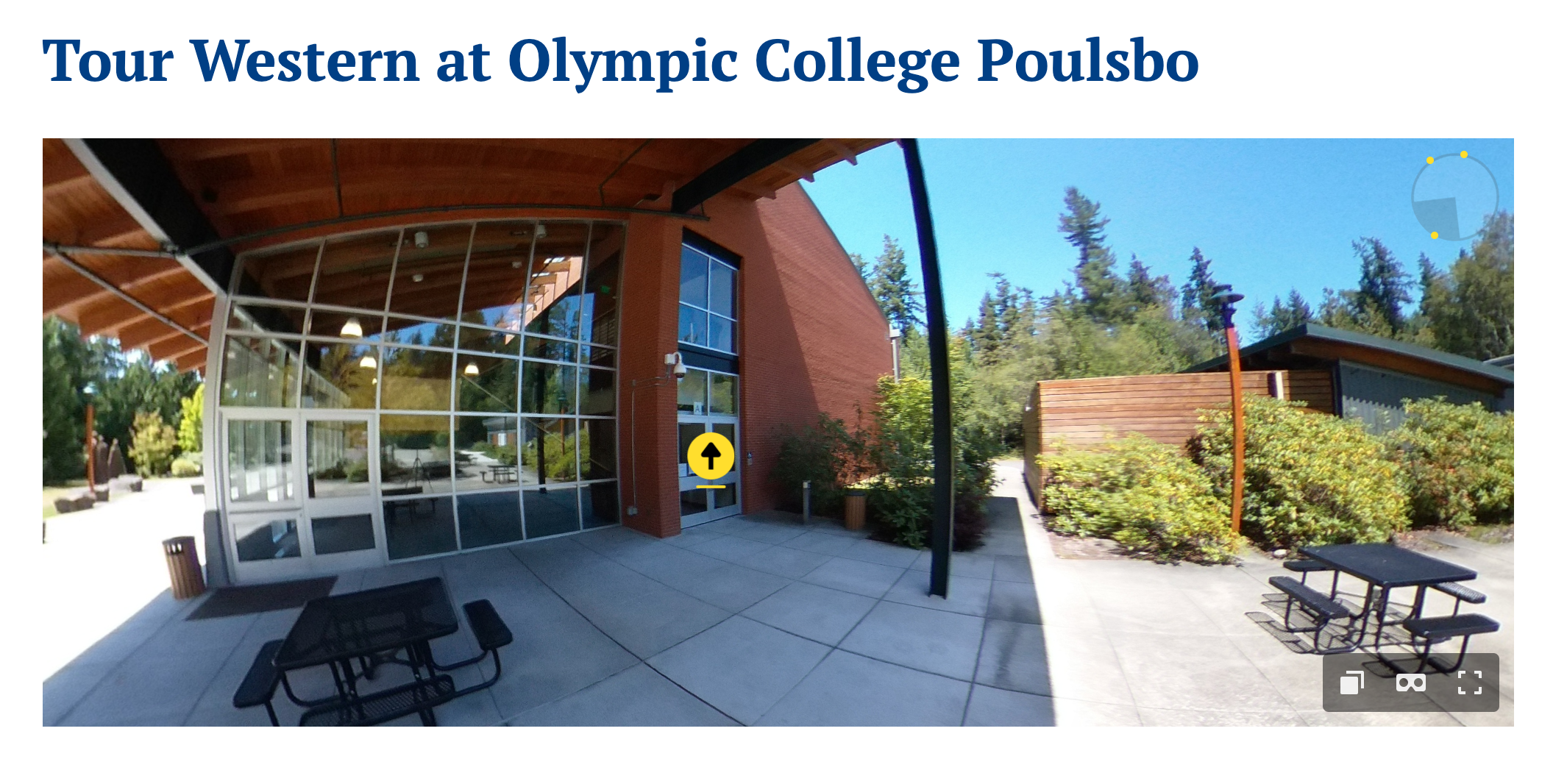 Virtual tour of College of Design at the University of Oregon
The College created an interactive map with custom icons. These provide shortcuts for exploring different parts of the campus, with tags that contain both video and text. As a result, viewers can read and translate the text to over 80 language using Immersive Reader.
Take a virtual campus tour of Brevard College
Brevard College already had a numbered map with a list of locations, but they turned it into an interactive virtual campus tour. They did this by adding descriptions to each of the numbered spots.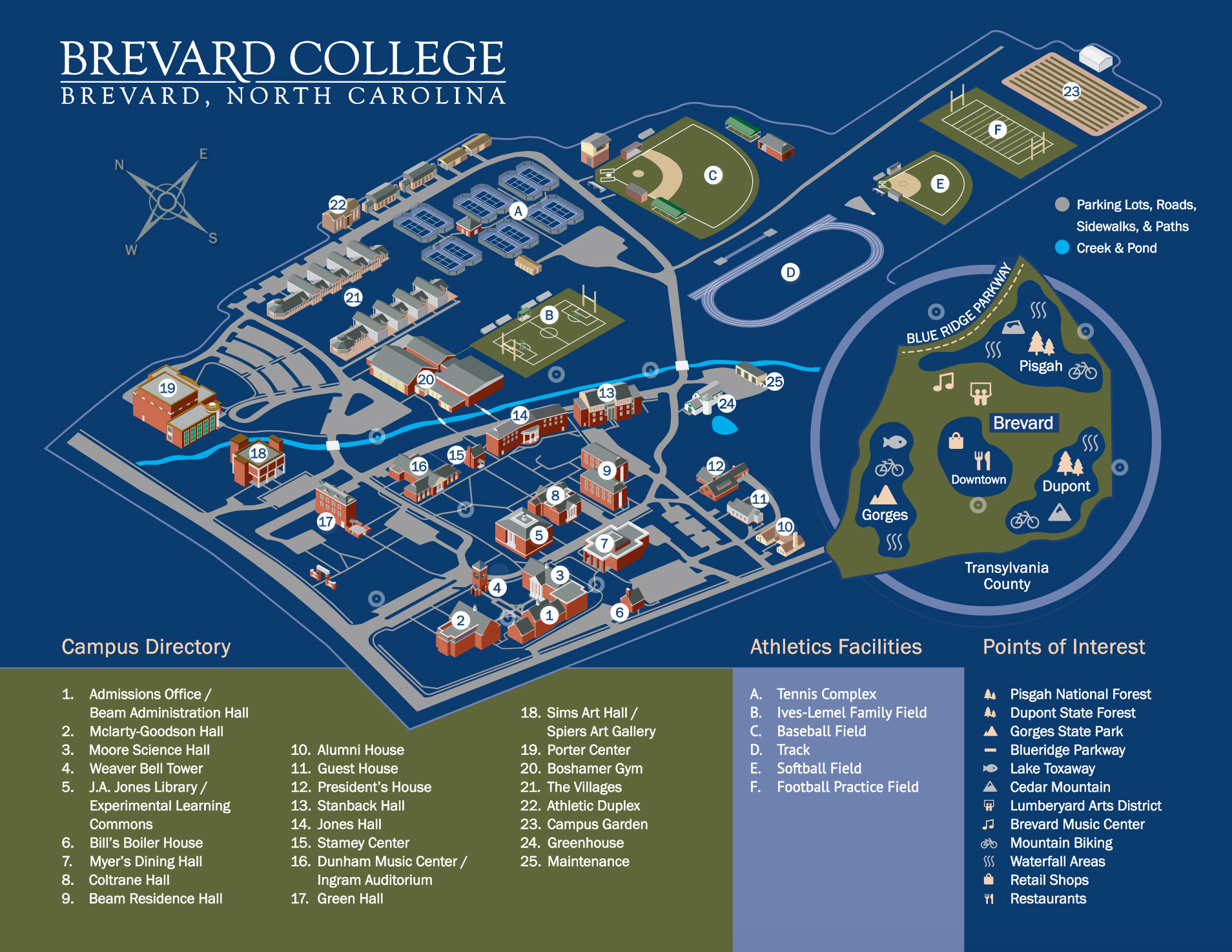 FAMU Law School's virtual campus tour
Florida A&M University is a public, historically black university in Tallahassee in Florida. Their VR lead L. Michelle Salvant and Dr. Kelley Bailey are ThingLink Certified Educators. They started exploring the use of Virtual Campus Tours in 2016. This tour starts from the atrium in the College Of Law, and gives the visitor quick links to the lecture room and library.
California State University Virtual Tour
CSUF is a public university in Fullerton in California. With about 40,400 students, it is one of the largest in the California State University (CSU) system. This brief tour shows the locations of the Admissions and Records Office, the College of Education, and the School of Business and Economics.
A virtual campus tour around the University of Southampton
The University of Southampton sits in the city of Southampton, on the south coast of England. The Valley Gardens, houses rare plant and animal species. This beautiful campus tour of the Valley Gardens was created by Dr. Sarah Fielding, who is a Specialist in Learning Design. Enjoy the birds!
Check out some of these other university virtual tour case studies
Connect and get inspired!
Why not connect with us and our communities on social media? Facebook Education Group is a great place for tips, examples, support and advice.
Meet a product expert
If you'd like to learn more about what ThingLink can offer to your college or university, you can schedule an online meeting with one of our product experts below.