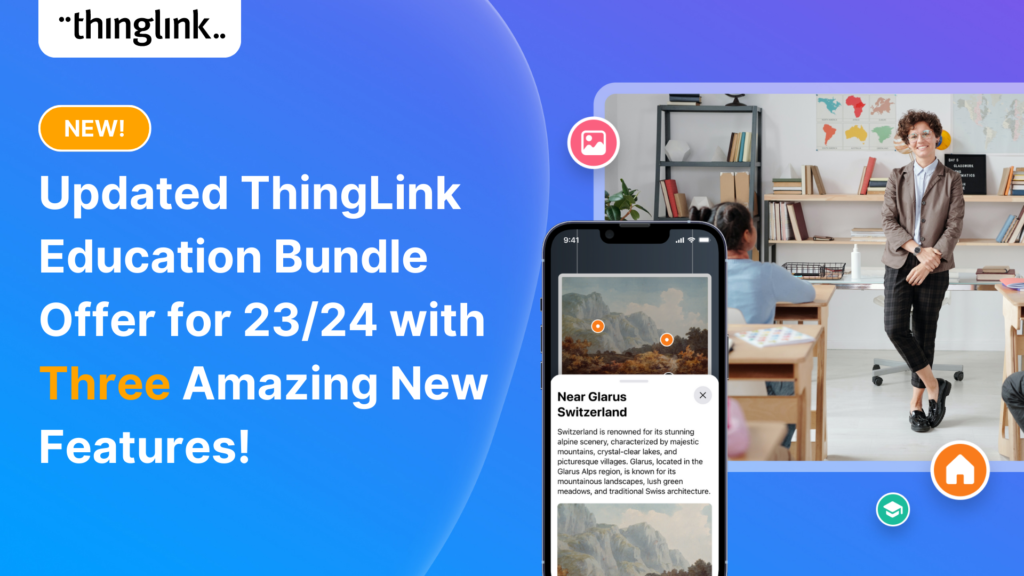 New! Updated and Improved ThingLink Education Bundle for 23/24 with FOUR Amazing New Features!
Unlimited seats on this plan mean that everyone in your school or organization can have access to our much-loved multimedia editor and ThingLink Scenario Builder with unlimited learner assessment capture in your LMS.
In addition, the ThingLink Unlimited Bundle for Education 2023-2024 will be updated and improved with FOUR incredible new features for easy Extended Reality (XR) learning approaches.
NEW ThingLink Pano to 360!
NEW ThingLink Augmented Reality AR App 
AI Assistance to create your first tags with tag suggestions
ThingLink Guided Tours – Hand-hold views through virtual school tours or field trips. 
If your organization is already on the Unlimited Bundle plan you will automatically see the new products and features in your ThingLink account page when they are released.
Contact Us Today!
If you'd like to receive a quote for your school, district or campus to access our ThingLink Unlimited Bundle for Education, contact us and we'll be in touch without delay.
New! ThingLink Pano to 360
Our groundbreaking new feature available now!
Take panoramic images on any mobile device and transform into 360 photospheres. Our dedicated landing page is here.
ThingLink Guided Tours
Easily create structured introductions to any physical space using 360 images. Virtual visits and field trips continue to be highly popular and the ThingLink Guided Tours creator allows you to focus the viewer's attention on one single point at a time. An extremely versatile alternative to free-form exploration within an immersive learning environment.
Here's our webinar link where we first launched Guided Tours, watch the replay!
ThingLink Augmented Reality App (Coming Soon)
AI Assistant to create your first tags with suggestions (Coming Soon)
More info here. Through our recent webinar series we've created a dialogue with our creators on suggestions for improvements. We're making it even easier to get going with ThingLink with a handy suggested tags feature and help with branching scenarios!
To see more examples of ThingLink in use, join one of our social media communities like the ThingLink Education Group on Facebook or our ThingLink LinkedIn Community.