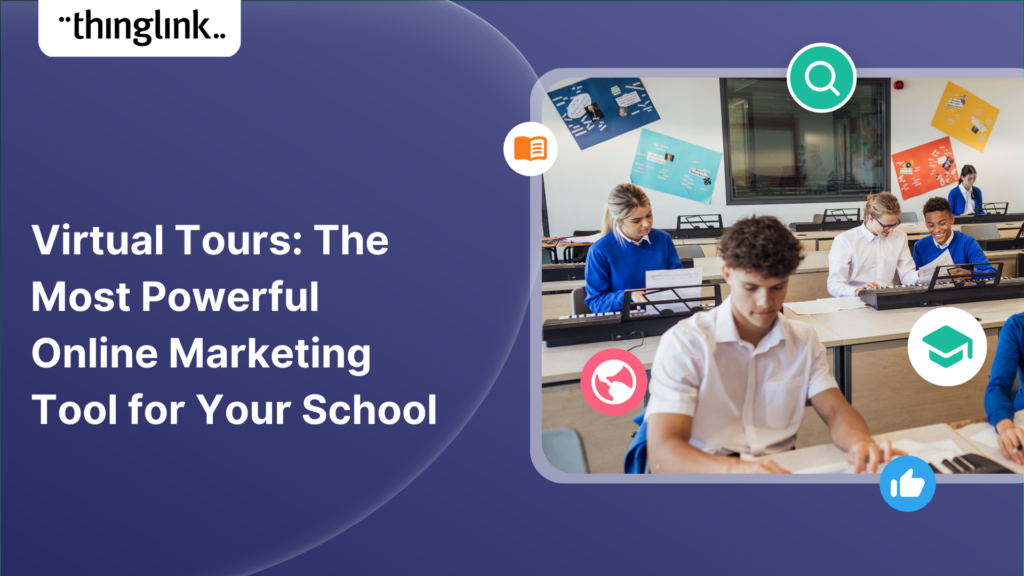 Virtual Tours: The Most Powerful Online Marketing Tool for Your School
Introducing Virtual Tours – What is a Virtual Tour and Why it Matters for Your School
A virtual tour showcases different areas of any location through linked images, most commonly in 360 or photosphere view. For schools, colleges and universities it gives prospective students, parents and carers an immersive view of the campus without physically being there in-person. The technology became increasingly common across the entire education sector during the COVID-19 pandemic, as it offers a safe and convenient way to explore schools from home – wherever that might be.
By integrating virtual tours into your school marketing strategies, you can attract prospective students and showcase your facilities and learning environment like never before. Overall, virtual tours have become a crucial digital marketing tool for education institutions in today's digital age, as they provide an impactful first impression, and the most convenient and interactive way to showcase a campus to your target audience.
In this blog we show you the benefits, best practice, how to promote your virtual school tour PLUS introduce the new free tool which you can use to create 360 images of your campus using any smartphone or mobile device!
Benefits of Using a Virtual Tour to Reach Prospective Students
Virtual tours can provide a comprehensive understanding of a school's environment, layout, classroom setup, and general atmosphere. They also offer an opportunity for schools to differentiate themselves from competitors and provide a unique experience for those interested in registering or enrollment. They are cost effective and extremely efficient compared to the organisation required for an in-person tour. They also allow the pupils themselves to introduce parts of the school – as in the example below.
Meet a product expert
If you'd like to learn more about virtual tours in ThingLink, schedule an online meeting with one of our product experts below.
The Easiest Way to Create a Virtual Tour
ThingLink is an education technology platform used by almost 10 million creators worldwide. The fastest growing area of application is in virtual tours, and our blog 10 Examples of How to Visit Schools or Colleges Remotely showcases some of our favourite recent examples from schools, colleges and universities.
This example below was created by staff and pupils at ESMS in Edinburgh, Scotland.
As well as being the easiest virtual tour platform available, ThingLink is also super easy and fast to update should you need to change any of the content for any reason.
Of course you'll want to see how your new content is performing, and easy to read metrics are built into ThingLink's scenes and interactive tags or hotspots. These allow you to see which parts of the tour are most popular. You can then build on this knowledge to increase engagement, expand or improve certain areas of your tour.
ThingLink's virtual tours can be viewed anywhere, including on all mobile devices meaning that they really can be viewed from anywhere in the world. An essential factor when looking to attract international students.
NEW! The easy way to create 360 images: Pano to 360
Creating virtual tours, exhibitions, escape rooms and other immersive content just got even easier! ThingLink has now launched Pano to 360 by ThingLink: an easy way to create a 360 photosphere from a panoramic image using any smartphone. For more information, including step-by-step instructions see this helpful support article. 
Try the free Pano to 360 converter
The Pano to 360 photosphere converter is free to use for anyone, no ThingLink account required! Upload a panoramic image to see it in action.
Best Practices for Creating an Effective Virtual Tour
Vast experience in creating virtual tours has made us the experts in creation of the optimum user experience. Here are our top tips!
Add Maps
A floor plan or map on each scene helps show where the user is in relation to the rest of the campus. We show you how to add floor plans to your virtual tours in this helpful blog post.
Add video content
Website visitors can most effectively see the school's brand brought to life with short clips of current students introducing parts of the school. Sports, arts and academic success stories can also be shared in this way.
Add testimonials
Testimonials from current families can also be added as short video clips and are particularly powerful. There is a reason why testimonials, and more recently online reviews, have been used as part of traditional marketing for so long – they work! Prospective parents love hearing what it is that other families love about the school.
Add links and next steps
Ensure that you embed a call-to-action link button within the tour which takes viewers to your admissions landing page, or another core part of your website you need them to visit.
Digital Marketing Strategies: How to Promote Your School's Virtual Tour
Virtual tours with ThingLink are easily incorporated into all parts of your school marketing plan.
Naming and search engine optimization
Crucially, your virtual tour should be easy to find on your school's website and indeed anywhere online. For SEO purposes, ensure that search engines can easily find it by giving it an obvious name such as "Anytown Middle School Virtual Tour".
Social media marketing
Your virtual tour should be a key part of your social media strategy too, and the short url link can easily be shared across any and all social media platforms. LinkedIn and Facebook are the most commonly used platforms for schools to share their virtual tours given that the majority of parents will have at least one of these social media accounts.
Email marketing
Email newsletters are another place to share your virtual tour, both to your list of current families as well as your prospective leads. Make sure your audience know that they can easily share and forward the tour using a link too!
You can also share your virtual tour via QR code: ideal for printing on banners, your prospectus, adding to business cards or even stickers for a portable way for any staff member or parent to instantly share the virtual tour.
Powerful, cost-effective, versatile
Many schools have already realized that virtual tours are the most efficient way to reach the widest number of prospective students and their families. A powerful, cost-effective and versatile tool, they can be shared with anyone, anywhere in the world. Try ThingLink today with a free trial account and see just how easy it is to create your own!
Meet a product expert
If you'd like to learn more about using ThingLink, schedule an online meeting with one of our product experts below.