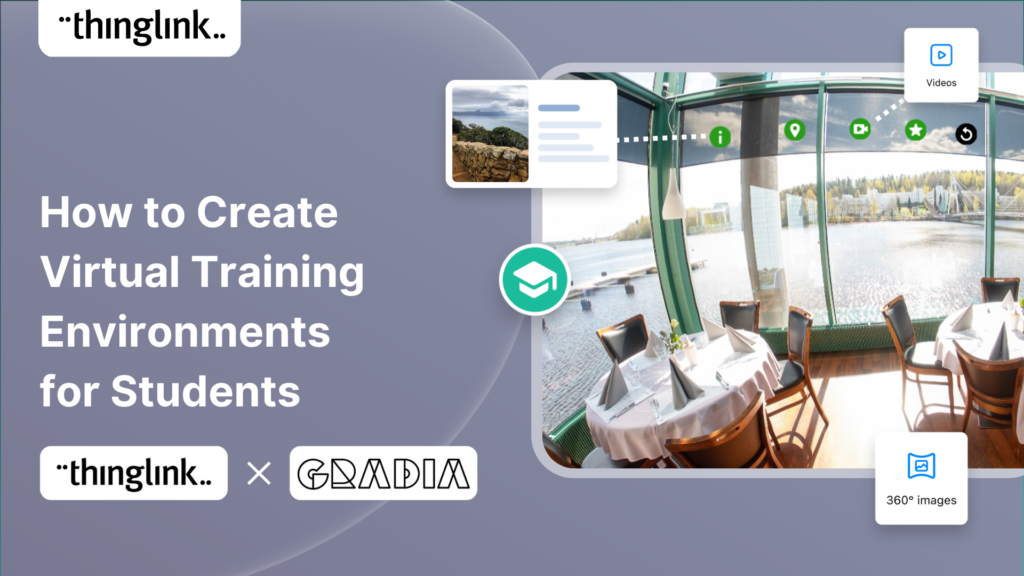 How to Create Virtual Training Environments for Students
Alongside the overall growth of e-learning, distance learning and blended learning, Virtual Learning Environments or VLEs have become increasingly popular in all educational settings.
Virtual learning environments and online learning experiences are incredibly effective in preparing students and trainees on all types of training programs for the real-life situation or environment in which they will shortly find themselves. We've showcased one example from Finland where students explore interactive learning environments created in ThingLink to familiarise themselves with a variety of work locations and visit their premises virtually before applying for an internship.
Meet a product expert
To know more about using ThingLink to build virtual learning environments, schedule an online meeting with one of our product experts below.
Example of a Virtual Learning Environment
Gradia is an educational association in Central Finland which offers vocational education, high school education and provides learning to business customers. Their "Hands-on Steps towards Sustainable Tourism" project (KoKeMa) promotes the practical knowledge of sustainable development and how it's applied in the service sectors, especially in the catering, cleaning and real estate services within the tourism sector.
The study modules include a theory online course, studied independently by students at their own pace, and face-to-face course content, in which the student plans and implements on-the-job practical solutions to increase the responsible operation of the company during an internship.
An extensive virtual learning environment was created for this part, allowing learners to virtually explore a variety of companies which offer internships.
What are the features of the virtual learning environment?
The course materials created with ThingLink include virtual tours of the premises of tourism companies, based on 360 photos, with company interview videos and information tags embedded. The format is clear and easily accessible, and the learning activities work both on a computer and on mobile devices, as well as via the Moodle learning platform used by Gradia. A demo example of one of the virtual location tours is shown below – Hotel Alba, shown in green on the map.. Have a look around! (Please note that the learning material is in Finnish.) You can also view the demo learning environment from this link.
Benefits of virtual training environments like these
They help prepare students and companies find a perfect fit
In the past, students have looked for internships through the companies' websites, which only provides limited information for what the role will entail. The virtual tours guide students to find an internship that is just right for them.
With the virtual learning environment, students can get to know the company's facilities, the internship supervisor and tasks even before contacting them. Students can get to know contacts in the company with the help of embedded interview videos, which answer many of the usual questions. The company's map, contact information and basic information can be easily found in the tags.
Correspondingly, the company quickly gets a motivated student for the task as an intern, which saves the company's resources and reassures them that they can rely on the student's suitability.
"Both the company and the student benefit from the virtual learning environment. The right workplace and employee meet."

Antti Lehtinen, Systems Expert and Laura Koponen, Digital Coordinator, Gradia
Benefits of creating virtual training environments in a web-based platform like ThingLink
For the Gradia team, the virtual learning environment created in ThingLink had a number of clear benefits over other platforms.
Because ThingLinks can be created collaboratively, content production was carried out quickly, as lots of new ideas are generated at a fast pace and then streamlined. For example, short snappy videos summarise the key points and are then embedded into the ThingLink virtual tours.
The cloning and easy-to-use editing features mean that the virtual tours and other materials are clear and easy to modify and expand afterwards. Now Gradia have a ready-made template in their LMS (learning management system) which they can present to further interested companies. It can also easily be used in other future projects.
New virtual learning experiences
The user experience feedback from the companies involved in the project has been very enthusiastic and encouraging, with many companies keen for more content to be produced on ThingLink. Gradia's teachers have also been enthusiastic and have gained new ideas for facilitating new virtual learning environments for the Gradia learning community.
Virtual tours for safety and security training
In the future, Gradia aims to create a virtual safety walk for students and staff. Antti and Laura from the teaching technology team have designed a virtual version of the school facilities showing all the security features. It will be used in advance of the in-person and real-time safety walk. The virtual tour will also serve as a refresher and as induction material. The plan is to implement a virtual environment that utilizes ThingLink Scenario Builder, where the user could try different solutions and the story would develop based on them.
Virtual tours for the tourism industry
For the tourism industry, the KoKeMa team recommends creating remote learning spaces, especially for the orientation of new employees. With virtual tours of the facilities that can be used for on-demand training, you can advise on cleaning spa hotels, for example. This type of learning resource saves both the employer's and the employee's time and provides the employee with constantly included refresher material. In ThingLink you can create assessments using Scenario Builder, or simply by linking simple quizzes into your interactive content to test understanding.
Interested in similar case studies?
Here are some suggestions for further reading:
Virtual Learning Environments Train Students in Customer Service
How to create virtual careers fairs and forums
Create virtual classrooms and workshops for construction students
Latest research into Virtual Reality for employee training
Using ThingLink to create Virtual Tours in the Tourism Industry – a case study

Want to learn more?
If you'd like to learn more about ThingLink, please schedule an online meeting with one of our product experts below.
With thanks to Gradia's Project Manager Eija Kinnunen, Antti Lehtinen, Systems Expert and Laura Koponen, Digital Coordinator, for their help in creating this case study.