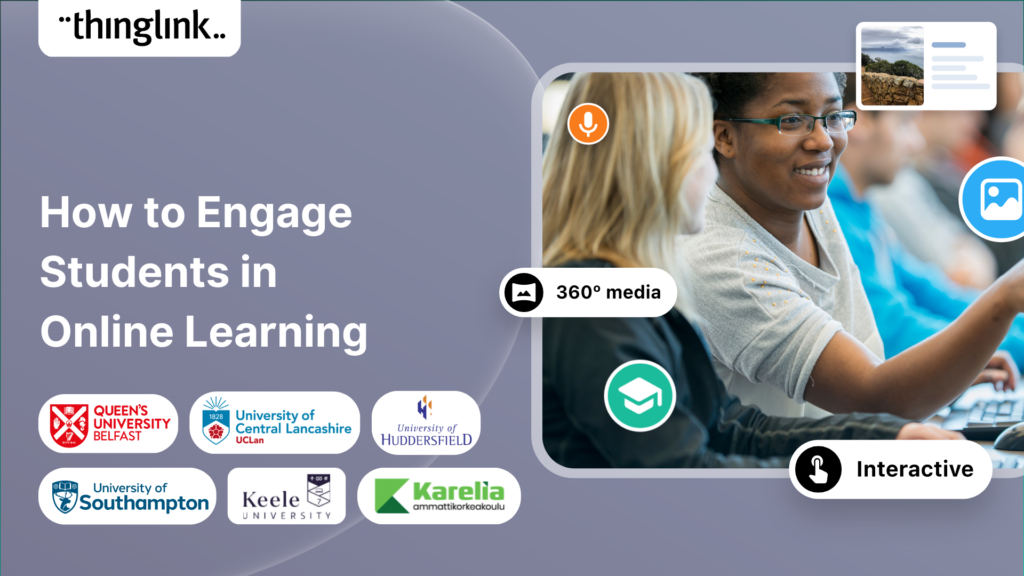 How to Engage Students in Online Learning

For many students, the shift to online learning which was accelerated by the pandemic was a major adjustment. And whilst most students now expect that some aspects of their courses will be delivered by teaching online, it can still be challenging to keep learners engaged and motivated when they are learning virtually. But there is a lot that educators can do to ensure that students remain as actively engaged in their online course content as they would be with in-person learning.
Engaging online resources that are simple, effective and cost-saving
In this blog we show you four types of virtual resource via recent case studies from Higher Education. Whilst they are four distinct types of learning environments, they are each extremely effective at engaging the online student. In every case they easily be replicated at low cost – quickly and simply. They are a mixture of synchronous (real-time) learning activities which have been delivered to online classes or groups, and asynchronous learning – where the course materials are worked through in the student's own time. In all cases they have resulted in high levels of student success and some have even received awards.
Meet a product expert
If you'd like to learn more about what ThingLink can offer to your university or college, schedule an online meeting with one of our product experts below.
Create an Engaging Learning Environment
One of the most important aspects of engaging students in remote learning is creating an environment that requires interactivity. The ThingLink education and learning community have been creating a diverse range of learning materials over the past few years that use interactivity as the focus of their engagement strategies. They are all tailored to their specific course requirements but the examples and approaches provided here can easily be replicated across any subject.
Virtual Field Trips
Queens University Belfast – Award-winning Virtual Field Trips for Post-Grad Students. This example demonstrates how a number of online learning environments replicating real field sites were created when lockdown made field trips impossible.
Southampton University – Virtual Tours and Field Trips for Marine Biology Students In this example, undergraduates were prepared for their first field trip with a virtual example that showed them what to expect in terms of teaching, location and logistics.
Virtual Workshops
Karelia University of Applied Sciences, Finland – Virtual Workshops and Construction Sites. This case study shows how a workshop was recreated virtually in ThingLink to introduce students to the range of tools and machines that they would be using. Quizzes, tests and assessments were embedded into the material, and only by passing these were the students able to obtain their real-life workshop pass.
Virtual Escape Room
University of Central Lancashire – Virtual Breakout Room for Medical Students. A virtual version of the real escape room used at this university for training for situations where every minute counts.
Virtual Lab
Keele University – Virtual Lab for postgraduate students – includes link to published research paper into effectiveness of this virtual resource. In this example, a virtual lab was shown to be ideal preparation for the hands-on skills required to use complex and valuable lab equipment. The research concluded that this virtual resource was ideal for facilitating and increasing inclusion into a lab setting for students who, for various reasons struggled with access.
Why is it important to engage students in online learning?
The best types of virtual learning environments also allow students to develop soft skills and provide supplementary learning opportunities. These can include problem-solving, decision making when under stress, and in some cases, collaboration and team-working.
Group tasks for engaging online learning: increase team building
If you are creating team-based online learning experiences which are designed to be completed in small groups (eg escape rooms), you can facilitate the online discussions between students via video conferencing, using Zoom, Microsoft Teams, Google Meet or similar. An alternative would be text-based chat rooms or discussion boards. A great example of an interactive ThingLink resource created for a student team is described in this case study from the University of Huddersfield: Using ThingLink to Develop Virtual Team Building with Nursing Students. Discussion forums can also be used should any student questions arise which you can help resolve.
How do you measure the engagement of your online learning?
ThingLink has inbuilt statistics which allow you to see which parts of the resource your students have been engaging with – all the way down to which tags they have opened. You can read more about the statistics features here.
How do you create engaging online learning?
ThingLink was designed as an education technology platform that anyone could use, regardless of experience, and requiring no coding. Its fundamental purpose is to encourage student learning by making anything an interface for learning. It can be mastered in minutes and is instantly editable and sharable. Educators worldwide use it to increase student engagement and active learning via virtual tours, interactive images, videos, infographics, timelines, and so much more. ThingLink is a tool designed for educators and students, works with any LMS and can be used collaboratively and securely for student group projects by utilizing shared folders.
What is the future of online learning?
There is no question that online learning is here to stay. Many educators have discovered that online education resources that were created to solve the issue of lockdowns can be just as effective as traditional classroom, lecture, fieldwork or lab settings. In many cases the online resources have been retained as part of the syllabus and have proved to be vital in teaching core skills. And at ThingLink, we are so excited to see what our creators in education will design next!
Meet a product expert
If you'd like to learn more about what ThingLink can offer to your university or college, schedule an online meeting with one of our product experts below.