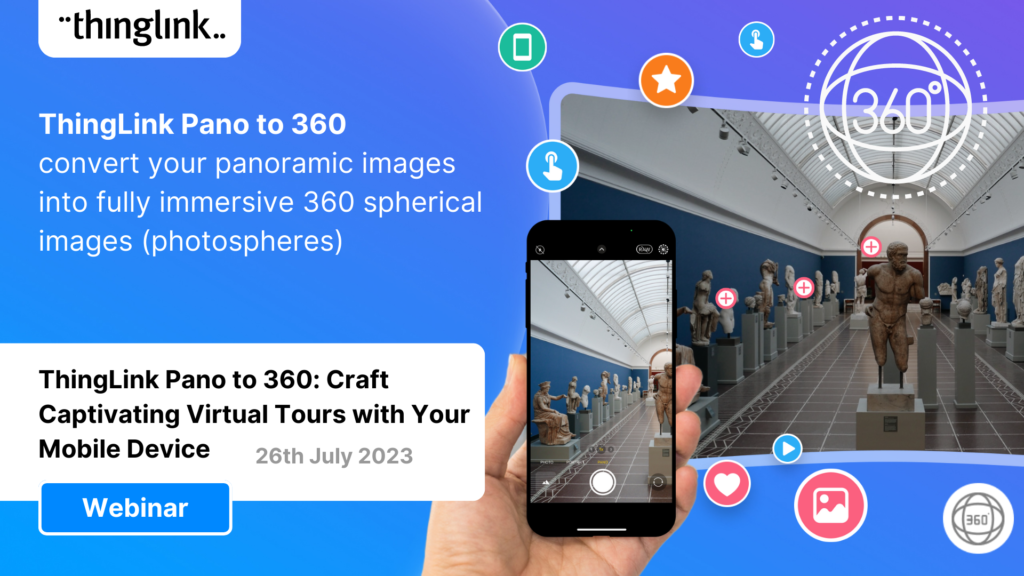 New Webinar ThingLink Pano to 360 Solution – Craft Captivating Virtual Tours with Your Mobile Device
Now On-Demand!
Sign up to receive the action replay and links!
In response to the growing demand for a mobile-friendly solution to capture Photosphere images after the discontinuation of the Google Street View Camera app, ThingLink has launched an extraordinary solution.
This groundbreaking and free conversion service allows users to effortlessly create virtual tours using 360-degree photosphere images, without the need for specialized equipment.
Pano to 360 By ThingLink
Available now, it's free to all and opens up a world of possibilities.
ThingLink Guided Tour Example
Below is a great example of a ThingLink Guided Tour of a popular co-working space in Helsinki. Click through or scroll around the impressive converted 360 photosphere, originally a panoramic image taken with an iPhone 12 Pro Max.
Discover What Awaits You in Our Webinar
Unveiling the cutting-edge mobile-friendly solution for converting panoramic images into fully immersive 360 spherical images (photospheres)
Mastering the new ThingLink Guided Tours: A step-by-step tutorial
Witness inspirational examples in action: see the possibilities unfold
Engage in a live Q&A session: Your questions answered by experts
Now On-Demand!
Sign up for the webinar, we've got you covered with an exclusive action replay delivered straight to your inbox.
Watch our webinar on demand!
Other posts we think you'll love
For more ideas, use cases and inspiration on content creation, join our communities on social media! LinkedIn Community, Twitter Creative Learning Design Community and ThingLink Education Facebook Group.