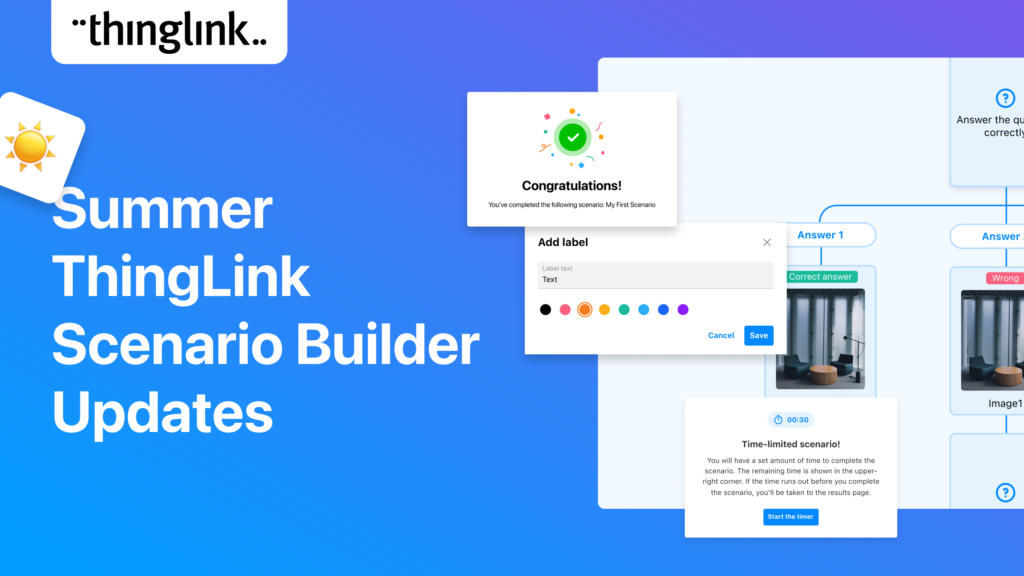 Save precious time with new functions to clone your scenarios and more!
Summer ThingLink Scenario Builder Updates
The ThingLink Scenario Builder improves with your feedback and we are delighted to announce a few more 'you said – we did' improvements. The improvements will be of interest to simulation or gamified learning creators, those responsible for Learning and Development (L&D) or really anyone building self-paced learning experiences.
We've added three key updates to our ThingLink Scenario Builder. As well as an improved interface for your participants, you are now able to:
Clone a whole Module
Add a time limit function to complete the whole Module
Identify learning paths or branches in edit mode with a simple text and colored tag system to help creators.
In late 2021, ThingLink launched Scenario Builder – their new solution for creating branching scenario based learning. This easy to use tool allows you to create branching scenarios with all the immersive elements and interactivity ThingLink provides. It's a ground-breaking new way to create scenario based learning that also has data metrics built in. Now course creators can see step-by-step the journey that each participant took through the course in the downloadable data.
A quick recap – The ThingLink Scenario Builder
The ThingLink Scenario Builder is a tool to create scenario based learning (SBL) experiences with all of the immersive and interactive multimedia elements that ThingLink provides. Your learning material is created by linking your ThingLink content via strategically placed multiple choice blocks, enabling you to plan multiple branching paths.
Compulsory questions with correct answers and discrete feedback can be added for all important knowledge or compliance checks. More information here.
The ThingLink Scenario Builder has 6 'Blocks' which enable you to connect your ThingLink scenes however you choose.
The Updates
1. Clone a Scenario!
Recreating multiple modules can be time consuming and many of our creators said they would like the ability to clone an entire scenario. It's here!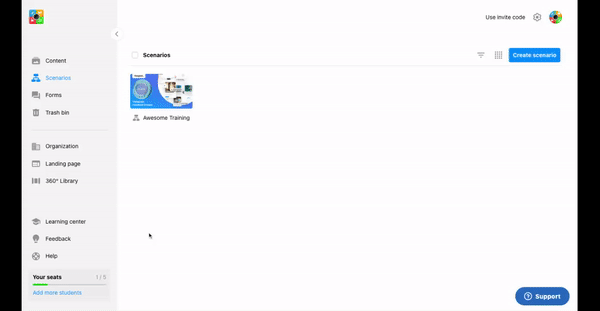 Simply click the 'Clone Squares' and a cloned copy will be in your account. To ensure there are no duplicates made without permission, this incredibly useful feature is available to the creator of the scenario only.
Helpful Tip! Please note that this doesn't clone all of the Thinglink scenes that have been placed within the Scenario, if you edit them, you are editing the originals and therefore wherever they are used or embedded. If you wish to create cloned ThingLink scenes you will need to clone the originals.
2. Add a time limit function to complete the whole Module!
In our May updates we added the feature to add a time limit to 'blocks'. This was useful for putting realistic time pressures on making choices. This time limit can now be added to the scenario as a whole.
If you are wondering what happens if the time runs out? View the video below to see the end screen which includes Immersive Reader for translation.
3. Text and colored tag system
To help Scenario creators who are creating multiple pathways in their learning experience we've added a simple system to help you keep track – a text and colored tag system helps identify learning paths or branches. In the branching block, click the 3 more dots and choose your label text and color.
Read more about the ThingLink Certified Creator Course here
We love your feedback, please do get in touch with us to schedule a demonstration of the ThingLink Scenario Builder in action or to provide feedback.
You can contact the team at the ThingLink learning center – the place for inspiration, support, project ideas, tutorials and so much more! Explore live examples and use cases from current users, watch featured tutorials, learn about our newest features and pro tips. You can also access the 360 image library from here.
We would also recommend joining the ThingLink community on social media. You can find us on Twitter, Facebook, LinkedIn – they are great places to chat about tips, tricks and share great examples in action.