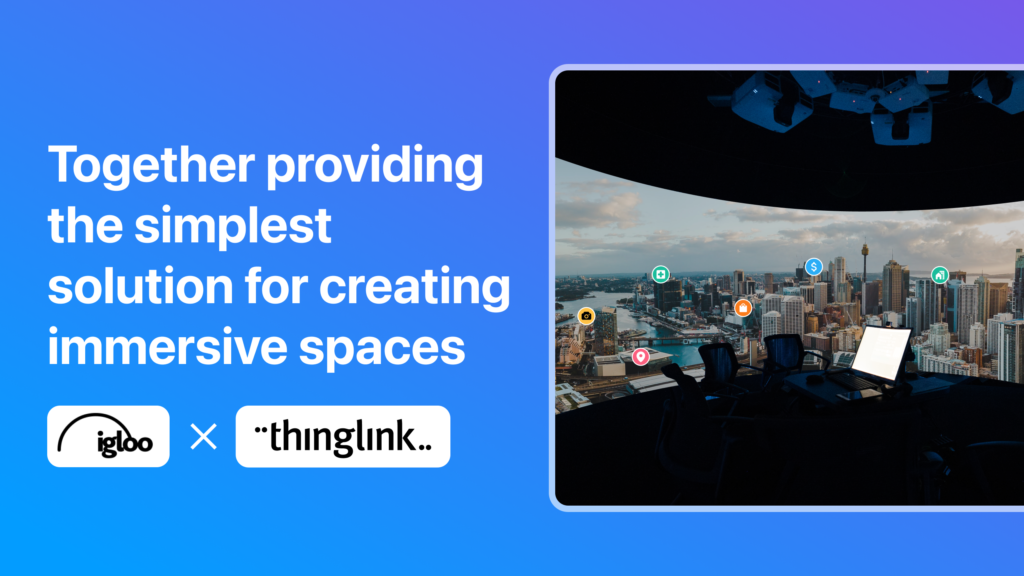 ThingLink and Igloo Vision announce a simple solution for shared interactive VR
With over 20 years of visionary experience between them, ThingLink and Igloo Vision have crafted a reality for the future of immersive spaces.
ThingLink is the leading solution for easily creating virtual tours and 360° simulations for workplace training or education. Igloo Vision has been developing in-person immersive spaces with a bespoke media player to power engaging shared virtual reality experiences for over a decade. Now with a clever partnership and integration, ThingLink and Igloo Vision users can create powerful moments of insight for anyone experiencing their immersive spaces.
In simple terms this means that anyone can create their 360° interactive content and use it as the essence of the shared immersive experience.
Louise Jones, Director of Communities and Partnerships at ThingLink.
"This is a really exciting partnership, this can transform not only learners' experiences in education and enterprise but the ability for venues to think about what they might offer in the future. Imagine a community center or village hall offering an immersive space that anyone can use with their own 360 content?"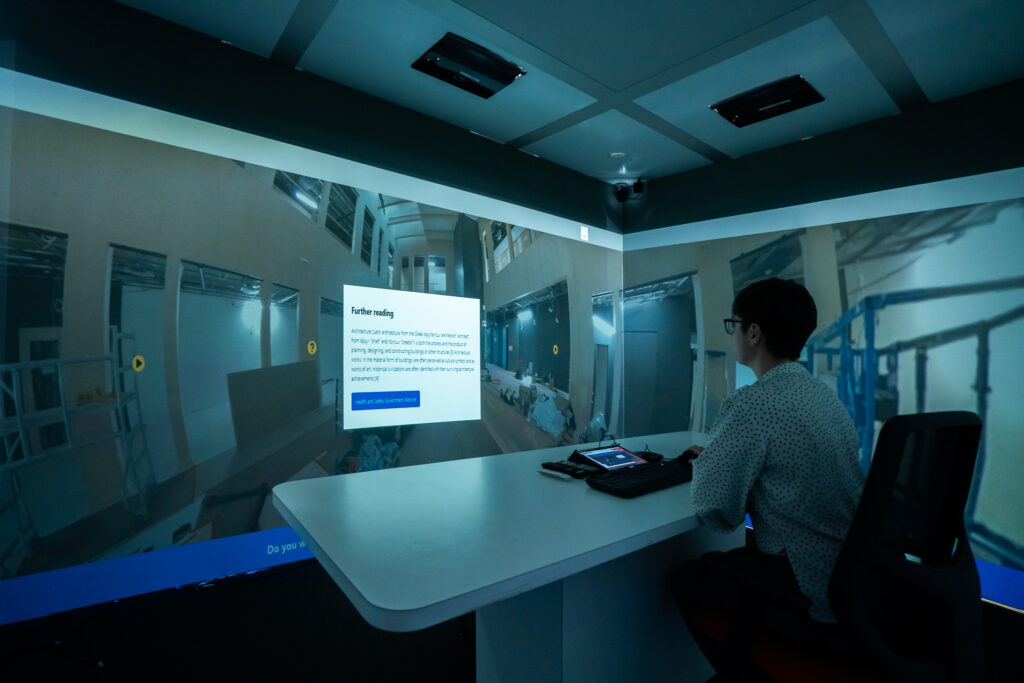 What else could this be used for?
Create an in-context realistic learning environment for training and site familiarization, improving staff safety – particularly in high-risk environments
Offer an interactive and immersive campus tour at an event to boost recruitment
Create a breath-taking interactive backdrop for a corporate event or party
Create lifelike and challenging escape room scenarios
Create realistic virtual tours and walkthroughs of historical buildings and rooms at heritage attractions, museums and galleries
Benefits
Improve recall with more real-life scenarios for learners to engage with
Increase collaboration – allow teams to train more effectively and realistically together by providing a shared training experience
Create powerful moments of insight for learning set in the context
Theo Penty Head of Educational Business Development at Igloo Vision
"With Igloo technology, you can create environments that can bring whole groups into immersive content. So, you're creating a shared, social experience – which has huge benefits for recall, retention, and collaboration. And these spaces work so well with tools like ThingLink, offering another way for people to experience that content.
With ThingLink in an Igloo, anyone can easily create and share 360° content for an Igloo, whether you're a teacher, staff trainer, or a student. You're active in creating that experience rather than a passive audience member. And if you've already created a ThingLink for a VR headset, it'll work seamlessly in an Igloo, and you can easily share it with a wider community with just a URL.
We're all about making content as easy to access and create as possible for our clients so we're really excited to add this excellent tool to the Igloo roster."
About Igloo Vision
Igloo Vision have been developing shared immersive spaces for over a decade, taking any digital content and put it in a shared immersive space that anyone can use. Igloo Vision design, develop and deliver immersive domes, cylinders, workspaces, custom-builds, and the Igloo Immersive Media Player that powers them all. Igloo Vision have developed a full suite of software that makes it super-easy to engage with any immersive content. Groups of people can get inside an Igloo space, it's always a shared experience. So it's perfect for experiences and events. And it's ideal for collaborative teamwork and training.
About ThingLink
Launched in 2011, ThingLink provides an easy-to-use image and video augmentation and in-image data-collection solution for business and education. Over 8 million content creators including eLearning professionals, editorial and design teams, educators, and students use ThingLink to create interactive visuals such as infographics, maps, campus tours, brochures, and presentations for online communication and learning.
Interactive elements on images and virtual tours improve engagement, time spent and learning results. ThingLink interactive media can be viewed on desktop, mobile, VR headsets and shared immersive learning spaces.
Get Started Today by Reaching Out to Theo at Igloo Vision and Louise at ThingLink!
ThingLink: Louise Jones – Director of Communities and Partnerships
Igloo Vision: Theo Penty – Head of Educational Business Development