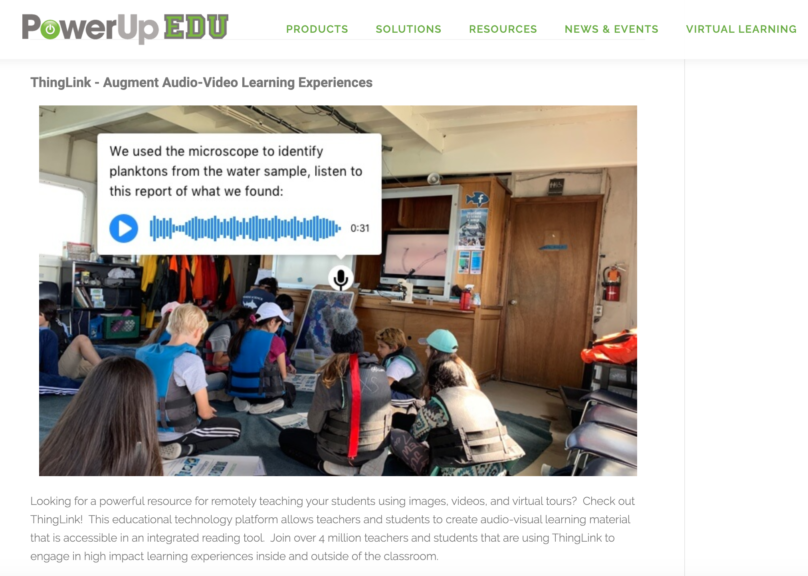 ThingLink and PowerUpEDU Announce Partnership
ThingLink has partnered with PowerUpEDU,  an award-winning education technology solutions provider for classrooms in the southeast. Through this partnership all ThingLink licenses, related professional development and training becomes available for schools and districts in the Southeastern United States via PowerUpEDU. 
When a school or a district is considering the use of a new visual learning solution such as ThingLink,  it needs an opportunity to try it out, and see how it works and integrates with other tools such as Microsoft Teams or Google Classroom. Local training and resell partners play a key role in this process supporting first time users with practical advice and examples. 
PowerUpEDU bridges the gap between technology and instruction by offering the most relevant and highest-value solutions, resources, professional learning, and ongoing support services for teachers, schools and districts. PowerUpEDU offers solutions to support learning across grade levels and content areas.  The addition of ThingLink's easy-to-use visual content creation platform to the solutions offerings will allow PowerUpEDU to provide districts and schools with new and engaging options for dynamic remote and traditional learning experiences.
Given today's unique and highly unusual circumstances, solutions that support distance or virtual learning have never been more relevant.  Maggie Phillips, Head of Professional Development and Teacher Engagement for PowerUpEDU, states, "PowerUpEDU is incredibly excited to offer ThingLink, as a platform for educators to amplify learning through images, video, and virtual tours. As a teacher, whether you are looking for a dynamic way to deliver image or video-driven content to students, or are looking for an authentic way to assess student learning, ThingLink is a powerful solution. It allows teachers and students to catapult learning to a higher level!"  
"We are absolutely delighted to announce this partnership with PowerUpEdu. Their approach to building physical and digital learning environments for classrooms does not promote one solution or technology over others, but it seeks a sensible combination of instructional practices and technological tools that can complement each other and help achieve the best results in each situation", says Ulla-Maaria Koivula, the founder and CEO of ThingLink.
To learn more about available ThingLink trainings and professional development options in Southeastern United States, please visit PowerUpEDU.com or contact training@powerupedu.com.
Interested in becoming a ThingLink reseller? Submit an application via our Reseller Program page.